Virginia Not The Friendliest State For Gamblers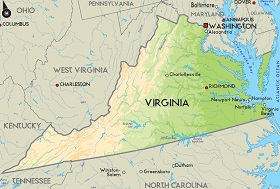 Virginia has given the US some of its greatest Presidents, George Washington, Thomas Jefferson, James Madison, William Harrison, Woodrow Wilson and James Monroe. It got its share buried there too. Like most states Virginia has some unique laws, for example it's illegal to spit on a seagull and to tickle a woman for that matter. There's even an age limit to trick or treating, yep that's right it's 11 years old. Any older and you are breaking the law. The lovers state it may be known as but it's for sure 'Old Dominion' for gamblers. The laws here are not good, you have the state lottery, pari-mutuel bets on racing and that's it. A couple of bills have been attempted to legalize riverboat gambling but they never got past the committee stage. There's no tribal gambling halls either the Pamunkey Indians have been fighting for federal recognition for many years and finally received it in 2015. They started talks with a developer to open a casino but it led to infighting within the tribe and the idea was shelved.
The Future For Gambling Is Not Bright In Virginia
With the almost immediate collapse of the riverboat bills it is not looking likely that a change is coming soon. There is obviously some support in the legislature for revision of the gambling laws but not enough as yet. In the meantime most residents that want their dose of casino action have to travel to neighboring Maryland. Some go as far as Atlantic City which is not ideal in anyway. It looks like a major shift in attitude is required before any change is coming.
1
.
$800

BONUS
150+

GAMES
50+

MOBILE
97.11%

PAYOUT
2
.
$2,500

BONUS
150+

GAMES
50+

MOBILE
97.11%

PAYOUT
3
.
$8,888

BONUS
120+

GAMES
25+

MOBILE
98.61%

PAYOUT
4
.
$1,000

BONUS
200+

GAMES
50+

MOBILE
97.84%

PAYOUT
There's Always The Internet Right?
Well it is still illegal in Virginia the wording of the law is somewhat different than most states and doesn't actually mention the internet but, this is the direct quote from the statute "Illegal gambling" means the making, placing or receipt, of any bet or wager in this Commonwealth of money or other thing of value, made in exchange for a chance to win a prize, stake or other consideration or thing of value, dependent upon the result of any game, contest or any other event the outcome of which is uncertain or a matter of chance, whether such game, contest or event, occurs or is to occur inside or outside the limits of this Commonwealth. " (From 18.2-325) The important part is the inside or outside of the Commonwealth. Penalties for playing in illegal games are small but organizing them or even knowing about them and not informing authorities carry a greater risk. That does give a lot of leeway to law enforcement, after all we all know of plenty of internet sites that accept bets from Virginians!
If You Risk It Play Smart
Off course if you want to play anyway there are many straight online casinos on offer. There are also many that try to take advantage of the unwary. Because of the legal situation in the US a lot of top brands have withdrawn from the market and no longer take US residents as customers. All that has done is open it all up for those prepared to risk US sanctions. These brands are still legitimate online casinos and have licenses from governing bodies from elsewhere in the world. Do not think that because Virginia does not regulate casinos you would have to go with an unlicensed brand. The top brands around the world have been regulated by Malta, Gibraltar and the Isle of Man for many years now. The UK has its own body the Gambling Commission which is recognized as the strictest. Most US facing sites use the Kahnnawake Territories. If the site you wish to use is licensed by one or more of these governing bodies it means that enforcement of regulations takes place. All new games are audited for fairness and the casinos are monitored.
Banking For US Customers
The federal banking laws bought in to curb transactions with online gambling sites has thrown up its own set of problems. Online casinos have to use third party companies to more the money around. This not a thing that some like at all. Be aware that every brand has a different method and delays can be part of the process. Investigate individual methods before depositing any cash. Unfortunately the usual e-wallets and electronic payment methods available to the rest of the world are not readily available to US residents.
Trust Other Players
Player forums have been running parallel to the casinos as long as they have been online. In such a player driven industry bad casinos get shot down very quickly in the cyber age. Crooks just can't stay under the radar. So if an online brand has been around for over 5 years then players think it's a good one. Do your research and good luck.