Top Online Casino in Turkey – Gambling Sites for Turkish Players
In more recent years the government of Turkey has become far more controlling. The once liberal modern state is slipping back toward a powerhouse of personality. The ruling elite run over all that oppose them and the people seem to buy it. Gambling in Turkey has taken many hits over the years with casinos being banned in 1998. This was in response to money laundering accusations and links to the drug trade. The government didn't come out spotless in it all however with its own scandals arising and assassinations being allegedly linked to high ranking officials. The huge casino industry in Turkey was indisputably ran by organized crime and its end was seen by many as a necessary purge. But even Turks like to gamble. The switch to the internet was fast and pretty soon the best online casino Turkey was a hard fought title. That didn't last long however and by 2007 new legislation was brought in to ban that also.
Does it Get Better for Turkey Casinos Online?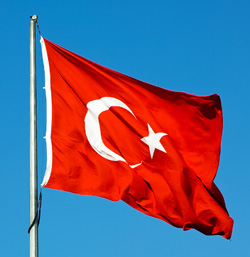 The limited legal gambling opportunities in Turkey do not satisfy many that is clear. Millions of Turks continued to gamble online and the best Turkish online casino was in fact Swedish. Over the years since making it illegal to gamble with online casinos, millions of Turkish Lira have been wagered. The Turkish authorities are not necessarily known for tolerance and a clamp down was inevitable. And clamp down they did. Hundreds of sites were targeted and a rather large blacklist formed. These sites are blocked and unlike many countries in the world players are targeted as well as the casinos. Lengthy prison terms for agents of online casinos living in Turkey and hefty fines can be imposed on those who are caught gambling online illegally. 100k – 500k Lira is a vast amount of money in a relatively low income country. All this had led to a drastic decline in the number of operators accepting Turkish residents.
So What Are The Options For Turkish Gamblers?
The few online casinos left that accept Turks are a risky proposition. The Turkish authorities have proved that they enforce their will time and again. So playing at a site deemed illegal is not a decision to be taken lightly. The die-hard online gamblers are using VPN's to hide their origin but it is not a sure fire way as many believe. It is very easy for the authorities to still track your activity. You could always visit neighboring Bulgaria and take advantage of one of the many Black Sea casinos. The fact of the matter is it is becoming increasingly difficult for Turks to gamble online. It should also be noted that the majority of the population agree with their government. Although still considered a secular country and politics is claimed to be separate from religion the majority of Turks are Muslim and as such consider gambling a sin. Although how that relates to the state run sports betting industry it's unclear.
Best Online Casinos in Turkey

1

Worldwide

€300


Bonus

200+


Games

150+


Mobile

97.21%


Payout
Play now –
2

Worldwide

€1,500


Bonus

150+


Games

100+


Mobile

96.91%


Payout
Play now –
3

Worldwide

€1,750


Bonus

120+


Games

80+


Mobile

96.50%


Payout
Play now –
At Your Own Risk
There are still a few brave brands taking customers from Turkey. Although how long that will carry on remains to be seen. Arrests of employee's of online casino companies have happened whilst they visited Turkey on holiday. If you really must play at an online casino take extra care. The choice is very restricted there are some of the less reputable that see this market as easy money. You will have no comeback or recourse for any problems you may encounter. Your own government will not help. Most of the top legitimate sites just don't accept Turks. The ones that are left usually have licenses from either Curacao or Antigua and Barbuda. Neither have the protections in place to insure safe and fair play. The safest option is to choose a site with one of the high end software providers like Playtech and MicroGaming. They have their games tested and vetted by the toughest of authorities. These platforms are fair and have great gameplay. However that is not to say they can't be messed with by the online casino brand but it is highly unlikely as these guys have reputations to defend and wouldn't last long if they supplied crooks regularly. But even if the games are fair you still might not get paid.
Trust The Rest Of The Gambling World
The rest of the world especially Europe have far more relaxed attitudes to gambling. The industry has been going for many years. There are gambling forums that are as old as any online casino running. Peer opinion is a strong tool when it comes to evaluating an online casino. There are millions of avid, knowledgeable gamblers that are happy to share their opinions of certain brands. Yes there will be a lot of whining about bonuses not being fair and a lot of sore losers as well. The bonus threads will usually be people who have not read terms and conditions correctly. Sore losers are just that. The interesting reads are about payout problems and how they are fixed. There will also be on occasion a sudden surge in posts about one particular brand. Take note these usually have merit. Forums have been the instigators of fraud investigations in the past and have helped bring down some very bad casinos.
You Will Not Find A Turkish Language Site
Another issue you will face is the language barrier. There are lots of sites offering many different languages but none that offer Turkish. Be confident in understanding one of the options. You may have to speak with customer services and confusion is highly likely. The same goes for currency if you are able to find an online casino that has an account in Turkish Lira you are very lucky. There was quite a few at one point but due to the crackdown that is now not the case. The bottom line is if you live in Turkey you are not going to find it easy to gamble with an online casino.