Top Mobile Casino Apps – The Best Real Money Gambling Apps
Top 3 Best Mobile Casino Apps - Choose the Best Bonuses and Promotions
In a world of mobile phones and tablets with processing power that was unheard of ten years ago, the online gambling industry has made big steps to keep up. The first offerings for mobile casino games were, let's face it, not very good. All that has changed and now you can play your favorite casino games wherever you are via your smartphone or tablet. Software development has exploded in the mobile market, and now all the top online casinos offer a mobile version of their site or mobile casino apps.
Play mobile casino games via apps or direct from the site. Blackjack, roulette, slots and baccarat are all offered these days at the top mobile casino apps. The best mobile casino sites have excellent mobile versions. There are quite a few differences between offerings however, so let's explain what it's all about.
Real Money Casino Apps – Mobile Casino Games to Play and Win Cash
These days there's an app for it everything it seems, where to get a pizza, how to turn your phone into a flashlight or even an infra-red camera. The mobile gambling sector had some of the first apps to be developed and as such had a head start. Although not much of a start really if you remember Snake! The major players in gambling software and online mobile casinos that offered mobile casino apps first, were Microgaming/Spin3 and Playtech. Giants within the industry they gave us mobile casino games as far back as 2005. These online casino apps were OK but there was a lot of room for improvement. Compatibility issues were not such a big thing back then, there wasn't a lot of choice as far as decent phones were concerned.
Then Apple burst onto the market and everything changed, at the time most casino apps were flash based and Apple have never supported it. The apps store had to step up to supply the demand for mobile casinos but still software developers dragged a little, as there were only a couple of operating systems with the lion's share of the mobile app market. As time moved on these issues really started coming into play as more devices using different systems became more popular. So, mobile casino sites with apps that catered for more than just iPhones and then Android had to become available. Nokia, Blackberry and Windows Phone all have a share of the market and run on different systems, not everybody has or wants an iPhone! Now there are mobile casino sites that claim their apps are usable by the majority of devices available today.
Top Bonus Deals for Players
22bet

€300 Bonus

Grab the 22bet amazing casino offer of €300! The offer is valid only for new players.

Get The Bonus

1xbet

€1,500 Bonus

Play now at 1xbet, get the amazing €1,500 casino bonus offer for new players and have fun!

Get The Bonus

MELbet

€1,750 Bonus

Start playing at MELbet today and get up to €1,750 welcome bonus package for new players!

Get The Bonus


But, and this is still the rub for a lot of people, the vast majority of mobile online casinos using apps still only support either iOS or Android devices. And boy some of them are amongst the best casino apps. Because the online casino apps are written specifically for mobile use everything is set up for a phone or tablet, no clutter, enough space to play and graphics that really pop. Slots look like the real thing with audio as well as visual bringing the games alive. So what do you do if you have a different phone? Say a WindowsPhone or a Blackberry the top mobile casinos cater for this niche with apps, but they are few and far between. The instant play mobile version is the main option for you if you want greater choice.
In-Browser Mobile Casino Gaming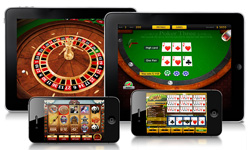 A lot of mobile online casinos really didn't like the issues surrounding compatibility of apps, after all it's not good business sense to alienate potential clients, especially when you provide real money games. Along came HTML5 and suddenly truly responsive websites could be built. HTML5 is a clever bit of coding, a complete system that identifies a device that logs on and supplies a compatible version of the website.
It doesn't matter what size your device or what operating system it uses. No need for downloads at the best mobile casino just login and play on whatever device you have. The mobile website has come of age. While there were some glitches with the speed the games ran at developers are moving fast and the top mobile casinos evolve quickly now. Most of the best mobile casino games are available to play and run the same as they would on your PC at home. Some of the best mobile casinos like BoVegas, Exclusive, Supernova Online Casino, Drake Casino, and Betway Casino Online, are now run on HTML5 and they are very good looking sites indeed.. Casinofloor.com was one of the first sites to use HTML5 to maximum use and the 3D graphics are stunning. While it was slow in coming to the market more sites are switching over to this way of thinking.
Any device anywhere is the mantra of developers now. So it means that casinos will no longer have to fork out for new mobile apps that don't even cover the whole market. That has to be good for the industry meaning more money will be available to introduce more games, and make the traditional ones play even better.
So Why Download Online Casino Apps?
Well at the moment there are still some advantages to using a mobile app as opposed to the browser version. There are a few disadvantages too! If you download a mobile casino app the graphics will be better and the game will play better too. The program is written specifically for your device's operating system and it will look great. The games will already be loaded onto your phone with an app, so there will be no lag at all.
Browser versions still have to load each game as it is played, and despite all the best efforts there is a little lag. However the downside is that even the best casino apps will take up space on your device, but with the capabilities of most smart phones and tablets that's not much of a worry. Also the range of games available via top casino apps may be quite limited. It is a little bit of a six of one half a dozen of the other. It will come down to personal choice whether you use mobile casino apps or not. At the moment casino apps are still used my most sites and if you only want to play a quick game of blackjack or roulette they are really good.
No More Go Slow On The Go
We can all relate to the days when mobile phones lost connection or just ran really slow when playing a game. Not so anymore. Mobile coverage is now so good you can get a signal just about everywhere. Modern connectivity for mobile devices just gets better and better. 3G and now 4G have really upped the game and all the top sites run smoothly and quickly. Run time is now as good as a hardline connection, so playing your mobile casino games where ever you like is now possible.
Even if you have poor coverage from your network all devices now have Wi-Fi capability and with the amount of public networks available there should be no problem at all. Drink a coffee and have a game of blackjack what could be better? This is all great news for the consumer and the market for top mobile casinos will just grow. There really is no looking back, look to see more games available with better and better graphics at the casino apps to play on the go.
How Safe and Secure Are The Best Mobile Online Casinos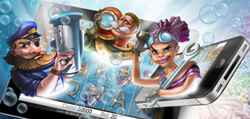 Security of personal information and financial details are very important. No more so than when using your mobile device. The best mobile casinos all use up to the minute SSL encryption to ensure your details are safe. There are however some concerns surrounding public Wi-Fi use. The issue arises because some sites don't automatically direct you to a secure page when you login. So if you login from a public system your login details can be at risk.
This is not an issue when you deposit or withdraw as all sites have secure pages for financially transactions. Even if someone gets your password and login details all reputable sites have verification protocols in place that make it very difficult for an unauthorized withdrawal to be made. It can mean that somebody can spend your bankroll in your account though. The way to see if you are safe is if the site auto directs you to an https page address. There will also be a little green padlock icon before the page address. There are no such issues if you login using an app you go straight into play mode, logged in because all your details are within the app. Your details are protected by security within your device.
What's the Future of Mobile Casino Apps? More Mobility
Mobile IT is one of the biggest growing sectors of the industry. It seems that more developers are working in this field than any other. The best mobile casinos are putting a lot of effort into making the gaming experience even more engaging. Very soon all new online casino sites will be compatible with all devices and before long there will be no difference between playing on a PC, phone or tablet. The next generation of smart phones will have more processing power, more memory and graphics capability than we ever thought possible. The future is mobile.