Top SicBo Casino Sites – Best Way Win Online Sic Bo Games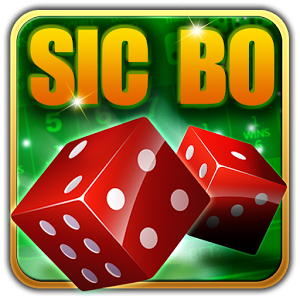 Sic Bo is an ancient Chinese game that has been played since the early 1800s. It's always been very popular in Asian casinos but now you get to become part of its history by playing Sic Bo online. This game that involves throwing dice and betting on the outcome is also known by a few other names including Precious Dice, Tai Sai, Dai Siu, and Big and Small. It is also known as Hi-Lo in the Philippines. It is however, most popular in Macau. For many years it has played a big part in North American casinos and in 2002 it became legal to play in UK casinos.
SicBo Online Sites – Lots of Choices for New Players
There are actually a few different variants that can be played at many of the best online casinos.
Chuck a Luck – Primarily found in the US in both on and offline casinos. The difference with this variation is that the dice controlled by the dealer are in a bird cage device, where they fall into a random order. Hence it is also known as the game of 'birdcage'.
Grand Hazard – Also played with 3 dice this game originates from the UK. Dice are shot down a wall and land in a random rotation. There is also a 2 dice version called 'Hazard'.
Sic Bo isn't an overly complicated game but some players can feel a little intimated by the different styles offered by the online casinos. There are also lots of betting choices which is what we'll look at next.
Best Online Sic Bo Casinos

1

Worldwide

€300


Bonus

200+


Games

150+


Mobile

97.21%


Payout
Play now –
2

Worldwide

€1,500


Bonus

150+


Games

100+


Mobile

96.91%


Payout
Play now –
3

Worldwide

€1,750


Bonus

120+


Games

80+


Mobile

96.50%


Payout
Play now –
How to play SicBo online and your betting choices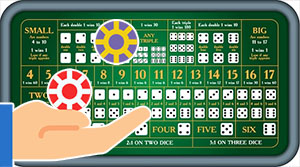 Whether you play in a land-based casino or online, this game is played on a table with three dice. You choose one of the many betting options and place your wager. The dice are given a good shake in a plastic tube. The dice fall in a random order and the results determine who are the winners, depending on their bets.
You can place the following wagers when you play Sic Bo online:
Small and big bets – The game of Sic Bo involves big numbers (11 to 17) and small numbers (4 to 10). Winning wagers on these pays even money. Bet big and if the dice total 11 to 17 you're a winner. If however, they total 18 or between 3 and 10 you're an unfortunate loser. If you decide on the other hand to bet small you'll be a winner if the dice total between 4 and 10. If they total 3 or between 11 and 17 you lose.
Odd and even bets – With this pretty simple bet you're wagering on whether the dice total is an odd or even number. Bet odds and you win when the total is an odd number and lose if it's even, and of course vice versa if you bet on evens.
Total of all dice bet – This is a very popular bet, possibly because it comes with a really attractive paytable. It involves predicting the total number that appears on the dice. Payouts are as follows:
If you bet on the total being 4 or 17 – winning bets paid at 50:1
Total of 5 or 16 – winning bets paid at 18:1
Total of 6 or 15 – winning bets paid at 14:1
Total of 7 or 14 – winning bets paid at 12:1
Total of 8 or 13 – winning bets paid at 8:1
Total of 9, 10, 11, or 12 – winning bets paid at 6:1
These are the payouts for independent bets, for example either 8 or 13, not both of them, You can place a bet on both numbers by placing two separate bets.
Triple bets – The payout for betting on triple numbers, for example 5's on all three dice, is 24:1.
Double bets – This is similar to the previous one but you are just betting that two numbers will be the same. The payout is slightly less at 8:1.
Single number bets – As the name implies this is a bet on a single number appearing on the dice, from 1 through to 6. The payout depends on the number of times your chosen number appears. If your chosen number appears only once the payout is 1:1. Twice it's 2:1 and 3:1 if it appears on all three dice.
There are no real strategies with Sic Bo, only sensible betting
Sic Bo is a dice game based purely on luck. There are no real strategies worth applying. When it comes to betting, the best bets to place are big/small or odd/even, as the house edge is at its lowest, around 2.78%. The house edge goes up to as much as 30% with other wagers such as triple bets.
The game of Sic Bo has a long history
Sic Bo is a game that was first played nearly two thousand years ago in China. The rules of the game have remained untouched to this very day.Originally it involved tossing bricks with numbered sides, but these were eventually replaced with three six-sided dice.
Manual labourers travelling from China to the United States in the 19th century brought the game with them. And it was played in railroad and mining camps. However, it was mostly immigrant workers who played the game. It wasn't until after two further influxes of Chinese workers that the game caught on with 'Americans'.
The Americans put their own spin on the game and it was initially adopted as a carnival game that used a cage to mix up the dice before they were rolled. Hence the name 'Birdcage'. In the UK another variation of the game developed when it was married to an old British army pastime. It was played with two dice and was called 'Hazard'. Grand Hazard was the game that resulted in the marrying of the Chinese and UK game.
Sic Bo has only recently become popular in brick and mortar as well as online casinos like My Bookie, Eurogrand, and Wild Casino, since the 1990's in fact. Up until then it was a game that was introduced into casino back rooms for visiting Chinese guests. And it wasn't until 2002 that it became a legalized casino game in the UK.
Tips on maximising profit potential
Choose a good table – The odds offered on total bets of 4 and 17 are a good indicator of a 'good' or 'bad' table.
Know the limits – Pay close attention to the table limits, both minimum and maximum.
Look for promotions and bonuses – Online casinos like BetVictor, All Slots, This is Vegas, and 888casino compete for customers with some very attractive promotions, special offers and bonuses..
Know when to stop – This is a very vital part of online gambling. Say longer than you first intended and it's likely you'll lose everything you might have gained, and possibly even more.