Top Online Casinos Paraguay – The Best Casino Sites in Paraguay
The Republic of Paraguay has had a successful legal gambling industry since the 1940's its first casino opening in 1943. The industry was not massively successful but when the legal status in Brazil changed an influx of customers from there gave it a real boost. Things are in a state of flux at the moment with calls for shake ups in the law. New rules governing slots has just been introduced and there's talk of regulating online casinos as well. As it stands there is no legislation banning players from accessing online casinos in Paraguay. The governments stand is one of local prohibition with a recent action shutting down an illegal online gambling network with large numbers of arrests. So for now the best online casino Paraguay gets is foreign.
Online Casinos Paraguay – Legality and Safety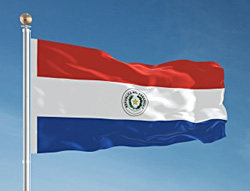 The big downside for Paraguayans wanting to play online casino games is not having local legal back up. This means extra care is needed when choosing a site to gamble with. Everything these days can be verified online. The online casino industry has been in full flow for many years now and all important aspects of it are very transparent. Don't take for granted that a casino has a license just because it says so. All of the respected licensing bodies have public websites that you can check on the validity of a license. Where the quality of governing bodies is concerned unfortunately there is no international standard and some are definitely better than others. The oldest is not necessarily the best. The two oldest regulatory bodies are Antigua and Barbuda and the Kahnawake Territories. Both of which were seen as very good at one time, but both have had some very bad mistakes. One of the youngest the UK Gambling Commission is seen as probably the best there is. Both Malta and Gibraltar have been in the game a long time but are considered good too. The bottom line is that having a license is important but doesn't mean the casino is not trying to rip you off. Not having one definitely means the casino is trying to rip you off.
Best Online Casinos in Paraguay

1

Worldwide

€300


Bonus

200+


Games

150+


Mobile

97.21%


Payout
Play now –
2

Worldwide

€1,500


Bonus

150+


Games

100+


Mobile

96.91%


Payout
Play now –
3

Worldwide

€1,750


Bonus

120+


Games

80+


Mobile

96.50%


Payout
Play now –
Security Fairness And Payout Tables
There are so many good casinos out there that it would be silly to play with one that did not have all aspects of its platform independently assessed. Online security experts vet and test systems and issue certificates to confirm this. There will be a company logo proudly displayed check it yourself with the corresponding firm. The same goes for games testing and payout tables. If the online casino doesn't shout from the rooftops that is has independent testing done then look elsewhere. Hopefully you will not need them but look for an arbitration service logo on the site. All casinos have disputes from time to time it's how they are dealt with that counts.
Language And Currency
Playing with an international online casino doesn't mean you have to play in a foreign language. Spanish is probably the second most commonly used platform in online gambling. Every single online casino worth its salt has a Spanish version. What is important to check is whether the customer service staff are fluent. The terms and conditions are a good way to test that. As most terms and conditions need a little explaining ask the customer service agents a few testing questions. The best Paraguayan online casino would ideally have accounts in PYG. They don't as yet but if regulation comes in then the Guarani will be used. Until then US dollars will be your best choice. Look into conversion charges as these can be a sting in the tail. As there are no legal obstacles to funding your account you should have the full remit of methods available. Before you sign up and deposit check that you can make withdrawals using your method of choice. It may sound strange but some casinos restrict withdrawal methods. There are one or two that only let you withdraw with the same method you deposited for example. Others don't have the same withdrawal and deposit lists. Ask lots of questions bombard the customer service team. It's a good way to gauge the service on how they respond to you.
Reviews Forums And Watchdogs
Once you have done your own checks a great tool for due diligence are your peers. Player forums and watchdogs have been keeping tabs on the industry from the start. Most are run by avid gamblers and while most is just opinion it would be a foolish person to ignore other peoples experience. If an online casino is flagged as rogue by most then it probably is. This is a customer focused industry and keeping those customers is top priority for legitimate businesses. The top tier brands have constant contact with the oldest forums and they regularly post and communicate with the playing public. If a particular problem gets a lot of interest you will see an agent from the casino dealing with it. Forums inform you of more than bad things though. You can keep up to date on any bonuses or other promotions that may be new. There are always changes in this industry it pays to stay in touch.
Paraguay's Future Is Uncertain
There has been a bill being worked on for a couple of years now. It may well be in force very soon. What it holds for the online casino scene in Paraguay remains to be seen. There has been talk for a long while now to get a regulatory system in place. The Minister responsible has called for international parity within the industry. This all looks like there may be a bright future for online casinos in Paraguay only time will tell. The regulations need to be announced and it remains to be seen if foreign investment will come. Industry is still growing and South America has room to grow more than most it will take some innovative approaches but things look good.