Top Online Casino Sites Accepting Swedish Players – Rated List
The Swedes like to have control of things and the gambling industry is a prime example. Exclusively run by the state entity Svenska Spel there are a few land based venues and an online version. The list of those running for the title best online casino Sweden is a short one indeed. The state has defended the monopoly with the argument that it is defending the public from criminal activity and gambling addiction. The only problem is that it has been very unsuccessful in curbing the availability of foreign sites to Swedish players. In fact the figure has been touted that the official site only accounts for 50% of the market share.
Legal Jousting Continues for Swedish Online Casinos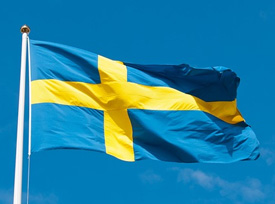 Online gambling has been legal in Sweden since 2002 but only with the state sponsored Svenska Spel. The EU has been rumbling about the situation for years now. The Swedish government has stood firm and resisted, stating it has the right to protect its citizens. Several court rulings have ensued over the last decade and Sweden has continued in its stance of non-compliance with the EU. The last decade's feud however seems to be coming to a head with the European Commission putting its foot down. The Swedish government has laid out a timetable for reform but has stated that this is not a priority for the government at this time. So don't expect any changes in the very near future.
Meanwhile There Is Choice Available
The fact that the laws surrounding online casinos are not compatible with EU law, means many large online casinos offer their services to Swedes. Swedish language options on all of the top European sites are readily accessible in Sweden. Swedish currency is also available so too are customer service agents fluent in Swedish. The best Swedish online casino is one that offers all three options. The online casino market in Sweden is growing daily and the big European outfits want to get their slice of it regardless of government intervention. The fact is it's inevitable that the Swedish authorities will bow to the European Commission on this, it's happened with many countries across the Union.
Best Online Casinos in Sweden

1

Worldwide

€300


Bonus

200+


Games

150+


Mobile

97.21%


Payout
Play now –
2

Worldwide

€1,500


Bonus

150+


Games

100+


Mobile

96.91%


Payout
Play now –
3

Worldwide

€1,750


Bonus

120+


Games

80+


Mobile

96.50%


Payout
Play now –
Just Because You Can Doesn't Mean You Should
Accessibility to just about every online casino out there means prudent choices need to be made. If you don't want to play with Svenska Spel run entities then research needs to be done. Start with the licensing body. Every single reputable online casino has a license from one of the top authorities. The best that take European customers are Malta (MGA) Gibraltar (GGC) and the Isle of Man. If a site has a license from the UK Gambling Commission as well this is a great bonus. The UK has the oldest legal framework in place for regulating gambling. The industry is centuries old! Avoid licenses from Antigua and Barbuda the Caribbean authority is the oldest and was once respected but it has lost its crown and its teeth. There have been some high profile cases against online casinos regulated by them and confidence in them has been dashed. Likewise avoid any with certification from Curacao it is purely a business license and they have absolutely no enforcement strategy. In fact there are no rules to comply with any business can pay the money and register.
Make Sure Your Money Is Working For You
Legitimate online casinos will have multi-tiered security measures in place to safeguard your cash. This is a given but it still pays to double check and a certificate of verification is a good place to start. VeriSign and Thwate are two online security specialists that are well known in the industry. They will independently access the strength of a sites security protocols and certify as such. If the sites address line comes up without the https prefix and padlock icon avoid them. Most online casinos use third party payment transaction companies. These can easily be checked for their track record and while the reputable casinos would not be in business with dodgy operators efficiency levels are variable. There are so many top brands offering Swedish Kronor accounts it does seems pointless to choose one that would need currency conversion. If however you just have to play at a particular site that does use Kronor then find out the charges before you deposit. Some can be very large and often quite hidden.
Forums Keep You In The Know
Online casinos have had player forums dedicated to them from the start of the internet boom. Unlike most forums, which are informative but lack any real clout, online casino forums have wielded considerable power. A trending thread regarding bad practices really does hurt a brand. Some threads have bought about investigations and eventual shutting down of rouge sites. Listen to what your peers say. Yes you will read a lot of posts about how bad this bonus is or this site you never win at. These are people who don't read terms and conditions and are just unlucky. If a site is using any of the top brand software platforms then you know they are playing a straight game. All of them work closely with regulatory bodies and all games are audited for fairness.
The Oldies Are Still The Safest Option
There are some great new online casinos that come out. Any new entity should be treated with caution however. The brands with happy customers for 5-10 years have proved themselves and yes some of them may feel a little tired but you know they are safe. If you really must try a new brand then start of slowly. Make small deposits and use the withdrawal service to this way you can get a feel for them without risking too much. Remember crooks can't sustain a rogue operation for very long. The internet has put paid to that with the help of forums the news just gets out to fast.