Long Standing Quality Casino Software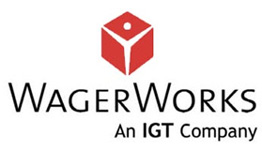 WagerWorks is another software developer that has been in the industry for a decent amount of time. Formed by Silicon Gaming over 15 years ago as a subsidiary to their slots manufacturing business. Performing so well that International Gaming Technology (IGT) bought the whole group in 2005. IGT gave WagerWorks freedom to concentrate solely on the online gaming side of things. Drawing from its parent company history and experience in land based slot machine manufacture, WagerWorks online casinos have some instantly recognizable titles in their lineup. Taking old favorites from brick and mortar establishments and translating them into online versions.
WagerWorks Online Casinos Fast Play And User Friendly
Running as an instant play software with no download version is not a disadvantage or flaw. The games load quickly and the quality is as good as many online casinos' download versions. It has by far the best quality instant play games with almost no load time. WagerWorks/IGT offers its clients an end to end casino management system. The actual gaming software is a small part of the system, backend management, customer support, marketing and promotions, legal compliance and seamless integration with existing programming and competitor's products, all come together to provide operators with as little or as much of a service as they want.
WagerWorks Are A Childhood Revisited
With only around 80 games on offer WagerWorks certainly won't win the prize for biggest portfolio. However the quality of graphics and audio are definitely in the running for top honors. Slots are king of the lineup for WagerWorks online casinos, branded games have capitalized on popular themes from childhood board games, many of which have almost cult following. Titles including Battleship, Cluedo, Jeopardy and Monopoly have taken familiar childhood games and created fun adult gambling entertainment with them. WagerWorks don't release many new titles and lag behind many other producers. Those they do bring out though have interesting features not seen elsewhere. WagerWorks have built into their games the ability to adjust to different internet speeds. With a broadband connection you get all the bells and whistles, the graphics are top quality. But with slower connections you can adjust the graphics to a lower setting and still enjoy the gameplay at its fullest.
Mix And Match For Best Casino Experience
The best WagerWorks casinos are those that integrate other developer's games into them. WagerWorks produce table games like roulette and blackjack, both of which have a good selection of variants and are very good, they also have some unique table game variants like Three Wheel Roulette. They do however lack a few of the more obscure games that are gaining popularity. There's no SicBo or Pai Gow or the other casino poker games, and a limited offering of video poker and classic slots as well. The progressive jackpots offered at WagerWorks online casinos is a bit of a two sided affair. On the one hand you have the highest reset jackpot in the industry at a very generous £1.5M. The other side to the coin is there are only three games available as progressives and they are linked so if one pays out they all reset.
Do a quick search online and lots hits come up for Wagerworks casinos. The thing is no information is easily available for the actual company. It seems that the name has been dropped and now gaming software is solely under the IGT banner. As with a lot of things in the industry it's not so clear but WagerWorks or IGT, the one thing that is clear is that the games produced by these developers will be around for a number of years to come.