How to Play Online Craps – Trusted Casino Sites with Craps Online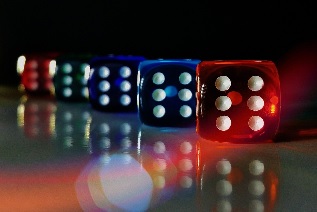 When you imagine a game of craps you probably picture a group of people stood around a table, shouting and rooting for the guy throwing the dice. Playing craps online isn't all that different just far quieter. Some of you might be thinking the game is complicated, but it's no more difficult than any other casino game. When you play craps in a live casino it can be a very thrilling experience, with crowds cheering and gathering round the table to enjoy the thrilling atmosphere. This is obviously going to be one thing that's missing when you play craps at an online casino but it'll still be fun.
For the uninitiated we'll first start with a look at how to play, before moving onto to betting. Keep your eyes on this site as we also plan to feature more about the odds, tips and strategies to help with your game.
How to Play Craps Online – Beginner's Guide
The basic premise of the game is players bet against the casio on the throw of the dice, and they can either win or lose depending on the outcome. The objective is for the dice thrower to throw either a 7 or a 11 with the first roll of the dice. This will be a win for the dice thrower. If a 2, 3 or 12 is thrown it is a loss. Any other number being thrown establishes a point number.
Craps involves a series of rounds. The first roll of the dice is called the come out roll and will determine whether another round will take place. Throwing a 2, 3, 7, 11 or 12 will end that particular game. If any other number is thrown such as 4, 5, 6, 8, 9, or 10 then a bonus round will take place. These numbers are called the point, and the dice will continue to be rolled until the same point is rolled or a 7.
Losing bets are removed from the table and the winning bets and ties are paid when the dice stop rolling.
Best Online Craps Casinos

1

Worldwide

€300


Bonus

200+


Games

150+


Mobile

97.21%


Payout
Play now –
2

Worldwide

€1,500


Bonus

150+


Games

100+


Mobile

96.91%


Payout
Play now –
3

Worldwide

€1,750


Bonus

120+


Games

80+


Mobile

96.50%


Payout
Play now –
How to place your bets at craps online casinos
When you've decided on your bet you simply click on the chip value you wish to wager. Every time you click an amount is added to your bet. You can change the amount you bet each click by clicking on the chip amount.
You can change the bet amount for different sections on the left, where there is an amount to bet per click section. Once you've finished betting your chips are placed on the table.
If you're playing an instant play version, areas where bets can be placed or added are coloured green. Those where you can't place a bet are coloured red. In red or back areas bets can't be changed but sometimes you can remove them.
Removing a bet from the table in an instant play online casino game can be done by clicking on the 'remove' button and then the chip.
If you want to know more details about the bet areas you can move your cursor over the area and you will be informed of the name of the bet, how much was placed, and minimum and maximum betting limits.
Understand betting areas and payouts when playing craps online
Pass line – This is the most important bet when you play craps online. If you put your bet on the pass line during the come out roll you're making an even money bet. If a 7 or 11 is rolled you win. If a 2, 3, or 12 is thrown you lose, and it's known as craps. If a point is rolled on the come out roll and the point is rolled again before a 7 you win. If a 7 comes out before the point you lose.
Buying the odds – If a point is rolled you can bet as much as three times your pass line bet on the odds. Basically you're betting that the point will be rolled before a 7. The probability of this happening is less than 50%, so you'd win more than you bet.
Don't pass – This is the opposite of a pass line bet. If a 2 or 3 is rolled you win even money. If a 7 or 11 is thrown you lose. If 12 is thrown this is known as a push. If none of these scenarios happen the dice continue to be rolled until a point or a 7 is rolled. If a 7 is rolled before the point you win. You can't remove a don't pass bet once the point has been established.
Laying the odds – This is the opposite of buying the odds. Basically you're betting a 7 will be thrown before the point.
Come – This bet gives a player the opportunity to make a pass line bet after a point has been established. By making a come bet you're turning the next roll of the dice into a come out roll that will win even money on a 7 or 11, a loss on a 2, 3, or 12. A come bet can only be made once a point has been established.
These are only the basic bets you can make but are enough to understand if you want to know how to play craps. There are plenty more bets you can make, and hopefully we'll have more time on another page to go into more depth. You can play craps at online casinos using the most important bet that is the pass line bet. But obviously the more different bets you understand the more involved and interesting your game will be. We'll be featuring some of the best online craps casinos for your convenience and we know that once you get started you'll pretty soon be hooked on the thrill of the game.
As with all online gambling the more you learn the better your chances of winning. And we can't stress enough that practising is an important way to start. Especially with such a complex game as craps can be.