Trusted Online Casinos in Thailand – Thai Gambling Sites List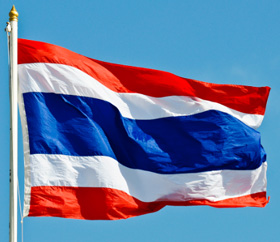 The only two legal forms of gambling in Thailand are horse racing in Bangkok and the national lottery. One extremely popular one not. The lottery is so popular that the black market has its own version that apparently out sells the legitimate one. This is the thing with Thailand while most forms of gambling are prohibited it doesn't stop the people from gambling. One study suggests as many as 70% of the population regularly gamble. There are some pretty comprehensive laws surrounding gambling with one specifically banning playing cards. Yep that's right you are not allowed to even own a pack of cards! Does that put a damper on it? No of course not every village has a bookie and underground casinos football from around the world being very popular. The penalties on the books are stiff with large fines and imprisonment for getting caught betting illegally. The reality is a bit less scary most just get a small on the spot fine from the police and tourists have been known to get kicked out. Out in the villages the 'casinos' are little more than somebodies home with a board laid out for dice and card games. In the cities they're a little more sophisticated, set up in basements of office buildings or in luxury apartment blocks, these have more games that would be recognized in main stream casinos.
Are There Legit Thailand Online Casinos?
For the true casino experience Thais travel to their neighboring countries. Set up in the no-man's land between borders these tax havens are home to many casinos. They are unregulated however and the authorities warn against using them. The borders towns just inside Cambodia cater to Thais and the Crown Casino is very well known and has an online version where Thais can gamble. The wagers can be placed online and winnings collected in person at the casino. Laos has the Savan Vegas and they specifically target Thais their website is in English and Thai only. With incentives offered to agents that either bring punters in person or sign them up online. The stark reality is the lack of regulation means these are all very risky operations. If you are living in Thailand and want to gamble online there are much safer methods. The best Thai online casino is regulated and safe.
Best Online Casinos in Thailand

1

Worldwide

€300


Bonus

200+


Games

150+


Mobile

97.21%


Payout
Play now –
2

Worldwide

€1,500


Bonus

150+


Games

100+


Mobile

96.91%


Payout
Play now –
3

Worldwide

€1,750


Bonus

120+


Games

80+


Mobile

96.50%


Payout
Play now –
European And Asian Casinos Are Available
The online casino market in Asia is huge and forecasted to get very much bigger. There are some giants in the industry that are focusing on Asia. Bodog88 is one and 888.com another both of these companies have put a lot of effort into getting a foothold into the market. I guess the lucky eights in their name are no coincidence. These are just two of the many online casinos targeting all of Asia not just Thais. The important thing to look for is where the company is licensed and regulated. The Philippines is the most recognized authority for the Asian market. Thai currency and language sites are now quite common place and more become available on a regular basis.
All Your Favorite Games In One Place
Whether you are an avid fan of roulette, poker or like to wager on European football you can do this all in a one stop shop. Accounts with the big online casinos for Thais have everything available you can be playing with a liv dealer at the blackjack tables and place a bet on a football match in Germany. The industry has come a long way in a short space of time. The software developers have huge R+D budgets and these days most online casinos use a mixed platform. So if your favorite slots game is by Microgaming but you prefer Playtech's roulette this is now possible one site.
Promotions And Bonuses
Because the market is expanding rapidly there are lots of new marketing promotions aimed at Thailand. You will find many that are Thai only and look like they are very attractive. Be aware that all bonuses come with terms and conditions. Any deposit related bonus will have a wagering requirement meaning you will have to bet the deposit a number of times before you are eligible for the bonus cash. It is very important to read the terms carefully before accepting it. Many forum posts talk about unfair or misleading bonuses the fact of the matter is they have not understood the conditions. Or they never read them in the first place.
Forums Are Very Useful
Despite the number of sore losers forums are very important in the industry. The online casino industry is customer focused and very fast moving. Any casino that ignores customer grievances comes a cropper very quickly. Gamblers are a wary bunch and it only takes a few posts complaining about not getting paid to send up warning flares. It is a good idea to keep an eye on forums and monitor the posts regarding any online casino you have an account with or one you are interested in. The top online casinos recognize the importance of forums and have agents in contact with them. Even the most trustworthy brand has issues from time to time. This is the nature of business it's how these issues are resolved that sorts out the cream of the crop. When opening an account after all of your investigations start slow. Don't be tempted by huge deposit bonuses with an unknown casino. Make a small deposit first and see how you get on. It is far better to have a problem trying to retrieve a small sum than a small fortune. Remember gambling is meant to be fun. The minute it stops being fun walk away there are enough problems in life without making gambling one of them. Good luck and enjoy.