Novomatic Online Casinos – Who?


You would be forgiven if you said you had never heard of Novomatic. Outside of the industry its not a name that springs to mind. However they are one of the big players in the gambling world they have over 1500 land based and online, casinos and sports betting operations. The parent company is based in Austria and has Swiss sister companies but the Novomatic group comprises affiliate companies in 50 countries. They supply games and casino management systems globally but are most well known in Central and Eastern Europe. The reason you may not off heard of them is the fact there are so many subsidiaries covering many different aspects of the gaming world. You may have heard of Astra and Bell-Fruit Games in the UK or Greentube and Admiral from Austria, they are all part of Novomatic. The group company packs a mighty punch in this very competitive market.
The Novomatic Online Casino Plays just Like The Land Based Version
Taking popular titles from land based casinos and translating them into online games is not unique. Novomatic happen to be masters at it. Using their experience of over 35 years they have brought the five star casino to the average Joe's living room. While there are not so many very well-known casinos that use just Novomatic games there are a lot that use them in conjunction with other developers. If you have visited a casino in Europe you will have probably played a machine designed by the Novomatic group. Gaminator, Novostar, Novoline and Admiral are all under the same banner and you will find them in Novomatic casinos both on land and the internet.
Some Nice Jackpots Too
Granted there are other names that come to mind first when progressive jackpots are mentioned. But Novomatic do have a few in their stable and over €3M payouts are not to be sniffed at. Two of the best known are Golden Sevens and Jackpot Crown both making millionaires on a regular basis. There is even a progressive jackpot Jacks or Better video poker that pays out the jackpot on a royal flush.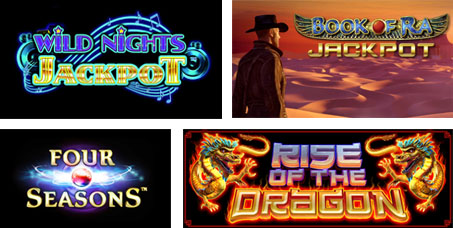 Slots Slots And A Few More Slots
Everybody loves slots. The casino loves them because they almost print money, the rapid turnover of games keeps the money flowing in. Punters love them for lots of reasons, ease of play, exciting graphics and audio, the chance to win big for small stakes, the list goes on. Novomatic gained huge kudos with the slot game Book of Ra. Played around the world by millions of people and is in the running for the most popular slots game ever. Novomatic have built on this huge success and have dozens of very popular titles in several online casinos both owned by them and by licensed software users.
Novomatic Casino Games Are Squeaky Clean
Novomatic games span the globe and as such have to comply with all sorts of local laws. They probably hold the title for being regulated by the most authorities. Every single subsidiary company is regulated and licensed with the most reputable gambling authorities around the world. Malta, Gibraltar, Alderney, UK Gambling Commission if there is a body to oversee the gambling industry Novomatic probably has a license from them. Every game they produce from any of their branches goes through the most rigorous in house testing before even getting to the authorities. With typical Teutonic reliability their games work flawlessly. If you play in a Novomatic online casino their games are 100% safe.
Novomatic Are A Genuine Company
As a general rule all companies in the gambling sector claim to be committed to responsible gambling, few however actually do much about it. Novomatic are one of the few. They have an actual program in place to further research into addictions not related to substances. Partnering up with the Department for Addiction research and Treatment at the Medical University of Vienna is a very real contribution to addressing some serious issues.
Unknown But Top Of The Pile
Novomatic online casinos are here to stay there's no doubt about that. They could well be one of the largest companies connected with the gambling industry that is relatively unknown. The fact that they have low recognition by the playing public hasn't stopped them. In 2014 the groups revenue was around 3.8 Billion Euros! Their backend software is excellent and has many features that the industry loves. They may not be the most prolific when it comes to new games but the ones they do bring out last the test of time. Any IT company that's been around since 1980 must have a lot going for it.