Feeling Lucky? Want a Flutter? What Are the best Online Casino Games?
Top 7 Casinos With Many Games
A lot of people would answer 'the ones that pay out!' Well that is one big criteria for sure and the odds involved vary from one game to another. But remember the house percentage means they will win in the long run. For most people gambling is about the rush of a chance outcome. The thrill of hitting a 100-1 shot. Some love the total random chaos of a slot machine. Others like a little skill mixed in with it and play Blackjack. While some are convinced they have a system to win at Roulette and think its all Maths (it's not, it's completely random all things being fair) It's all opinion and to each their own, any game played is to some, the best casino game. But that's no help to a newcomer to the scene, so let's have a little rundown of the top played games in online casinos. The classic casino games are all there but unlike a brick and mortar casino, an online casino is not limited to table space. Because of this some unusual games, coming mainly from Asia, are now being enjoyed by the world's online gambling community. Some sites have over 450 different games on offer more than enough foe the average thrill seeker.
Slots and Their Close Cousins – The One Arm Bandit Online
Online slots can be played on just about every casino site there is. Played as side games or on their own slots come in many guises and stakes you can play for each spin. Slots are included as one of the best online casino games because there's just so many to choose from. Slots games can have limitless custom features and type of slots is often the main reason players choose to stay with one particular casino. Welcome bonuses are quite often linked to the slots, and huge jackpots can be generated with a progressive jackpot game. The highest single payout from an online casino was from a progressive jackpot slots game. It was made to a UK player for a 30p stake and the win was £5.9M! Themed games are the norm and add quite a bit to the playing experience.
Got a Bit of the Devil In You? Spin that Wheel!
No I'm not saying you're a demon! It's just that Roulette is known in some circles as 'the Devils Game'. If Roulette's not the best casino game, it's certainly one of the most popular. Made famous in many a movie and TV advertising, the phrase 'he bet it all on black' is very familiar. A favorite with high rollers and small stake gamblers alike, the game has an exciting organic feel with just enough suspense to keep you on the edge. Roulette has migrated very well to the online world. Depending on the version, American or European are the most played, the wheel is divided into, 38 slots with a double zero, or 37 slots with just one zero respectively. The major difference is the house percentage, the extra zero drastically improves the house odds! A very easy game to learn, a novice can get straight into the action. But the more you play the more you understand the probabilities and then game then really becomes interesting.
There are different graphics and layout between sites, but the game plays the same, and the wheel is a constant. The numbers from 1-36 were randomly assigned red or black status with the zero (and double zero) green. Numbers assigned, again seemingly randomly, working from the zero slot, red, black, red, black, etc. The betting table is set out in a grid of 36 squares, 3×12. Numbered 1-36 starting top right, going down is 1-2-3 then one in from top right going down 4-5-6 and so on left to right up until 34-35-36 on the far left. It looks backwards and a bit random when you look at the board.
Betting areas are marked on the table below the grid of numbers and bets placed within these areas. Layouts may differ slightly and some still use the French terms (but that's very rare online). The ways to bet on Roulette are many and this is one reason why it is loved so much.
The first section from right to left (block of 4×3) is called 1st dozen or first 12 and pays 2-1 odds
The second section is 2nd dozen/12 and pays 2-1
The third section is 3rd dozen/12 and pays 2-1
Underneath these are
1-18 and pays 1-1
18-36 pays 1-1
Odd pays 1-1
Even pays 1-1
Black 1-1
Red 1-1
There are other bets available and these are placed on the grid itself.
Known as a single the bet is placed on one number and it pays 35-1 (except 0, 00)
A split is two numbers either vertically or horizontal pays 17-1
A street is three numbers in a single line pays 11-1
A square or corner the bet is placed on the intersection of four numbers pays 8-1
A double street two adjoining lines of three pays 5-1
A column of 12 pays 2-1
Two additional bets on the American 00 wheel are
A basket which is a combo of three from 0, 00, 1, 2, 3, pays 11-1
A top line or 5 bet on all of them 0, 00, 1, 2, 3,
It may seem a complicated system of betting but it's very easy to get the hang of. The best online casino games all have a free play version and roulette is one that really should be played before wagering real cash.
21 the Magic Number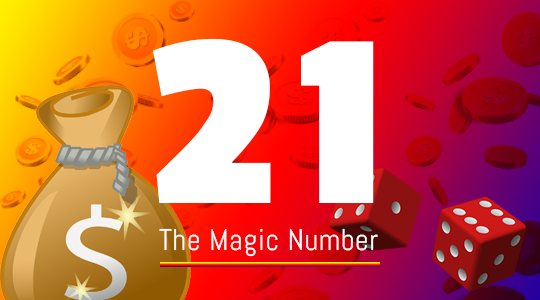 Blackjack is top two in the list of best online casino games, many argue for 1s t but there are millions of dollars wagered online playing Blackjack, so it is profitable for the house for sure. There are also many variations of the game found online, triple 7's, Spanish 21, Royal Match are just 3 a much better choice than in a brick and mortar casino. A favorite of many it is quite a simple card game to play, but is actually one of the few casino games where some skill and strategy come into play. If you want to give Blackjack a go, read the house rules on the game, there will be some differences between casinos online. Some force a 'hit' if 15 or lower for example. The idea is to get as near to 21 without going higher or 'busting' to win you need a hand better than the dealer. Online there will just be you and the dealer at the table. Before each hand is dealt the bet is placed, two cards each are dealt yours are both face up the dealers are one up one down. You then either hit, stand, split, double down, or surrender depending on house rules. Hitting is receiving another card, standing is sticking with just two. You can hit as many times as you like until you stand or bust. Splitting is when you are dealt two cards of the same value, and you split them into two hands increasing your bet and playing both hands separately. There are many different house rules for this so make yourself familiar with them first. A double down is when a player is allowed to bet double the original stake but then is allowed only one hit. Some games offer the surrender option which is only available for your first decision, you may give up on the hand and half the bet is returned. Once again this is subject to house rules.
With Blackjack probabilities have a big factor and understanding the maths really does improve your chances. There are many strategies involved with the game, card counting being the most famous. There is far too much information to impart here, countless articles cover Blackjack so if you love the game research a bit and increase your chances.
Is Your Name Bond, James Bond? Baccarat The Aristocrats Game
Baccarat or Banco Punto is another classic casino game that has migrated to the online world. Becoming more popular it's another very simple game to play. The wining hand is the closes that adds to nine, cards 2-9 are worth face value an ace is 1 and all tens and picture 0.Three bets are allowed you can bet on the banker winning, the player winning, or a tie. There are two hands dealt the bank and the player (banco punto) each receive two cards. If neither hand adds up to 8 or 9 (a natural) then there is a slightly convoluted set of rules for when a third card is dealt.
If the player's hand totals 0-5 a third card is drawn. If a player has 6 or 7 no card is given a stand.
If the banker's hand totals 2 or less, then the banker draws a card, regardless of what the player's third card is.
If the banker's hand totals 3, then the bank draws a third card unless the player's third card was an 8.
If the banker's hand totals 4, then the bank draws a third card if the player's third card was 2, 3, 4, 5, 6, 7.
If the banker's hand totals 5, then the bank draws a third card if the player's third card was 4, 5, 6, or 7.
If the banker's hand totals 6, then the bank draws a third card if the player's third card was a 6 or 7.
If the banker's hand totals 7, then the banker stands.
Winning bets on the banker's hand pay evens – 5% commission for the house, winning bets on the player's hand pay evens.
Sic Bow – Asian Dice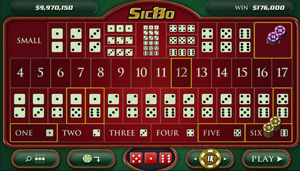 Sic Bow is of Asian origin using three dice you are trying to determine the outcome of a throw. There are a few bets you can make. Laid out on a table graphic you can place a bet on
Single number bet – single bet on one dice coming up the number you choose. Even money is paid. But if two come up the same 2-1 if three come up 3-1 ( there is also a specific triple which is different)
Two number combo – This bet is on two of the dice coming up the numbers you choose. 6-1 is paid
Three number total – Called the big and the small. The small you bet on the total of the three dice added if it comes 4-10 you win. The big bet is 11-17 total. Even money is paid for both.
Specific Triple – For this bet you choose a number and all three dice must be that number. 150-1 is paid.
Odd or Even Triple – You choose either odds or evens if 3 threes come odds win etc. 25-1 is paid.
These are the traditional bets but the game varies a lot between online casinos and would need to be checked out first. Some casinos only offer this as a free game, but as popularity grows more cash games will appear.
Shooting Dice The Craps Way
Craps is another game of dice and has been played in America for many years. Its popularity with the rest of the world was slow in coming but some online casinos now offer it. A very complicated set of betting rules that can vary from house to house means it's preferable to contact the casino to get a full structure. The general idea is to bet on number combinations and totals.
Pai Gow Poker – It's Really 7 card Brag Asian Style
You are dealt 7 cards and need to make two poker style hands one with 5 cards called the front and the other with two called the back. The front must be better than the back. If you beat the dealer with both hands you win even money. . A push is when you win one hand and lose the other. Depending on house rules you get all your stake back or half. The house charges a 'rake' style commission usually 5%. This game is gaining in popularity as a lot of hand are pushes meaning your bankroll lasts long and more hands are played.
Online casinos over time will add more and more games to the list. There is really no reason for them not to introduce the more obscure forms of gambling. Gaming software companies are big business and development is rapid.