Best Casino Sites in Peru – The Top Online Casinos Peru has to Offer
Peru is a well-developed country with modern cities and a diverse population and culture. Spend a week in Lima and it's as cosmopolitan as New York, Paris or London. There are the usual high quality hotel and casino set ups one in each of the Marriot, the Fiesta and the Atlantic City. All venues provide the expected table games with poker tourneys a regular event as well. When you want a break from the tables a short trip out of the city and you are immersed in a natural world that is pre-historic. The terrain varies dramatically from region to region from the great mountain trails to the deepest darkest Amazon Forest. Then of course you have the Inca sites that if you have come to visit Peru you must see. A truly awe inspiring place to visit.
Peru Online Casinos – Top Websites to Take a Peek In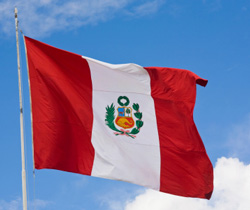 There is so much confusion surrounding the legality of online gambling and more specifically online casinos. Many countries haven't got round to setting up the proper frame work and the area is so grey. In the case of Peru the constitution is quite clear with a Freedom Principle stating: No one may be required to do anything not ordered by law or prevented from doing what the law does not prohibit. Since there has never been a law banning online casinos it has always been allowed. The Peruvian government decided to profit from this and has brought in regulations for licensing. There is conflicting information out there but according to two Peruvian Lawyer's websites there are now a few registered online casinos in Peru. The strangest of all and it is a very welcome strange is that offshore non Peruvian regulated companies are still allowed. There are tax issues for the online casino but no citizen is at risk of prosecution they just doesn't have any local legal back up if things go wrong.
Not Many Local But The Whole World To Choose From
When it comes to the list of online casinos that have actually got a Peruvian license its quite small as yet. The most well-known is Betsson and probably ranks as the best online casino Peru regulates. This means that you have all the backup of the local legal system in the event of any problems. But due to the unusual quirk of Peruvian law the possibilities are almost endless when it comes to offshore operators. This does however bring its own issues. There is such a thing as being spoilt for choice and the multitude of options can cloud judgment. So a few simple but effective measures should be taken before depositing and enjoying those hours at the roulette wheel.
Best Online Casinos in Peru

1

Worldwide

€300


Bonus

200+


Games

150+


Mobile

97.21%


Payout
Play now –
2

Worldwide

€1,500


Bonus

150+


Games

100+


Mobile

96.91%


Payout
Play now –
3

Worldwide

€1,750


Bonus

120+


Games

80+


Mobile

96.50%


Payout
Play now –
There Must Be Valid Regulation Of The Site
Pretty much all international sites will be regulated by more than one authority. This is due to different legal obligations in various areas. Just because there is a license present don't think ok all is well. Some licenses are just business operating licenses and have no relevance to the gambling industry at all. For example the Caribbean purely a tax haven and a place to register a business. At the other end of the scale the UK Gambling Commission, the MGA and Gibraltar all top end regulatory bodies with strict rules and governance. The Isle of Man and the Channel Islands are also well respected. Then you have the Kahnawake Territories which cover most casinos that concentrate on the Americas. They seem to be doing a good job but a few rogues have slipped though the net with them. The important thing to remember is just because they have a license doesn't mean they are not crooks but if they don't have a license they are probably crooks. All licenses can be validated at the respective authority websites remember it just the first step in your vetting.
Open And Forthright In Every Area
Background checks on the registration and ownership of the online casino you wish to play with should be easy. If it is difficult to establish who actually runs the show and it all looks a bit murky look elsewhere. Transparency is a sign of honesty. If a brand is floated on one of the major stock exchanges you have the added back up of their regulators looking into a company's business practices. Every important thing you need to find out should be a couple of clicks away and visible somewhere on the casinos website. Security for your personal details is a big deal there should be independent tests done and certificates issued. The same goes for games they should be periodically tested and certs issued. Terms and conditions should be written in clear language and be easy to understand. The customer service agents must speak your language. Contact them and ask a few questions gauge their knowledge as well as there fluency.
The Best Tool Is The Player Forum And Casino Watchdogs
Since the beginning of the online casino boom there have been certain sites keeping tabs on all the operators. Starting out as just enthusiastic players getting forums and review sites up to talk about experiences a few quickly grew into respected entities. An online casino would be stupid to engender the wrath of the playing community as some have. Word of mouth quickly get around these days and can have crippling effects on a brand. Read reviews and player forums if one name keeps popping up as a bad casino don't risk it. There are comprehensive blacklists of online casinos with the reasons why they are well worth looking at. There are so many good casinos out there don't give the bad ones your money. A rule of thumb for finding a good fair online casino is the length of time they have been in business. If a new firm has just sprung up don't rush in let everyone else take the plunge. However if a casino has been online for ten years with plenty of customers it must be doing something right. Common sense is your best weapon. Good luck.