Top Casino Sites in Greece – Best Casinos Online for Greek Players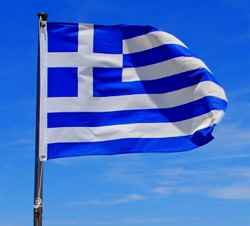 Greece as a unified country is not that old but its history has shaped the western world. The city states of Ancient Greece were the birth place of democracy, public debate and the concepts of western philosophy. Medicine, science and mathematics owe a great deal to this Mediterranean country of antiquity. Modern Greece however has had a rough time of it. Economics have been the driving force behind much of what is happening in Greece at the moment. The country is basically bankrupt and the measures that are being taken to try and address the situation are hitting every aspect of life here. Gambling is no different and the industry is on its knees. The legal environment surrounding the industry has been in tatters for a number of years with licenses being issued one year then rescinded the next. Online casinos have taken the Greek authorities to court over their apparent protectionism and blatant attempts to inflate the pre-sale price of the state run betting monopoly.
Online Casino Greece – Best Websites to Choose From
Greece ran a state gambling monopoly for years and like many other EU countries ran into trouble with Brussels. There has been a lot of toing and froing with Greece seemingly backing down and opening up the market and issuing licenses. All of these temporary licenses issued in 2011 were then revoked the very next year. This was all leading up to the sale of Greece's betting operation. More law suits and finally Greece is to introduce legislation and open up the market. However the tax rates are astronomical with 35% on gross turnover being quoted with a minimum €1M bill regardless of income. This extortionate tax rate is nothing new in Greece. Poker players have been paying income tax on winnings in a 24hour period. The next day's losses are not deductible so in essence you have to put in daily tax returns if you are gambling. Total Farce!! The upshot to all this is there is no great rush brands flocking to get licensed in Greece. The best online casino Greece is still offshore.
Best Online Casinos in Greece

1

Worldwide

€300


Bonus

200+


Games

150+


Mobile

97.21%


Payout
Play now –
2

Worldwide

€1,500


Bonus

150+


Games

100+


Mobile

96.91%


Payout
Play now –
3

Worldwide

€1,750


Bonus

120+


Games

80+


Mobile

96.50%


Payout
Play now –
Play While You Still Have The Euro
The uncertainty of late surrounding the stability of the Euro and even if Greece will stay in the Euro zone has had a very unsettling effect. Make hay while the sun shines. The Euro is still a strong currency. One of the benefits for online gamblers is that while the legality in your country may be a bit suspect there is no messing about changing cash. Europe has a multitude of third party electronic cash transfer methods. Yes you still need to verify yourself for a cash out but you can get your money sent anywhere you like. No messing about that has to be a good thing. Usual security issues are still around it makes sense to vet the online casino you play with. The more well known the brand the less likely your money is a risk in their system. The best Greek online casino will have the likes of VeriSign or Thwate's logo on their website. These independent security specialists will test all aspects of the sites protocols and will certify them.
They Must Speak Greek
Despite the past state of flux in the Greek online casino world there has never been a shortage of Greek language site. There may not be as many as say English but the choice should be sufficient for even the pickiest player. Before committing cash to any online casino get in touch with the customer service team. A site may well have an excellent Greek version of their site but it doesn't necessarily mean there are any Greek speakers on the team. It would be a very nasty shock if you have a problem involving a lot of Euros to find nobody understands you. It may seem that it would be obvious that they would have someone that speaks the language they offer but it is not always the case.
Be Careful You Don't know Where You Stand
The big downside to playing with a site that is unregulated in Greece is the sporadic blocking of some sites. There is no rhyme or reason to who or when a site may be blocked. ISP's in Greece still do this from time to time and while sites do seem to become available again there is no way of knowing when. This situation is not good. Players do use VPN and other forms of disguise but it is in no way ideal.
Due Diligence Is Still A Must
Even when all seems good checking the background of an online casino brand is vital. This is the information age and a quick search online is very revealing. A brand may well have a recognizable name but take care there are a lot out there that have very similar sounding names. The exact wording and order of a brand name is very important. A lot of people have been duped in the past thinking a casino was a legitimate branch of a well-known company only to find they had just swopped two words around in their name. This is more common than you would think and research is very important.
Licensing Is Checkable
Just because a brand says it has a license and there is a logo in the footer it is not always the case. Every legitimate authority has a website you can visit to verify certification. The type of licenses issued and the validity is easily checkable. The same goes for software providers all new games should be tested and certified fair. If there is any doubt choose another. There are so many straight players available it is silly to risk your money where any doubt exists. The future is uncertain for Greek gamblers new legislation may well open up the industry but the tax burdens are not conducive for growth. Unfortunately the whole country is suffering and gambling is seen by the government as a cash cow. It is a short sighted view but time will tell.