North Dakota Is A Happy Place To Be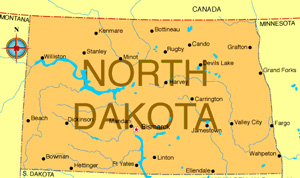 According to the Galloup-Healthways Well Being Index in 2013 North Dakota was the happiest state in the union. Surprisingly edging out Hawaii. It also ranks high in the millionaire per capita lists. This is probably due to the oil boom, pumping one million barrels a day tends to make people rich. One of the least populated states the wide open spaces means people tend to keep to themselves. Maybe this is why gambling has never been much of an industry in the Peace Garden State. They do however a few tribal casinos with 4 tribes having compacts with the state. The casinos do however have limited appeal to the serious gambler. Only one has the full range of table games and they are limited to a few tables. All of them have slots aplenty, poker and blackjack but the venues are small and there is no entertainment other than the gaming floor.
Not A High Stakes Place Not On The Traveling Gamblers Wish List
The gambling that is available here is relatively small stakes. Maybe it's the rugged nature of the landscape and the daily battle against nature for a lot of North Dakota residents. They really don't seem that bothered by it. For quite some time now the status quo has been kept and low limit tables are the norm. There are a few 'high stakes' bingo games but compared to the likes of Vegas high rollers will not be very happy. Even social games are limited to $25 per hand, which to be honest is penny ante. The simple fact is there is no market, the population just doesn't deem it important. Tourism has never been a big draw for North Dakota and rates very low in income for the state. I guess all those oil rigs put many off. So it looks like there is no need for Las Vegas style resort entertainment.
1
.
$800

BONUS
150+

GAMES
50+

MOBILE
97.11%

PAYOUT
2
.
$2,500

BONUS
150+

GAMES
50+

MOBILE
97.11%

PAYOUT
3
.
$8,888

BONUS
120+

GAMES
25+

MOBILE
98.61%

PAYOUT
4
.
$1,000

BONUS
200+

GAMES
50+

MOBILE
97.84%

PAYOUT
Internet Gambling Is Not Likely Anytime Soon
The irony is that North Dakota had the chance to be the front runners in the US online gambling scene. As early as 2005 Rep. Jim Kasper proposed a bill to regulate online poker. This attempt however was ridiculed and got absolutely nowhere. Fast forward to 2012 when the Department of Justice ruled the Wire Act only covered sports betting and not online casinos and poker, he tried once more. Unfortunately nobody listened again. The size of the population just does not warrant regulation for online casinos the tribal venues seem happy enough to stay as they are, so status quo it is. While there is no specific statute outlawing online gambling the authorities deem current legislation covers the internet. So if you are one of the few in North Dakota that like to visit an online casino from the comfort of your own home you do so as a criminal. The upside is law enforcement in the state don't seem to worried about prosecuting you.
If You Want To Risk It Look Out For The Pitfalls
Just because there are no online casinos registered in the state that doesn't mean you have to risk playing with an unlicensed operator. There are many rouges out there trying to cash in on the unwary. The rest of the world has had a flourishing online casino industry for over 20 years. In that 20 years some very good regulatory bodies have kept the industry honest. All new games are audited for fairness, payout tables are independently checked and strict rules are enforced. That being said all things are not equal when it comes to regulatory bodies. Avoid any that use Curacao, the island state issues licenses that are purely business permits. There is no regulatory power in force. Antigua and Barbuda had a great reputation that has fell by the wayside, with a few high profile cases of fraud among those licensed by them. The best are Gibraltar, Malta, the Isle of Man, Alderney and more relevant to US residents the Kahnnawake Territories. All of which at the moment do a very good job.
Listen To Players
When online casinos came online so did player forums. There are forums out there that have been going as long as the oldest casino. It's true a lot of chatter can be put down to bad losers and more frequently players not reading bonus terms and conditions. However there are a lot of genuine complaints, the best forums have contact with the major brands and reps do sort out problems. For all is said and done mistakes do happen, it's how they are fixed that counts. The thing is if there is a lot of chatter about one particular casino there is probably something to it. One last point if a casino has been in business for 5 – 10 years the chances are they are a good one. Player power gets rid of the crooks pretty quickly.