New Mexico A Lot Of History For A Young State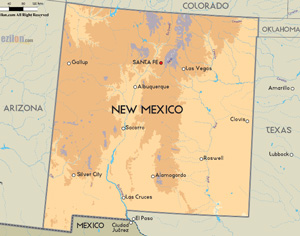 New Mexico may be one of the youngest members of the Union but it has a rich history. That history is very much alive and well in the land of enchantment. The oldest Christian church in the US is located in Santa Fe. It was built by Spanish colonials in 1610 and their heritage can still be recognized in the language of a large part of the population. New Mexican Spanish is a unique colloquial dialect based on 17th century Castilian. More modern history surrounds the nuclear age as testing of WWII atomic weapons was carried out in state. There are still air force bases that contribute to the local economy. This had led directly to the aerospace industry and New Mexico has the world's first commercial space port. The deepest history for the area however has to belong to the native tribes. A strong local presence and culture still remain for the Pueblo peoples, the Navajo, Apache and the Ute tribes. These sovereign nations have long been part of the landscape and local economy and are still a valuable resource for the state.
Tribal Casinos In New Mexico Are In Abundance
New Mexico has a great choice when it comes to tribal casinos. As it stands there are 25 venues where you can gamble on tribal land. As with most states New Mexico had a restrictive legal structure when it came to gambling and without native peoples pushing the industry forward there would be no casinos in the state of New Mexico. The quality and style of casino varies greatly starting with what is little more than a hall with slots, right up to full on resorts with the full range of table games and associated restaurants, fitness centers etc. The birth of casino gambling in New Mexico was not an easy one however. A task force was set up in 1990 by the then Governor Bruce King. Two state compacts where presented but King refused to sign them. He was vocal in his opposition to casinos and it wasn't until his electoral defeat in 1994 that things moved on. The new Governor Gary Johnson was always committed to signing the compacts if he won which he duly did along with 13 others. A few more legal wrangling's ensued and wasn't until 2001 that the state – tribe compacts where even signed. More disputes arose over the coming years and amendments to the compacts where made until finally things settled down in 2007.
1
.
$800

BONUS
150+

GAMES
50+

MOBILE
97.11%

PAYOUT
2
.
$2,500

BONUS
150+

GAMES
50+

MOBILE
97.11%

PAYOUT
3
.
$8,888

BONUS
120+

GAMES
25+

MOBILE
98.61%

PAYOUT
4
.
$1,000

BONUS
200+

GAMES
50+

MOBILE
97.84%

PAYOUT
The Internet Is Where Things Get A Little Sticky
It seems the New Mexico Gaming Control Board have their own interpretation of federal law. It's all a little confusing and when you read through it all a bit irrelevant too but here's the gist of it. To start with state law specifically says that all forms of gambling are illegal unless stated otherwise. In other words if it's not in the statute and regulated it's not permitted. Simple enough said. Internet gambling has no mention in state law so it is illegal. But the NMGCB state on their website that internet gambling is expressly forbidden by federal law. They refer to the Unlawful Internet Gambling Enforcement Act. This law is for the financial institutions to deter payments being made to online casinos. The Justice Department has already issued statements pointing out the exceptions within the law allowing states to regulate internet casinos. They have also made statements that the Federal Wire Act only applies to sports betting and not online casinos. It all sounds a little like New Mexico State Authorities are using Federal Law as a scapegoat to avoid the issue. It's very strange this attitude to gambling. New Mexico has had horse racing for a very long time and is known countrywide for its love of all things horse. Casinos have provided huge amounts of revenue to state coffers and is still a growing industry providing thousands of jobs. Regulating online casinos the same way say New Jersey has can only benefit the state as a whole.
People Will Do It Anyway
Lessons have to have been learned from prohibition days. If something is widely considered harmless people will do it regardless of legality. The same goes for online casinos. There are hundreds of brands vying for US dollars and residents of New Mexico can sign up and play with a multitude of companies. There are a few rogues out there taking advantage of the naïve so a little common sense is needed when looking where to play. Most US facing casinos will be licensed by the Kahnnawake Territories the Canada based tribe has built a solid rep in a short while and audit games and enforce their regulations. The safest online casinos are the ones that have been around for ten years or so crooks don't hang around. Start small and build a relationship and things should be ok.