Mississippi Home Of Delta Blues, Cotton, Catfish And River Boat Casinos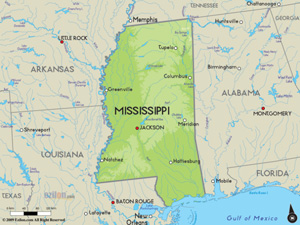 Mississippi's fortunes have ebbed and flowed over the years. For over one hundred years cotton had ruled the economy. Lately a more diverse approach has been taken and while Mississippi is still second to Texas for cotton production it has branched into other areas. The Magnolia State is still the undisputed king for reared catfish but since legislation in the early 90's gambling has become a welcome revenue producer for state coffers. Many people and organizations voiced concern with worries about increase in crime and other such negatives surrounding gambling. These concerns have however not materialized and the benefit to local communities and state revenue has been very positive. Not all forms of gambling are permitted however and as is usual in the US, state law is a little quirky in Mississippi.
No Lottery But 30+ Casino Venues
One of Mississippi's quirks is there is no state lottery but over 30 licensed premises for bingo and casino games. A little strange maybe but when you think of problem gambling, studies show that state run lotteries are by a large margin the worst. So maybe the state got it right. There are no horse or dog racing tracks within state boundaries and to gamble on any race it is explicitly banned in statute. All forms of sports betting are also illegal. So if you want a flutter it's off to one of the many coastal and river side venues or one of three tribal run affairs. The Mississippi Band of Choctaw Indians have taken full advantage of the Indian gaming laws and own all three with a fourth in the pipeline. The industry as a whole is a multi-billion dollar enterprise and has injected much needed revenue into areas that previously were in decline. There is a range of classy venues to visit, Hard Rock and Hurrah's in Biloxi are just two very well-known brands with Foxwoods joining the mix very soon.
1
.
$800

BONUS
150+

GAMES
50+

MOBILE
97.11%

PAYOUT
2
.
$2,500

BONUS
150+

GAMES
50+

MOBILE
97.11%

PAYOUT
3
.
$8,888

BONUS
120+

GAMES
25+

MOBILE
98.61%

PAYOUT
4
.
$1,000

BONUS
200+

GAMES
50+

MOBILE
97.84%

PAYOUT
A Long History Of Gambling In Mississippi
Long before Europeans arrived native tribes enjoyed gambling as part of their culture. One game called ishtaboli meaning little bother of war was a favorite pastime. This game was, as the name suggests, a hard fought game using sticks to toss balls at goal posts. Described as a cross between lacrosse and football wagers would be placed on who would win. There are accounts of some large bets being placed sometimes a person's entire possessions. Then the Europeans turned up and card games became the top choice for a wager. But checkers and billiards were also games that induced heavy gambling. Gambling in the state has always revolved around the river and coast and although many a story of shady river boat casinos were told, some were around for many years. Along came prohibition and the Isle of Caprice was born. The resort quickly became the go to place as it was located offshore just outside US waters. Unfortunately environmental issues caused by the influx of humans caused the sands to wash away and the Resort ended up under water by 1932. Gambling flourished in the state up until the 50's when a group of ministers drew attention to the fact that most of the gambling within the state was illegal. The tide had turned and public opinion over the next few decades turned against gambling. Many arrests were made but backroom gambling persisted right up until the change in legislation in the 90's
Casinos OK Internet Not OK
According to the Mississippi Gaming Commission's website internet gambling is illegal under state law. They also state that although a site is regulated and licensed were the bet is received it is illegal to place the bet in Mississippi. So once again the quirks of state law shoot the average joe in the foot. There doesn't appear to of ever been a conviction for gambling online but that's not to say they wouldn't. So if you want to gambling with an offshore online casino you will be putting yourself at risk. There are hundreds of casino brands that will take you on as customers. US facing online casinos are usually regulated by the sovereign nation of the Kahnnawake Territories. They have no problem issuing licenses to casinos that accept citizens of Mississippi. If you are going to sign up make sure you do some research. Casinos that have been in business for over 5 years are usually legit. Any with a 10 year + history are top tier. Join forums and ask questions, if a reoccurring issue comes up there is usually something to it. Check for banking methods, Federal Law has made it complicated for online casinos and they have to use third party institutions. Delays in deposits and payouts can be a big part of your decision. Start small and good luck.