Louisiana A Hot Spot For Gambling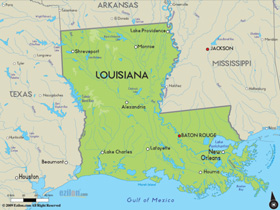 The Pelican state is one of only two states in the U.S. that has legal gambling across its entirety. Nevada being the other. Home to one of the world's great tourist destinations New Orleans, Louisiana has more casino venues than you can poke a stick at. Gambling has always been popular in Louisiana its history goes back to colonial times. With over twenty casino venues including river boats, tribal run and privately owned land-based operations, the choice is great. Over $700 million annually is a big chunk of revenue, the state heavily relies on tourist dollars and casino gambling is a big attraction for Louisiana. So whether you want the Hurrah's experience, the Horseshoe or the shamelessly Southern Treasure Chest Casino, a good time awaits.
Louisiana Gambling Law Is A Shining Example For Southern States
The law surrounding gambling in Louisiana is one of the most progressive statutes in the U.S. Clearly written with no ambiguity you know where you stand. Every type of gambling found in the U.S is legal and regulated in Louisiana. Lotteries and bingo is as usual the domain of state recognized charities. State licensed casinos rival Nevada and the dog and horse tracks still attract visitors in their hundreds of thousands. Even social gambling has had its paltry $50 per day winnings limit lifted as long as the games host doesn't profit from it. Southern states could take a leaf out of Louisiana's book as visitors flock from neighboring states to enjoy true Southern hospitality in any of the numerous gambling venues.
1
.
$800

BONUS
150+

GAMES
50+

MOBILE
97.11%

PAYOUT
2
.
$2,500

BONUS
150+

GAMES
50+

MOBILE
97.11%

PAYOUT
3
.
$8,888

BONUS
120+

GAMES
25+

MOBILE
98.61%

PAYOUT
4
.
$1,000

BONUS
200+

GAMES
50+

MOBILE
97.84%

PAYOUT
One Fly In The Ointment Though
Unfortunately for the home gambler Louisiana has made it very clear that internet gambling is very much illegal. This is directly taken from the statute "Gambling by computer is the intentional conducting of any game or contest whereby a person risks the loss of anything of value in order to realize a profit when accessing the Internet, World Wide Web, or any part thereof by way of any computer, computer system, computer network, computer software, or any server." So once again no ambiguity it is very clear. The penalties are also pretty harsh for infringement of any part of gambling law. This is where Louisiana out performs the rest of the South again. In most states several offenses can be committed all at the level of minor misdemeanor. For a first offense in the Sportsman's State a fine of not more than $500 and/or six months imprisonment! Second offense is a felony with $1000 fine and imprisonment up to 9 months. Wow. That's bad.
So No Chance Of A Harmless Game Of Roulette In Your Home Then
Well despite the fact that Louisiana state legislators have explicitly banned internet gambling nobody has of yet been prosecuted. That said with the threat of prison would you really want to risk it with so many real venues on offer? Well many do and judging by the amount of online casinos available to residents of Louisiana they don't fear law enforcement either. This section of the law is clearly designed to keep gambling revenue in state but it isn't working. You can simply log on and be accepted by a myriad of online casinos. Banking laws have no effect as third party transfer houses muddy the chain. Is this really a state of affairs that is healthy?
Be Careful
If like many you don't want to travel to a live casino venue signing up to an online casino has more issues than just the legality. Many criminal enterprises are targeting the U.S with bogus online gambling houses. Just because the state doesn't regulate it doesn't mean you have to gamble with unregulated casinos. There are hundreds of legitimate online casinos regulated by respected authorities worldwide. Very many of them still take U.S. customers. Look for those licensed and regulated by governing bodies such as the Kahnnawake Territories. The Canadian based tribal body specializes in U.S facing sites and has gained an impressive reputation in a short space of time. The island states of Malta and the Isle of Man also issue licenses to casinos taking U.S. based players. These guys have been around a long time in a well-established safe market and are a good bet. Five years may not seem like a long time to be in business but in the world of online casinos it is. If a casino has been around for longer you can pretty much assume it is legit. Crooks need to make a quick buck in this game and move on. Forums and reviews quickly uncover the rogues so they are a must read if you want your cash to stay safe. But Louisianans be careful just because nobody has been prosecuted yet it doesn't mean they won't.