Gambling In Kentucky – What Is It All About?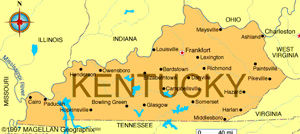 Even if you have never set foot on U.S. you have probably heard of the Kentucky Derby. Up there as one of the most famous thoroughbred horse races anywhere on the planet. Millions of dollars across the globe are wagered on the outcome of this prestigious race. Every single year. As a state Kentucky is rightly proud of the event. So much so there is a two week festival prior to the race and a museum dedicated to it open all year. So why then when millions of dollars flood into the local economy annually, are most other forms of gambling so frowned upon? A state lottery is in place and certain charitable institutions can run bingo games. All other forms of gambling are explicitly illegal. Kentucky loves horse racing but if you want a game of blackjack you best pack a bag and go out of state. Not even a tribal casino on reservation land. There are only two states with a more conservative attitude to gambling, Hawaii and Utah. You can always console yourself with a bucket of chicken at the stunning Churchill Downs but if horse racing is not your thing you are out of luck.
What About The Internet In Kentucky
So, it's not crystal clear but it's pretty obvious that any form of gambling is illegal unless authorized. There is no mention of the internet in the relevant sections of the state constitution it's not authorized ergo it's illegal. If that's not enough Kentucky attempted a mass seizure of domain names of around 140 online gambling sites. Kentucky led the way as the first state to proceed with legal action against the online gambling industry. The Republican Governor Steve Beshear got all righteous and is quoted as saying 'The owners and operators of these sites prey on Kentucky citizens, including our youth, and deprive the Commonwealth of millions of dollars in revenue. It's an underworld wrought with scams and schemes.' A little rich maybe considering his future stance but I guess it's all about the money really. So the bottom line it appears is that Kentucky is vehemently against online gambling.
1
.
$800

BONUS
150+

GAMES
50+

MOBILE
97.11%

PAYOUT
2
.
$2,500

BONUS
150+

GAMES
50+

MOBILE
97.11%

PAYOUT
3
.
$8,888

BONUS
120+

GAMES
25+

MOBILE
98.61%

PAYOUT
4
.
$1,000

BONUS
200+

GAMES
50+

MOBILE
97.84%

PAYOUT
Prosecution Could Be On The Cards
Kentucky has some shall we say a unique sentencing policy when it comes to gambling. If caught gambling the first offense is a low class misdemeanor with a paltry fine attached. The second offense however is classed a felony. This approach is unlike any other state and the penalty is harsh. A prison term is given and a hefty fine in the thousands of dollars range. So not a slap on the wrist. Most of the effort involved with enforcement is directed at the providers of said illicit gambling. Nobody as yet has been convicted of gambling online. But with a legislature as anti-gambling as this who knows.
Not Likely To Change Anytime Soon
For several years now bills have been put forward to amend the state law. Casinos have been touted as a financial savior and provider for the state. Ironically or cynically depending on how you look at it the same Republican Governor Steve Beshear is the biggest proponent for change. Every bill that get put up gets shot down in the Senate. Kentucky legislators are just not ready to accept legalized gambling. So if you must have a gamble you are going to be classed as a criminal and so you must take care. The authorities have already shown they are prepared to act so be warned.
That Said It's Not Stopped Online Casinos From Accepting Kentucky Residents
It's got a lot more risky so some of the biggest players have decided that U.S. custom is just not worth the effort. That has let in the rest and there is a booming business signing up U.S. citizens that want to gamble. Extra due diligence should be applied as predatory casinos are making the most of the situation. All reputable casinos have licenses issued by one of the world's respected bodies. Just because the U.S. doesn't regulate it doesn't mean you are not safe. Malta, the Isle of Man, Alderney and Gibraltar are all top notch authorities. The chances are most of the online casinos you will see in the U.S. are covered by the Kahnnawke Territories the tribal body from Canada has quickly established itself as a strong and fair regulator. Read forums on a regular basis they can give useful tips and keep you up to date. After all brands do slip up from time to time. One of the best tips when it comes to choosing an online casino for the first time is pick a brand with some history. A business that's been trading for 5 years or so will be legit. The industry is to fast paced for rogues to survive in the same guise for long.