California Leads The Way For Tribal Casinos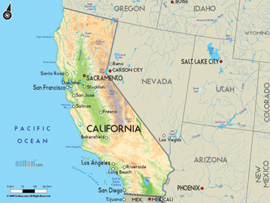 Back in 1987 a United States Supreme Court ruled on the case of California v Cabazon Band of Mission Indians. The ruling was that if a state had not directly prohibited gambling tribes could operate casinos outside state jurisdiction. A land mark decision for all States of the Union. This brought about the Federal Indian Gaming Regulatory Act 1988. While not opening the flood gates it has led to many tribes across the land opening up casinos on tribal land. California has a total of 69 casinos and 90 poker rooms statewide. These venues are run by 62 of the 109 recognized Californian tribes. With a total of over 70 000 slot machines and over 2000 table games gamblers are well taken care of in the 'Golden State'. At a staggering $7 billion annual revenue California is ranked number one largest tribal gaming state.
Californian Gambling Laws Have Always Been A Bit Strange
Gambling in California has never been prohibited in its entirety. It is certain forms of gambling that are illegal not the act of gambling itself. For example card games for money are perfectly acceptable. Indeed poker players have long since considered California to be the home of this illustrious game. Poker rooms are everywhere and have been for as long as California has been a state. Games using dice or balls however are prohibited. So you won't find a game of craps in any legal venue in the state of California. Traditional roulette falls into this area as well but casinos have come up with some interesting versions using cards to get round this rule. As with all tribal casinos across the land individual compacts (agreements) are laid out between state and tribe and must be approved by the U.S. Department of the Interior and published in the Federal Register.
1
.
$800

BONUS
150+

GAMES
50+

MOBILE
97.11%

PAYOUT
2
.
$2,500

BONUS
150+

GAMES
50+

MOBILE
97.11%

PAYOUT
3
.
$8,888

BONUS
120+

GAMES
25+

MOBILE
98.61%

PAYOUT
4
.
$1,000

BONUS
200+

GAMES
50+

MOBILE
97.84%

PAYOUT
Online Gambling Is Illegal In California
In the state constitution there are no statutes that apply to online gambling. But the state government recognizes the 2006 Unlawful Internet Gambling Act which essentially prohibits gambling by U.S citizens online. The act has exceptions if a state chooses to regulate online gambling brands that operate within the state accepting wagers exclusively from that state. So while California has some pretty liberal rules on gambling it is towing the line when it comes to the internet. It has to be said however there has never been a conviction for a player gambling at an online casino in California.
Things Are Changing In The Golden State
For a number of years now the pressure has been building in California to follow Nevada, Delaware and New Jersey to legalize and regulate online gambling. Several bills have been put forward to California's legislative house to allow state registration for online gambling. So far they have failed. The latest however seems to be gaining momentum. Unfortunately for casino game lovers it is solely aimed at online poker. California's history surrounding poker and its general acceptance of the game should mean this Assembly bill will get though. Hopefully this will pave the way for online casinos to finally be regulated for Californians.
Online Casinos Continue To Accept U.S. Residents
Despite the best efforts of federal authorities and a few high profile prosecutions online casinos refuse to give up. It is still possible for U.S. residents to play with online casinos. Some very big names in the business have decided not to tangle with the DOJ and don't take U.S. citizens. There are however hundreds that will. Californians should take care however as rogue operators can take advantage of the confusion. Because of the legal situation there is no U.S regulatory administration to handle complaints. This means players from the U.S have to be particularly vigilant when it comes to due diligence. There are a couple of licensing authorities that have a very shady reputation. It is recommended to avoid any online casino that has been issued a license from Curacao. These licenses are issued to any who apply. There is no vetting procedure, no standards to attain and absolutely no comeback. In fact they don't even have any contact details available if you did have a complaint. Look for online casinos that are regulated by Malta, the Isle of Man, Alderney or Gibraltar. Most of the top online casinos that take U.S customers are regulated by the Kahnnawake Territories. This regulatory body is fast gaining a good reputation.
Come On California Lobby Your House
California as a state has one of the most liberal attitudes toward gambling. You have a forward thinking legislature and lead the way on many issues. The future of internet gambling for your state is in your hands. The first part is almost there just one more hurdle and your beloved poker will finally be legal online. Push harder online casinos are the next step.