The Online Casino PayPal Partnership
PayPal casinos? A surprisingly good match up. Most famous as the auction site payment method of choice, PayPal have joined the online gambling community. When you think about it it's a wonder it didn't happen sooner. One of the largest internet companies PayPal carries out thousands of transactions every day. A safe and secure method to move money around the internet, it's a match made in heaven. Top notch security on their site and a trusting huge client base make PayPal an attractive solution for casinos regarding the issues of depositing with an online gambling site.
Get the $4,000 PayPal Bonus at Sloto'Cash Casino and start playing now!
If You're Having Trouble Depositing Funds to an Online Casino PayPal Could Be The Solution
A lot of major online casinos have joined the happy PayPal community. You can now deposit and withdraw funds from your account with the trusty e-wallet. If you don't already have a PayPal account it's a very simple process. All it requires is a valid recognized e-mail address (they don't like generic free email forwarding services) along with debit/credit card or bank account connected to PayPal to fund said account. Run from one of the most secure websites PayPal works as the go between for your money. It's an instant transfer of funds no fuss, no delays involved, you make a deposit it's there in your casino account within seconds.
So why PayPal? Why do I have trouble with my credit card? There are a couple of reasons why there are online casinos that accept PayPal now. Firstly it's so much simpler for all concerned credit card details don't need to be collected for starters. So immediately there is more trust for the player if the site is unknown to them. You only give out your details once when you open your account with PayPal. PayPal have a lot of rules in place to protect the consumer another plus for the player, we'll go into that a little later. By using PayPal, casinos don't need to use their third party payment companies for those transactions if they don't want to, thus saving them money. But really main reason for a lot of casinos to use PayPal and other alternate payment methods like Neteller, Skrill, Ukash etc. are the legal issues that are still surrounding online gambling. Despite the fact that online gambling is legal in a lot of countries, a lot of governments just don't like the idea of it. So with this in mind they have put many obstacles in place for payment processing companies that deal with gambling transactions. Banks have to make concerted efforts to make sure funds are not going to online gambling sites. The result being that a lot payment processers have become quite devious in hiding were the money comes from. Not a habit that is welcome when deal with your money, I think you will agree. The operations of banks and other financial institutions are already murky enough without adding to it. So casinos sought out alternatives and as PayPal is one of the largest online companies dealing with money transfers, it was inevitable that they would be used. The online casino Paypal partnership was born.
Best Online Casinos

1

Worldwide

€300


Bonus

200+


Games

150+


Mobile

97.21%


Payout
Play now –
2

Worldwide

€1,500


Bonus

150+


Games

100+


Mobile

96.91%


Payout
Play now –
3

Worldwide

€1,750


Bonus

120+


Games

80+


Mobile

96.50%


Payout
Play now –
Consumer Protection From PayPal
PayPal have a rigorous set of rules in place to protect the consumer. Once a complaint is put in place about any transaction the funds deposited are frozen until an investigation has taken place. If any infraction has taken place funds do get refunded. PayPal is used by a vast amount of people because of this fact alone. Getting a charge back from a credit card company is a time consuming issue and not always a simple one. PayPal also have a policy that differs from a lot of other depositing methods, one that is solely put in place regarding online casinos. They will not work with any online casino that isn't licensed and regulated in the same country of origin as the player. Meaning for example if a UK player with a UK PayPal account wants to deposit funds to an online casino, PayPal will only allow it if the casino is fully regulated in the UK. This takes the smaller and sometimes less reputable casinos out of the equation. It is very expensive to get licensing in every country and European authorities, for example have very rigorous procedures in place. Making it very difficult indeed to get licensed and regulated by them. PayPal go one step further with their complaints procedure and this one is a comforting thought. If a number of complaints are made to PayPal about one particular casino PayPal will ban that site and close their account with them. It makes a change that complaints have that much power. This fact does have a real effect on the way casinos think they want PayPal on board, and this threat keeps them on their toes.
There's More Online Casinos That Accept PayPal Than you Think
Although PayPal casinos are relatively new, it's a trend set to grow quite quickly. It's a win win situation the casinos love the ease of working with PayPal, and the trust it brings, and the problems it over comes. And players love the speed and security of their deposits, and the fact that there is no charge for the deposit. Paypal take their charge from the recipient of funds. There are many more online casinos coming around to this method of payment transaction every month, and some of the top sites in the business have been blazing the trail. If you're a UK resident you will of course be familiar with William Hill, who isn't, they've got betting shops on most high streets. These giants of the gambling industry were one of the first to offer PayPal as a payment method. And in the same breath Ladbrokes another mighty name in the UK gambling world were also right up there in providing the PayPal option. The list goes on 888.com, 32Red, Casino Tropez, Moongames and now some casinos are offering banking bonuses when PayPal is used to deposit funds. A very nice little sweetener to prove that online casinos do want you to use PayPal. An extra 10% on your deposit when you use PayPal why not? Be rude not to. It's not hard to find out which sites use PayPal they all but shout it from the rooftops. A quick google and you have a list of review sites. It is wise to check out the sites though because unfortunately a lot on the lists don't actually use PayPal.
A Little Bit about PayPal and How They Became A Trusted Payments Solution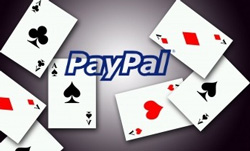 PayPal came about in 1999 as a money transfer service, an idea developed by the security software company Confinity. So from the very beginning security was very much at the forefront of design. The year 2000 saw the merger with Elton Musk's X.com. Yes, the brilliant wunderkind that went on to head Tesla's product development. Elton saw the huge potential of PayPal causing a rift with co-founder and CEO Bill Harris who disagreed and he left the company. X.com then dropped all other internet banking operations to concentrate on the PayPal platform renaming X.com to PayPal Inc. Rapid growth saw PayPal go public in 2002 with Ebay taking control in July of that year. Within a very short space of time PayPal became the checkout of choice for the vast majority of Ebay transactions putting most of their competition out of business. Acquiring VeriSign payment solution in 2005 bolstered their security, and in 2007 a partnership with Mastercard developed the PayPal Secure Card service. Allowing payments to be made on websites that didn't use PayPal, by using a secure onetime Mastercard number for each transaction, was a stroke of genius. This year also saw the issuing of a European Banking license granted from Luxembourg. Giving PayPal even more legitimacy in the financial world. Paypal was by this time a major player and 2010 saw 100 million users on PayPal in 190 different markets throughout 25 countries. In 2014 over 200 billion dollars was handled in transactions across the world. In 2015 PayPal became a standalone company as opposed to a subsidiary of Ebay.
So in all fairness if you want to deposit money with an online casino PayPal is a safe bet millions of people use it every day. Stable with a great track record, it's a safe and secure way to move money around the internet, millions trust them. And if you remember the hack on Ebay in 2014 it caused havoc for the auction site but PayPal was untouched and secure. Remember though it's all too easy to get caught up in the moment and end up losing a lot of money. The fact that using PayPal is a quick and easy way to deposit, may get you in a spot of bother if you're not careful. So gamble responsibly, have fun, and good luck.