EntroPay Online Casinos Pre-Paid And Anonymous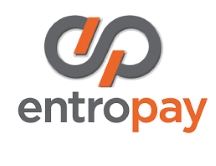 Loading up your online casino account gets easier and easier. There are now so many different methods it gets a little confusing. Online casinos seem to have a huge list of methods they take, some have as many as 40. This can be nothing but good for the playing public. One of the more popular methods to fund your casino fun is the pre-paid card and EntroPay is a well-respected version.
What Is EntroPay?
EntroPay works as an online account with a virtual pre-paid Visa card. You receive a 16 digit card number, expiry date and a cvv, the same as a physical card. Wherever you see a Visa sign it can be used. There are plenty of online casinos that accept EntroPay as a separate entity and have a link dedicated to them. Getting an account is very simple has no credit checks and can be registered in minutes. You fund the card with a credit card, debit card or a bank transfer. Unlike other electronic forms of pre-paid voucher EntroPay can be used for withdrawals from your online casino account. So there is no need to register a separate card for your winnings.
Best Online Casinos

1

Worldwide

€300


Bonus

200+


Games

150+


Mobile

97.21%


Payout
Play now –
2

Worldwide

€1,500


Bonus

150+


Games

100+


Mobile

96.91%


Payout
Play now –
3

Worldwide

€1,750


Bonus

120+


Games

80+


Mobile

96.50%


Payout
Play now –
Keep Your Identity Secret
Using EntroPay to fund your casino account has the benefit of obscurity. You need not give any details from your main bank account to the casino. You can use the card for a sole purpose loading up just enough playing funds and keep the rest of your money safe. EntroPay runs industry standard 128 bit encryption so when you load up the card you know your details are safe with them. Possibly the best feature of EntroPay is the speed in which it can be set up. Absolutely no credit checks are performed and you don't even need a bank account to set one up. The account can be set up with any debit/credit card or a bank transfer from anywhere in minutes.
Good Yes But Nothing Is Free
Sounds great yes? Well yes Entropay is a good thing for many people. But it's not all gravy. Entropay is not a charity. It's not a bank either. There are no hidden charges written into the small print but the visible charges are not that cheap. Fees for depositing into your EntroPay Visa are running at around 5%. A withdrawal from your online casino account into your EntroPay is around 2%. So the benefits do come at a price. You can use several different currencies to deposit however and they do have a 24/7 customer service team.
Who Are EntroPay?
EntroPay was the first virtual pre-paid Visa card in Europe. Launched by Ixaris Systems Ltd in 2003 it has paved the way for many more innovations in electronic payment methods. Ixaris really is leading the way to transform electronic payment methods in Europe. EntroPay is based in England and is fully regulated by the Financial Conduct Authority under the Payment Services Regulations 2009 for the provision of payment services. All Visa cards are issued by the Bank of Valletta Malta.
Reputation Is Everything
Entropay do seem to be getting quite a bit of flak in a few forums just lately. With the amount of transactions that they process around the world on a daily basis, it is to be expected that some will be unhappy. You should take reviews on forums with a pinch of salt. After all most people don't bother to write a glowing review about the hundreds of transactions that go right. It would be riveting reading for sure. It does seem that there can be problems with the card not being accepted depending were you are from. The more disturbing comments border on fraud. This is a bit worrying as a lot of the comments were posted on a respected forum that EntroPay are involved with. Unusually almost all the reviews were bad on this particular forum. Every one of them was answered by an Entropay representative but unfortunately it is not known if they were resolved. As a population we are getting more suspicious when it comes to our money. The online world has made it possible for somebodies problems in India to be known across the world. A company can't cover up its mistakes as easily these days. A handful of complaints online can have a big impact on a company's image. Whether it is fair or not, a forum does have influence with the public.
Millions of dollars are moved every day by EntroPay. Most people must have a positive experience with them, they wouldn't be in business very long otherwise. The best advice if you want to use EntroPay to fund your online casino account is to test the water. Deposit a small amount first if you get a win withdraw a small amount. Start off slowly and gauge how well the system works.