The Original Payment Method
So you've found the casino for you and your due diligence has paid off. Now you want to make a deposit and get stuck into the action. This is still an important decision however and does require a bit more thought. When deciding how to make the deposit talk to the customer service team. Some casinos will only let you use the same method you deposited with to cash out, so you want to make sure you have the right one. Let's have a little look at the good old fashioned credit card. A branded casino credit card has yet to be bought out but I'm sure one day a major brand will bring out its own card but for now the old favorites will have to do. Making casino deposits with credit cards is the oldest method to fund your online casino account. There have been some changes over the years and many more methods have come about. For the vast majority of the world a credit card is a very convenient way to deposit funds.
Pros and Cons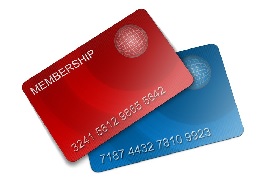 As with everything in the world there are positives and negatives to using a credit card at your favorite online casino. Let's look at some of the negatives first. For a lot this is a big one. If you live in the good 'ol US of A your wonderful legislature has put up some barriers for you. The area of legality surrounding online gambling in the USA is a hotly debated subject. If you choose to gamble with an online casino you will have issues making deposits with your credit card. Due to the crazy banking laws bought out to curb banks from making financial transactions with online casinos, most casinos taking US customers use payment companies that shunt the money around to hide it. Not really want you want to hear. Clarity with your money has to be the best option. If you live in a country where online gambling is regulated and legal using a credit card to fund your account is easy.
Best Online Casinos

1

Worldwide

€300


Bonus

200+


Games

150+


Mobile

97.21%


Payout
Play now –
2

Worldwide

€1,500


Bonus

150+


Games

100+


Mobile

96.91%


Payout
Play now –
3

Worldwide

€1,750


Bonus

120+


Games

80+


Mobile

96.50%


Payout
Play now –
Is Your Money Safe?
The biggest worry these days for online transactions has to be security. Keeping your details safe is a major concern. When depositing with a credit card you will have to input all of your details every time. This puts a lot of trust on the casino. Most casinos use a third party company to make these transactions and it can be a little difficult checking them out. The casino may have passed your test with flying colors but the finance company may have a lot more skeletons in the cupboard.
Hidden Charges
Banks love to make charges and credit card providers make the most of it. When making payments at online casinos credit cards sometimes charge a cash advance fee. This can be quite substantial. Before you decide to deposit check with your provider. Make sure they tell you all of the charges that they will make. Nobody likes surprises that cost extra money.
Reputation Goes A Long Way
If the casino brand you are using has a long standing reputation your details should be safe. A company would last long if customer's card details were at risk. Payment pages are locked and secure and the best companies have very strong firewalls. Access to financial records and transactions will be highly restricted and backed up with the latest technology.
Ease Of Use
The simple fact of the matter is that credit cards are easy to use. Most of us have one and have been using them for many years. We know what numbers to type in and where, it's just a quick tap, tap and the funds are winging their way. The speed at which your deposit is made is still one of the main reasons that credit cards are still so popular. We have used credit cards for so long now we know how to deal with the providers in a problem. Credit card providers will chase money in a dispute. Charge backs can be made and is a useful parachute. Not only that but most providers have an incentive schemes in place for using their cards. Getting free air miles for playing roulette sounds quite good. So all in all if you trust the casino and its financial wing, live somewhere gambling online is completely legal, and you have a reasonable card provider using a credit card is a good way to fund your account.
Let's not forget though a credit card is credit. You are borrowing money to gamble. If you do use your credit card to fund a night at the virtual tables, remember you have to pay it back! Keeping close tabs on a credit card can be a little difficult when caught up in the buzz!