Premier Roulette Review – Overview & Real Money Casinos Online
If you have been playing roulette online for a number of years, you will remember the first offerings. Games that were slow to load, simple graphics, and not much of a playing experience. Boy have things changed. The choice now is vastly improved. Almost instant loading, graphics that transport you to a different world and gameplay to match. When you thought things couldn't get much better along comes premier roulette. A premier version of roulette is offered by most of the top online casinos and will vary according to where you play. The game is basically the same but will have extra features all intended to enhance the experience.
Premier Online Roulette – Exclusive Options and Good Bonuses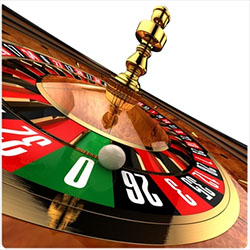 The sales pitch for premier roulette at most online casinos goes something like this. Roulette with extra beauty, elegance and sophistication. Take your play up a notch and join us at the premier roulette tables. But what does that really mean? Mostly it's the advanced options that make premier roulette a step up. It really does depend who has developed the software but most with have the ability to change the graphics. For example MicroGaming's premier roulette allows you choose the wheel and betting table colors. There's two wheel colors to choose from black or mahogany. The betting table comes in blue, green or red. That's a total of six different combos. Does that make a difference in your chances of winning? Of course not. But if you feel more engaged with a set up you like that has to be a good thing. Right? Premier roulette at the moment comes as the single zero French/European wheel with the corresponding betting rules. This offers the best odds for the player with the La Partage rules if used making them even better.
Betting has been made a lot simpler with this upgraded version. All of the usual roulette bets are available, both inside and outside as to be expected. Where the options get better are the call bets that are available and the ease of making them. A pop out table with a great range of neighbor bets, orphan and tier bets all available with one click. A repeat feature for those convoluted combinations experienced players love to use on each spin, means you only have to load all those different chip combos in once. This saves a hell of a lot of work if you like making the same bet over and over.
Best Online Roulette Casinos

1

Worldwide

€300


Bonus

200+


Games

150+


Mobile

97.21%


Payout
Play now –
2

Worldwide

€1,500


Bonus

150+


Games

100+


Mobile

96.91%


Payout
Play now –
3

Worldwide

€1,750


Bonus

120+


Games

80+


Mobile

96.50%


Payout
Play now –
What More is There in Online Premier Roulette
A video zoom feature allows you to get a close up of the action. The normal view shows the whole wheel and table. If you look closely you can see the ball land in a pocket. With the zoom feature engaged you get a close up view of the ball landing. The numbered pocket is clear as day and you get to see the winning number without eye strain.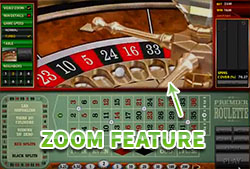 The win details feature can be turned on giving you some important statistics for your strategy. A pop up will appear after every winning spin with a breakdown of the win. This is particularly useful if you like to make multiple bets. Standard mode will just give you how much you have won. The win details feature will break it down to how much you won on your straight up bet, how much on your street bet, how much on the first dozen and so on. The run down is comprehensive how much you staked, the payout odds and the winning amount for each bet.
The statistics button is a must for any of you playing to any kind system. No need to write everything down the statistical outline is all you need. You get a breakdown of the number of spins, how long you have been playing for and a detailed outline of your winning bets. The speed of play is another cool feature, if you like the action to be a little quicker you can go turbo.
'This is not new!' I hear you say well no not really. A lot of these features are part of the standard offers for roulette online. The premier part is a bit of a marketing ploy for sure. But all of these features are now offered in one format. Online casinos and software developers are going the extra mile to make roulette feel fresh. The customizable features do add to the game and if you love to use a system then some of the other features work well for you too.
The bottom line is the more versions of roulette that come out has to be a good thing. The important thing to remember is to check house rules first. Online casinos use a lot of different software and the game may seem the same as another site but could be significantly different under the surface.
Other Recommended Types of Online Roulette