PayNearMe Online Casinos – Finally A Payment Method For The US
Thanks to the restrictive banking laws surrounding payments to online gambling brands it is really difficult for US residents to deposit with an online casino. Even the regulated ones have issues. A lot of financial institutions have a total zero tolerance policy are will not engage in business with any online gambling brand. No such problems with PayNearMe as long as the online casino is regulated by the state authorities of New Jersey, Delaware or Nevada. As more states regulate online gambling PayNearMe will become available to more players.
A Youthful Method But Will Grow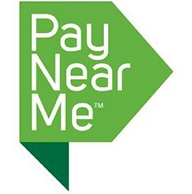 There are not so many online casinos that accept PayNearMe. Those that do however, have a seamless depositing system and no money is left floating around the ether while legal semantics are argued. PayNearMe is a company in its infancy having only be around for about 6 years. As such not so many people have heard of it. It is gaining ground however as a real alternative to having a bank account. So what is it and how does it work? Solely a US payment solution PayNearMe is another way to pay with cash. When you want to use PayNearMe the biller, or in this case online casino, will send you a bar code. This can be received a number of ways, email, sms, or if you have the mobile app you add them via instructions given with the app. You then go to a payment location. Either a 7-Eleven, Family Dollar or ACE Cash Express store that participates. You show your barcode which is scanned by an operative then hand over the cash and the transaction is made. You get a receipt and you can then play to your heart's content.
Best Online Casinos

1

Worldwide

€300


Bonus

200+


Games

150+


Mobile

97.21%


Payout
Play now –
2

Worldwide

€1,500


Bonus

150+


Games

100+


Mobile

96.91%


Payout
Play now –
3

Worldwide

€1,750


Bonus

120+


Games

80+


Mobile

96.50%


Payout
Play now –
Cash Is Still King
People still like to use cash despite a lot of opinions to the contrary. This is especially true when it comes to gambling. A lot of people don't want to have personal bank accounts linked to online casinos. Having to enter your card details with every transaction is a security risk. Albeit a small one a risk is still a risk and some just are not prepared to accept that. Using PayNearMe gives the same peace of mind as cash. The fact that you have to physically go and give cash over at the store can help remove the temptation to spend too much at the tables. You won't get into debt using PayNearMe it can only be used with cash there is no credit involved. And for that reason no credit checks are made either.
PayNearMe
Unlike a lot of payment methods for online casinos PayNearMe can be seen as an endorsement of fair play. PayNearMe can only be used at state licensed online casinos. The state regulations are very strict and well policed. So it stands to reason that if an online casino accepts PayNearMe it runs a straight game. A lot of US facing online casinos have payment methods that are not so fussy about who they deal with. The upshot with that is any unregulated, or weekly regulated (read any from Curacao), online casino will be able to take your money. Maybe not a problem accept we all remember the Full Tilt fiasco. The fact of the matter is it is illegal to gamble at an unregulated online casino for US residents. With PayNearMe you know you're legal.
There Are Downsides
PayNearMe is a one way street. Unlike e-Wallets you will not be able to make withdrawals with PayNearMe. For once problems with payment processers is not the issue. It just doesn't work like that. The whole idea of PayNearMe was just an alternative way to pay with cash. So if you get a win at the tables you will need to have another method available to be able to get at your cash. Some casinos will wire transfer the money but be prepared to jump through some hoops to satisfy them. Laws surrounding money laundering and underage gambling mean there isn't really any anonymity after all. You will have to prove who you are and you will have a record of the cash being paid to you. Another downside is the time and effort it takes to complete the casino deposit. You will have to go to a payment vendor. Despite the name there may not be one that near to you.
So why use it I hear you say? Well until Federal Law changes and traditional banks start making transactions with online gambling again, PayNearMe is a safe way to get your cash into your account. Because PayNearMe only work with fully regulated online casinos you know that your money will go straight to your account. Not that good but it's the best you have.