The Dutch Have iDEAL Online Casinos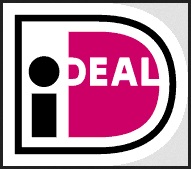 Choosing how to fund your online casino account is now a real decision. Gone are the days when you had no choice but to use your credit card. The very real threat of cybercrime has pushed the industry to come up with more secure methods to make deposits. The recent boom in alternative online payment methods has seen a rash of e-Wallets, pre-paid cards and a number of similar 'anonymous' processes. We have become used to spending money online so much so that it has become second nature. The thing is you can't know for sure if you can trust the site you are giving your information to. The Netherlands have come up with an innovative way to give an extra layer of protection. The Dutch have gone a different way with iDEAL. It's not an e-Wallet, they don't issue pre-paid cards it is an altogether different payment gateway.
One Way The iDEAL Way
Most Dutch online casinos that accept iDEAL do so with relish. Why? Because the system is set up so that there is no way to reverse the payment. No chargebacks for the casino the money is guaranteed. So what is it exactly? It's basically a collection of agreements and standards set up between a network of banks for instant online transfer of funds. It creates direct links between the banks and uses the online banking systems already in place. The difference is the transaction is guaranteed to take place. There is no way the funds can be stopped and returned. This makes iDEAL a perfect system for online casinos. The Dutch have some very strict laws governing online casino activity so any way that eases the flow of money to them is very welcome.
Best Online Casinos

1

Worldwide

€300


Bonus

200+


Games

150+


Mobile

97.21%


Payout
Play now –
2

Worldwide

€1,500


Bonus

150+


Games

100+


Mobile

96.91%


Payout
Play now –
3

Worldwide

€1,750


Bonus

120+


Games

80+


Mobile

96.50%


Payout
Play now –
So How Does It Work?
When you wish to deposit using iDEAL go to the cashier page at your online casino. Click the iDEAL icon. Choose your bank from the drop down. You will then be lined to the online banking page of your bank. This is the same service you will already be used to. Proceed the same way you always would to make a payment. The difference is the IDEAL system is linked straight to the payee's bank. The transaction is assured and the funds are in your casino account. The actually money will be transferred via the usual banking system and takes a couple of days. Fees for using the service are very small. Another plus with the service is it requires no sign up or account registration. You are in effect just using your own bank and making a wire transfer it's just that iDEAL speeds it all up.
The Dutch Know How To Make Things Easy
Because you are using your own online banking systems the security involved is very good. Not only that your personal details are never revealed. No card numbers given to the casino means you get the same sense of anonymity as an e-Wallet without the downsides. There doesn't seem to be any down side. It's a cheap, easy way to safely deposit funds to your online casino account. Dutch online casinos love iDEAL so much they are even offering deposit bonuses when this method is used. The Dutch are known the world over for their organizational skills and business acumen this is proof of that. It really is one of the easiest, quickest and safest ways to pay for your online casino action.
A Little History
iDEAL was started in 2005 by a Dutch assosiation called Currence since its inception it has handled over half a million online transactions. Founded by eight Dutch banks (ABN AMRO, Rabobank, ING Groep, Fortis, SNS Bank, BNG, Freisland Bank and Van Lanschot) Currence has stated its aim is to 'facillitate and provide market transparency while maintaining the quality and safety of the payment systems of the Netherlands' A unique system was born and has revolutionized online payments for millions of Dutch. Over one hundred thousand webshops and other organizations now use iDEAL. Statistics are showing that 60% of Dutch consumers used iDEAL to make their most recent purchase online. For severalyears iDEAL has been voted as one of the top ten strongest and most indispensable brands in the Netherlands. Big kudos! Using iDEAL to top up your online casino account really is a no-brainer. You get all of the peace of mind from a bank wire transfer. Familiarity with your own online banking procedures. The best of all is the speed it really is instant. No more hanging around waiting to play. The tables await at your iDEAL Dutch online casino.