Lord of the Ocean Slot Review 2023 — Score Big Wins Underwater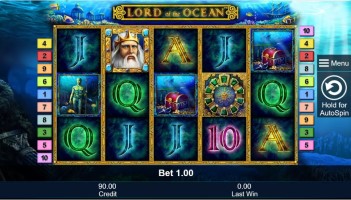 Did you know that there are about 20 million tons of gold in the world's oceans? Regrettably, our technology isn't advanced enough to extract the precious metal from the seabed in a cost-effective way.
Still, there is something you could do if you like the idea of finding a treasure beneath the depths. You can easily become an underwater prospector with NOVOMATIC's Lord of the Ocean slot, a groovy reel machine with a tantalizing jackpot. Get a full breakdown of the game's features and pros/cons with the help of our review. If you'd like to play it, you're welcome to pick one of the trusted operators on our list.
Play Lord of the Ocean at These Gaming Site

1

Worldwide

€300


Bonus

200+


Games

150+


Mobile

97.21%


Payout
Play now –
2

Worldwide

€1,500


Bonus

150+


Games

100+


Mobile

96.91%


Payout
Play now –
3

Worldwide

€1,750


Bonus

120+


Games

80+


Mobile

96.50%


Payout
Play now –
Theme & Graphics of the Lord of the Ocean Slot
While there's no specified plot or story to this game, its name gives it away. The title revolves around Poseidon, the god of the sea. Fittingly, the Hellenic deity and his trident are depicted in-game as the highest-paying symbol. Alongside him are nine other tokens, including a golden Scatter, Amphitrite (his consort), a sunken treasure chest & statue, and high-ranking playing card symbols (10 to Ace).
For a game that was released in 2008, we have to say that the Lord of the Ocean slot game looks remarkably well. Its marine background is static but by no means unsightly. You'll notice lots of neat little elements like ships, fish, coral reefs, and sunken temples if you look around.
The reels are golden, ornate, and quite lavish. Their animations are smooth, and spinning/stopping feels natural. As you can see from the above image, the symbols are also easy on the eye. Sadly, we don't have much to comment on the audio side. There's no soundtrack whatsoever, and the sounds you'll hear while the reels spin can get annoying quickly. Fortunately, you can disable them with a couple of clicks.
Lord of the Ocean Online — The Features You Need to Know About
Layout – 5 Reels x 3 Rows
Pay Lines – 1-10
RTP – 95.10%
Volatility – High
Jackpot – 50,000 Coins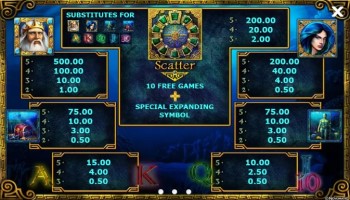 The features of the Lord of the Ocean slot machine were quite modern when it premiered. Nowadays, they are considered standard for the genre, and a couple of them even have a certain retro appeal. Its 5×3 layout feels familiar unless you're new to this type of entertainment. The 10 pay lines that work from left to right are also common, although it's worth noting that they can be adjusted. Keep in mind that lowering the number of active betting lines will increase the house edge.
You'll need to land at least 2 (high-payers) or 3 (low-payers) symbols on a payline to receive a reward. Scatter payouts require at least 3+ of these symbols, but they don't need to be adjacent or on a payline. In Lord of the Ocean online, the Scatter also doubles down as a Wild, meaning that it can help you form winning combinations by substituting all other symbols.
Before we tackle the free spins level, let's discuss the "gamble" feature. Basically, this is a "double or nothing" game reminiscent of a coin toss. A bunch of playing cards will be shuffled, and you'll have to press the red or black buttons. A card will be drawn, and if its suit matches the color you picked, you'll double your money. You can continue gambling this way up to five times or until your reward reaches 500 coins.
How to Enter the Free Spins Stage

The most lucrative aspect of the Lord of the Ocean slot game is its bonus mode. You'll access it every time three or more Scatters rest on the reels on a single spin. You'll always win 10 spins regardless of how many of these special symbols appear.
Furthermore, if 3+ Scatters appear again during the bonus, you'll extend it by another 10 rounds. Theoretically, the process can be prolonged indefinitely. In reality, Scatters don't appear that often. The interesting thing about this stage is that one symbol will be selected at random and become expanding. This expanding token will receive a special paytable, and you'll receive rewards for 3- and 4-of-a-kinds that contain it even if the symbols are not adjacent. If you've played NOVOMATIC's (license ID 045352-N-329374-002) Book of Ra, you'll know exactly what to expect from the free spins round of the Lord of the Ocean slot machine.
The Lord of the Ocean Slot Machine Has a Mediocre RTP Rate
We were somewhat disappointed by this game's 95.10% Return to Player rate. It's almost a percent lower than the average for most slots. Don't get us wrong, a 5% house edge is more than decent if you were in a real-world casino, but there are plenty of online reel machines that offer RTPs of 96.5% or more.
On the bright side, this title comes with a juicy 50,000-coin jackpot. We've even seen data showing that the free spin stage can multiply a bet more than 10,000 times, although such prizes will grace a super small proportion of players. These are classic signs of a high volatility game, so you'll have to be patient if you want to see a big payout.
How's the Mobile Compatibility?
The Lord of the Ocean slot initially premiered as a Flash product, which no longer works with modern smartphones and web browsers. Fortunately, NOVOMATIC introduced several updates to bring its creation up to date. The latest version of the slot is fully compatible with Android/iOS phones and tablets. Furthermore, its interface has been redesigned for touch interactions, so you can easily press the "spin" button, check your winnings, and access all settings.
Learn How to Play in 4 Easy Steps
NOVOMATIC works with some of the biggest and most respected gaming sites in the world. The list we created at the top of this article contains the five well-known casinos that all have the Lord of the Ocean Slot. UK, Canadian, and most EU players shouldn't have any trouble with registering, depositing and playing at these venues.
The casinos we've listed offer thousands of slots, so it's best to type in the title in the search bar to avoid a prolonged search.
When you find and start the game, tap on the "Menu" button and adjust your wager with the arrows under "Lines" "Bet/Line." You should divide your bankroll in a way that will permit you to go through at least 150-200 spins per session. You can also tweak the audio and view the paytable from this area.
To play the Lord of the Ocean slot machine, press the "Spin" icon and hold it if you want to activate auto-spin. Keep in mind that the latter option won't stop until you manually push the button again, so it's best to keep track of your balance and set limits before you begin.
Here's How We Rate the Lord of the Ocean Slot Game
Our experts are a bit skeptical about this release. Its features are remarkably similar to NOVOMATIC's famous Book of Ra, and the expected return rates are nothing to write home about. On the other side, the jackpot is large enough to bring excitement, the gameplay is smooth, and the nautical/fable theme is attractive. Also, it contains adjustable paylines and the "gamble" feature, which might appeal to traditionalists.
While the Lord of the Ocean slot is not first on our recommendation list, there's nothing stopping you from testing a demo to see if it will suit your taste. Pick any of the best casino sites that we grouped at the start, and don't forget to take advantage of their bonuses if you decide to deposit. If you're still not sure what to play, you're also welcome to browse our other reviews. Good luck!
Top Online Slots for 2023