Sizzling Hot Slot Review – The Nostalgia-Inducing Reel Machine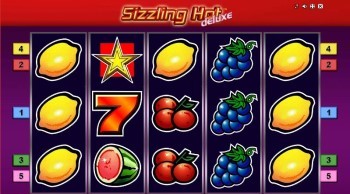 If you're longing for the days when fruit machines were the hottest trend in casinos, you can always take a trip back in time with the Sizzling Hot slot.
This Novomatic release is a unique blend of retro graphics and smooth gameplay.
Our review will concentrate on the "Deluxe" version, which was one of the first ports accessible at best online casinos.
This variant is still present at some of the top gaming sites in Europe and Canada, which we've listed below for your convenience.
Play Sizzling Hot Slot Online at These Approved Casinos

1

Worldwide

€300


Bonus

200+


Games

150+


Mobile

97.21%


Payout
Play now –
2

Worldwide

€1,500


Bonus

150+


Games

100+


Mobile

96.91%


Payout
Play now –
3

Worldwide

€1,750


Bonus

120+


Games

80+


Mobile

96.50%


Payout
Play now –
Graphics & Sounds: The Sizzling Hot Slot Keeps It Simple
There's nothing grandiose about the audio/visual side of this game, which is exactly how old-school players like it. The plum-colored reels are set against a simple two-tone background of violet and red. A soundtrack is also lacking, and, for the most part, you'll only hear a small thud when the reels stop spinning. When you land a winning spin, the symbols will catch fire, and audio cues will play as a little celebration.
All the pay symbols of the Sizzling Hot slot machine are inspired by one-armed bandits of the 70s and 80s. You have cherries, lemons, plums, and oranges acting as the four low-payers, followed by grapes and watermelons. The "7" is the highest-paying symbol, while there's also a star that acts as the "Scatter."
Features of the Sizzling Hot Slot Machine
Layout – 5 reels x 3 rows
Pay Lines – 5
RTP – 95.66%
Volatility – Low
Jackpot – 20,000 coins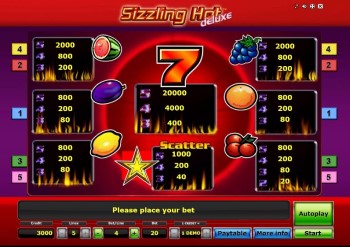 The game's straightforwardness also extends to its features. The only major difference between this reel machine and the typical one-armed bandits is that five reels are used instead of three. The pay-lines are also five, and you won't be able to adjust them. You'll receive a reward whenever 3 or more identical symbols align on one of the betting lines, beginning from the first column on the left.
In the Sizzling Hot slot game, there are two exceptions to the above rule. You'll receive money for a cherry 2-of-a-kind. You'll also be rewarded whenever you see three or more star-shaped "Scatters" appear anywhere on the reels. They don't need to be connected to each other or on a pay-line for you to get the win, hence the name.
Modern slots use "Scatters" as a bonus symbol to grant free spins, but there's no such feature here. Wilds are also not a part of the picture. What is included is the old-school "Gamble" button. It's basically a coin toss that allows you to double your winnings if you make a correct prediction.
Let's Talk about RTP, Payouts, and Volatility
The Sizzling Hot slot game is classified as a "low volatility" release for two main reasons: the lack of a special stage and the relatively modest payouts you receive from symbols. Another classical sign is that the cherry, orange, plum, and lemon all carry the same payouts but are classified as different symbols. This is balanced by the fact that there are only 8 paying tokens, which makes winning spins occur rather frequently.
As for the RTP, you can expect to return 95.66% of your money if you play this game long enough. However, what happens in a single session can vary drastically, especially if you use the "Gamble" functionality to crank up the volatility.
How Does the Sizzling Hot Slot Game Perform on Mobile?
While our Sizzling Hot slot review team notes that this title is quite old, it still works well on mobile. There's a special version of it that comes with an improved interface that makes touch interactions easy. We tested the game on the websites featured on our list, and we can confirm that it's compatible with phones and tablets on both major platforms.
Interestingly, this and other Novomatic (with certificate #MO-158-AUC-18-01-158) classics are available as separate free-to-play apps that you can download off the iOS and Android app stores. Keep in mind that you won't be able to win real money there, as the only way to cash out your winnings is through a compatible online casino.
How to Start Playing Sizzling Hot in 4 Easy Steps
Venture back to the start of this Sizzling Hot slot review and check out the gaming sites we listed. Each one is a respected and licensed brand that also offers this fruit machine. Select one, then register and fund your account.
There's no point in searching the "Featured" tabs of these sites, as Sizzling Hot has become a niche release reserved for fans of the oldies. We recommend typing its name into the search bar of the casino you are in if you wish to locate it quickly.
When the game finishes loading, take a look at your bankroll and determine how much to wager per spin. The Sizzling Hot slot machine isn't all that volatile, but it's still good to distribute your budget in a way that permits 100+ spins per play session. Adjust your bet with the help of the "Bet," "Bet/Line," and "1 Credit =" buttons near the bottom of the screen.
Use "Start" and "Autoplay" to spin. The latter function is rather rudimentary, so it will only stop when you press it again.
The Conclusion
The only thing that Sizzling Hot and modern video online casino slots have in common is the 5-column, 3-row layout. This title is free of the free spin stages and other bonus features that we've grown accustomed to, and that's what makes it stand out. Modern players might find it a bit bland, but the Sizzling Hot slot game will undoubtedly delight those of you eager for a trip down memory lane.
If you'd like to try your luck with this iconic fruit machine, feel free to choose one of the verified operators on our list. We've reviewed them to ensure that they're safe, fair, and generous when it comes to bonuses.
Best Online Slot Games