Mega Moolah Slot Review — An Honest Assessment of the Pros and Cons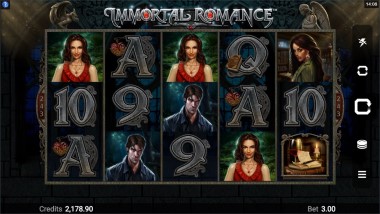 Microgaming's Mega Moolah slot is far from the prettiest or feature-rich reel machine you can play today.
However, millions of players still consider it as the best form of online casino entertainment.
The biggest reason for the everlasting appeal of this slot is its colossal progressive jackpot.
Nearly every slots lover knows that Mega Moolah has the potential to make dreams come true, but the game's weak sides often remain concealed.
If you want to see the whole picture, make sure to carefully read our entire review.
Play Mega Moolah at These Approved Casinos

1

Worldwide

€300


Bonus

200+


Games

150+


Mobile

97.21%


Payout
Play now –
2

Worldwide

€1,500


Bonus

150+


Games

100+


Mobile

96.91%


Payout
Play now –
3

Worldwide

€1,750


Bonus

120+


Games

80+


Mobile

96.50%


Payout
Play now –
Quick Facts about the Mega Moolah Slot Game
Layout – 5 reels x 3 rows
Pay Lines – 25
RTP – 88.12%
Volatility – Medium/High
Jackpot – 1 – 15 millions
Mega Moolah Online Slot: Theme and Graphics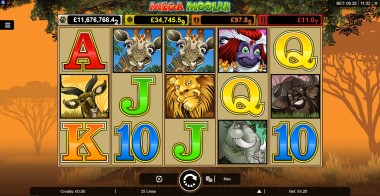 Before we put the features and jackpot system under the microscope, we'll quickly run through the slot's audio/visual side. Mega Moolah attempts to take you on a virtual safari through the African savanna. Behind the reels lies a warm, orange background containing a few trees and grassy areas.
At the center of the screen, you'll see the paying symbols. The lower-ranked ones are depicted as playing cards that run from 10 to Ace while the high payers are in the form of animals. The Mega Moolah slot machine doesn't have the smoothest animations, but given its age, we can't be too critical.
On the audio side, you'll hear the sound of crickets and other animals for the most part, but a short tribal melody will play whenever you score a win.
The Defining Features of the Mega Moolah Slot
This release has a layout with three rows and five reels, which is standard for most video slots. A total of 25 pay lines are active at all times, and you can see the patterns in the below image.



The pay lines of Mega Moolah
To win, you need to spin the reels and hope that 3, 4, or 5 symbols will align on one of the above betting lines. The four highest-paying symbols also grant payouts if you land only two of them. Keep in mind that winning combinations only count if they start from the leftmost reel. This title has a betting range of $0.25-$6.25. Larger bets have a higher chance to trigger the bonus jackpot stage, which we'll cover in a bit.
The Lion and Monkey Have Special Functionalities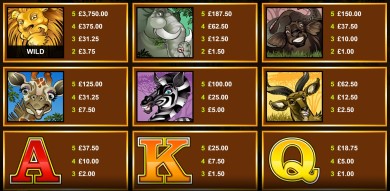 The lion holds a special status in the Mega Moolah slot game. In addition to being the rarest and highest-paying symbol, the king of the savanna acts as a "Wild." In other words, it can substitute for other symbols bar the monkey to help you win. Furthermore, the winnings from 2-, 3-, 4-, and 5-of-a-kinds are doubled if they contain a Wild. For example, if you align an elephant and a lion on a pay line, you'll get the payout for two elephants times two.
Additionally, whenever you get 3, 4, or 5 monkeys in a row, you'll enter a special bonus stage with 15 free spins.
During this round, all winnings are tripled. It's worth noting that the bonus stage can be re-triggered if you're lucky enough.
Here's How the Jackpot System Works
The largest online progressive jackpot system is embedded in the Mega Moolah Slot. The jackpot mini-game appears at random, so you don't need to align a specific set of symbols to enter it. But how does it work?
In a nutshell, a percentage of all wagers placed by players is contributed to enlarge the pooled jackpots. You have four of these prizes in total — "Mini," "Minor," "Major," and "Mega." Whenever the bonus stage triggers, a big wheel with different symbols representing the quartet of jackpots will appear. With the press of a button, the wheel starts spinning. Eventually, it will rest on one of the symbols, and you'll get a prize.
Of course, everyone dreams of scoring "Mega" on the Mega Moolah jackpot wheel. The minimum reward you can get from it is $1 million, but thanks to wager contributions from players, it often swells to $10+ million before it's downed. It's a well-known fact that this game is the record holder for the largest online jackpot paid in history. In 2018, an anonymous bettor downed the mind-boggling €18,915,872.81 ($22 mil.) from a €0.75 wager.
What's the RTP & Volatility of the Mega Moolah Slot Game?
After discussing the pros of this title, it's appropriate to mention its cons, which are rather significant. The Mega Moolah Slot jackpots are massive because the game is played by many people, but also due to the fact that it takes over 5% of every wager to accumulate these prizes. This detail might not seem significant at first, but you'll think otherwise once you learn that the house edge stands at 11.88% (88.12% RTP).
For comparison, the average casino advantage in most modern slots hovers around 4%. Simply put, you're expected to lose more money while playing this game unless you're incredibly lucky and down one of the larger jackpots. Most reviews describe the release as having medium volatility, but we're inclined to state that it's high since much of your success depends on the Mega Moolah bonus wheel.
How to Play Mega Moolah
If the high house edge of this title hasn't dissuaded you from chasing the multi-million prizes, you might be wondering how and where to play it. Now, we'll provide you with a step-by-step tutorial that will help you get going in just a few minutes:
The first thing you need to know is that Mega Moolah is one of the few online gambling games that can't be tested for free. Regrettably, you won't be able to fire up a demo from Microgaming's official site. You'll need to create an account and make a deposit at an online casino. The operators that we've listed above are great for residents of Canada, the UK, and the EU and offer fantastic welcome offers to help you start on the right foot.
After you've found the right Mega Moolah casino, locate the game by typing its name into the website's search bar. Alternatively, you can also check out the "Jackpot" tab.
Once everything loads take a good look at the slot's interface. Microgaming (with license ID MGA/B2B/235/2013) has modernized the UI, so it will adapt to fit the screens of smartphones, tablets, and computers alike. If you have a larger display, the "spin" "bet size" and "autoplay" buttons will be located beneath the reels. If not, they should be to the right. Before you start spinning, it's advisable to adjust your bet so you can get at least 50-100 spins with your current bankroll. Remember, the Mega Moolah jackpot wheel appears randomly, but it should pop up more often if your wagers are larger.
That's all there's to it in terms of gameplay, as everything happens automatically during the spins. If you wish to make another deposit, view the information page, or adjust the sounds, tap on the three-line menu on the left side. The "?" icon at the top-left corner will give you even more detailed information about this product.
In Conclusion
More than 14 years after its release, Mega Moolah is still the Holy Grail for progressive jackpot chasers. While the game's age is starting to show, we can't deny the fact that it dishes out multi-million prizes regularly. We've regarded this title with an impartial eye to give you a more balanced perspective on it. Now, the decision of whether to play it is up to you.
Before we let you go, it's worth mentioning that there are several other Mega Moolah slot games you can play today. All of them share the same pooled prize but come with different themes, RTP and volatility levels. It won't hurt to consider your options because, at the end of the day, paying customers deserve to have freedom of choice. All of these titles are available at our recommended best online casinos, so pick one, and remember to look out for sweet deals before you make a payment!
Top Online Slots for 2023