Rainbow 3×3 Slot Review – Join the Gaelic Adventure on This Mobile-Friendly Game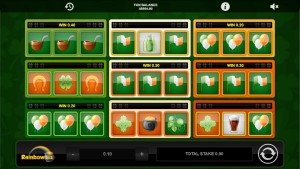 Casino software developers don't make that many 3-reel slots anymore. This layout is somewhat limited compared to the new standard of 5 columns and 3 rows, yet there are still plenty of fans of its straightforward nature. Furthermore, 3-reelers have a certain retro appeal, as most classic slots were of this configuration.
If you're looking for a great blend of old and new, you might want to try the Rainbow 3×3 slot. This 1X2gaming product is capable of satisfying every traditionalist while also sporting a fresh new look and excellent mobile compatibility.
Learn more details about it by reading our full review or play it directly by visiting any of the sites outlined below.
Rainbow 3x3 Slot Recommended Casinos

1

Worldwide

€300


Bonus

200+


Games

150+


Mobile

97.21%


Payout
Play now –
2

Worldwide

€1,500


Bonus

150+


Games

100+


Mobile

96.91%


Payout
Play now –
3

Worldwide

€1,750


Bonus

120+


Games

80+


Mobile

96.50%


Payout
Play now –
This Game's Irish Theme Can Make Anyone Feel Lucky
This isn't one of 1X2gaming's most graphically advanced slots, which isn't surprising given that its entire concept is based around simplicity and ease of use. The visual elements are somewhat cartoony but in a pleasant, modern way.
The game has an Irish theme accentuated by a dark-green background patterned with clovers. Before you play the Rainbow 3×3 slot, you might be surprised to learn that it contains not one but nine separate 3-reel machines. We'll go into more detail about this topic in our next section, but it's worth noting that the reels will flash gently every time a winning spin occurs.
You'll see a total of 16 symbols appear on the various machines. They are color-coded to mark their relative value — symbols with a green background are the low-payers, those with a white background are in the middle, while the highest payers are set against an orange backdrop. This trio of hues is also used in the Irish flag.
The symbols of the Rainbow 3×3 slot are also inspired by Irish tradition and folklore. They include three- and four-leaf clovers, Celtic crosses, pots of gold, barrels, harps, rainbows, and various alcoholic beverages. There isn't much to write about on the audio side. A soundtrack is lacking, so the only sounds you'll hear are those of the spinning reels and short melodies when you win something.
Discover All Features That Rainbow 3×3 Slot Has to Offer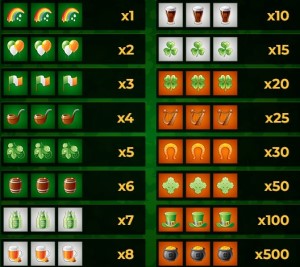 As we mentioned earlier, this is essentially a 9-in-1 game. It contains nine 3-reel machines that are completely independent of one another. Each has a single row and pay line, meaning that you'll win whenever three identical symbols align on it. Remember that you're not required to play with all nine slots if you don't want to.
All of them are active at the start, but you can click or tap on a machine to activate/deactivate it at any time. Thus, it's possible to play the Rainbow 3×3 slot as a single 3-reeler if you so desire.
Another important aspect of this title that's not immediately obvious is that certain pay symbols will only appear on specific rows. The top row of 3-reelers contains the 8 lowest-paying symbols. The middle and bottom rows also include 8 symbols, but some of the low-payers are removed to include high-value tokens. If you plan on playing with fewer machines, you could try eliminating the first and/or middle rows, as the bottom one seems to have the highest payout potential. Wilds, Scatters, or any sort of extra features are not included.
Our Rainbow 3×3 slot review team was impressed by the flexibility of the betting limits. Low rollers can play with as little as €0.10 per spin if they choose to spin a single 3-reeler. Those who wish to activate all 9 have to stake €0.90. The top limit is €5 per machine or €45 for all of them. We were surprised to find that there's no "auto spin" functionality, which is somewhat inconvenient.
Nine 3-reel, 1-row machines
Pay Lines – 1 per slot
RTP – 95%
Volatility – Low
Jackpot – 8,070 coins
What Payouts to Expect When You Play the Rainbow 3×3 Slot?
On its official website, 1X2gaming has mistakenly stated that this release has a €10,000 jackpot. Fortunately, most people will read the text in the in-game "info" button, which correctly points out that the top prize is €8,070. You'll win it if you wager the maximum €5, and the best 3-of-a-kind combinations appear on all nine machines.
The above numbers aren't that impressive, but on the bright side, the Rainbow 3×3 slot pays out often. These two are classic signs of a low-volatility game, meaning that the potential for large wins is eliminated along with your chances of quickly busting your bankroll.
The minimum theoretical RTP of this title is 95%, and 1X2gaming states that the house edge can be influenced by your choice of active "betting windows." We're not mathematicians, but it seems that the last row is the best one, as it has the same number of symbols as the others, yet it contains the highest-paying ones. Thus, if you want to increase the Return to Player rate, it might make sense to deactivate some of the top rows.
Excellent Mobile Compatibility Is Guaranteed
In addition to computers, you can play Rainbow 3×3 slot on mobile. The game was released in 2018, a time when phones and tablets were already the go-to devices for iGaming entertainment. It's crafted on HTML5, which ensures full compatibility with Android & iOS, and web browsers such as Chrome, Safari, etc.
We tested the game on a couple of smartphones and had an enjoyable experience. You'll struggle to find many differences between the desktop and mobile versions when playing in landscape mode. The only noteworthy change is the positioning of the "spin" icon — it takes a lower position on the right side so you can easily reach it with your thumb. Our 3×3 slot review team also noticed that it's possible to enjoy the game in portrait mode, but keep in mind that the reels will be arranged differently.
How to Play for Free or for Real Money
We've hand-picked and listed three best casino sites near the top of this review. You can try this game and thousands of best online casino games for free without the need to register. If you'd like to wager real cash, you can create an account and deposit in seconds.
Once you're inside one of these
casinos, use the search bar functionality to swiftly locate the slot.
Before you start spinning, you should determine how much to wager per round. Our recommendation is to play the Rainbow 3×3 slot by dividing your bankroll to accommodate at least 50-75 spins.
Don't forget that your stake is multiplied by the number of active reel machines. Tapping on a 3-reeler will allow you to activate/deactivate it.
In Conclusion
1X2gaming (#MGA/CRP/635/2018) Rainbow 3×3 is intriguing in a paradoxical way. On one side, it's based on a super basic and retro concept that doesn't feature any bonus stages or flashy features. On the other side, the fact that you have nine machines that you can toggle on and off at will allows you to control its volatility in a way that's not possible with other slots.
Its modern graphics and excellent mobile compatibility are also two big pros, although the low variance level might discourage big jackpot seekers. Still, we recommend the game because it reimagines an old-school concept in an original way. Try the Rainbow 3×3 slot or another awesome slot like Extra Juicy Slot by picking a verified operator from the top of this page. Good luck and play responsibly!
Other Recommended Online Slot Games