Wyoming Not A Gambling State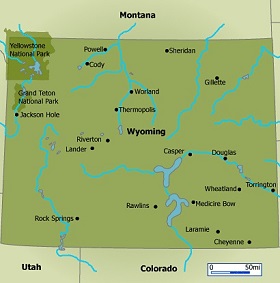 The so called 'Equality State' may have some great history when it comes to voting rights for women, but if you like to gambling you have very little rights at all. There are two venues on tribal land that have had a very tiresome struggle to even exist. Legal battles have been the order of the day from the inception of the Federal Indian Gaming Act in the late 80's. Both the Shoshone and the Northern Arapahoe tribes are federally recognized tribes and as such asked for tribal-state compacts to be negotiated. The state refused stating that as gambling was illegal in the state they did not have to. The tribes argued that the social carve out for all games meant they had the right. Federal Courts eventually agreed and finally in the 21st century Wyoming has tribal casino venues.
Not Really Worth The Visit However
If you like slots and a game of poker then you may have a good time. The game selection on offer is woeful. No Las Vegas for sure although they advertise a Vegas style experience. The fact that the state is very sparsely populated may well have a lot to do with it. Even the tribes themselves have discord and some are questioning the point. Gambling tourism is definitely not part of Wyoming's line up. Let's face it the big draw here is Yellowstone. Most visitors are families on camping, hiking, fishing or skiing holidays. The Shoshone Rose is trying to step up its game with a new venue due to open in 2016. The Wind River County is certainly a beautiful place to be and maybe more will combine an activity holiday with some slots and poker. But it is fair to say Wyoming is way behind in the casino line.
1
.
$800

BONUS
150+

GAMES
50+

MOBILE
97.11%

PAYOUT
2
.
$2,500

BONUS
150+

GAMES
50+

MOBILE
97.11%

PAYOUT
3
.
$8,888

BONUS
120+

GAMES
25+

MOBILE
98.61%

PAYOUT
4
.
$1,000

BONUS
200+

GAMES
50+

MOBILE
97.84%

PAYOUT
Stick To The Internet
Wyoming is another state that has no specific laws covering online casinos. It bans all casino gambling within the state but does not say anything about off-shore casinos. This legal argument is going to go on forever it seems. So while the state legislature has nothing to say about it if you want your fix of roulette, blackjack or baccarat there are plenty of off shore online casinos willing to sign you up. Some of the really big international brands have shied away from the US market. The legal bull surrounding online gambling is not worth the trouble for them. They have a global market share and just don't need the uncertainty. This has led to a huge opportunity from the rest of the bunch. It doesn't mean they are second class however there are some top quality outfits taking US customers. Bonuses are abound and the choice of games just as good as the rest of the world gets.
Don't Worry The Free World Regulates Online Casinos
They have been doing a good job of it as well! If an online casino takes customers from around the world it will be regulated by one of three governing bodies. That is if it's legitimate of course. The MGA from Malta and the Gibraltar Gaming Commission have strict rules and a long pedigree. The Isle of Man has been around the block also and is considered top tier. All three bodies audit all new games for fairness before they are introduced on any site licensed by them. Licenses do get revoked for serious breaches and enforcement of minor issues is a top priority. US only facing sites tend to be regulated by the Kahnnawake Territories they are relatively new to the industry but good things are being said about them.
Reasearch Is Your Best Weapon Against Con Sites
Player forums in the online casino world have real teeth. The power of the player in this industry is very real. With so much competition casinos have to play a straight game and keep players happy. Viral threads on forums have bought down casinos in the past. With that in mind the top notch brands have customer agents linked to forums to help resolve issues. Forums are invaluable in determining a casinos standing. Rogues don't survive long. Longevity in this business means legitimacy. If a casino has been in business for more than 5 years it has to have happy customers. The internet is a wonderful tool these days information is at your fingertips. Due diligence has never been easier. Until Wyoming drastically changes its stand on gambling residents will continue to go off shore. This can be risky for the unwary. Stick to recognized brands at first. Start small and get a feel for the casino then if you want to risk more you have some experience with them. Don't be shy in asking difficult questions from the support staff. Be smart, be careful, be lucky!