Wisconsin The State Of Beer And Cheese Parties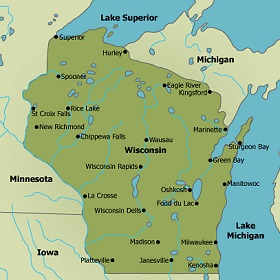 The Badger State is known to be a friendly unpretentious place famous for its cheese and brats. It's not known however for its gambling scene. It's more famous for its cow chips than poker chips for sure! The state statute had a blanket ban for many years only carving out charitable bingo and raffle games in 1973. While most states had pari-mutuel betting at tracks from the 30's Wisconsin only allowed it in 1987. The state lottery followed a year later. Tribal-State compacts came about in the first years of the 90's and 11 federally recognized tribes signed them. Several attempts to bring in state regulated casinos have never gotten past committee. This is all a little strange for the state that repealed prohibition 4 years before everyone else. Even home games are considered illegal and although they are not prioritized they are shut down when discovered.
Plenty Of Tribal Action
If live casino action is your thing then the 11 tribal venues scattered across the state should keep you happy. The standard of venue varies but generally the casinos are plush and offer a good selection of games and other entertainment. Wisconsin is no Las Vegas however if you are visiting the state for its many other attractions the gambling here does provide an extra buzz. All of the venues are well established, clean and worth a visit. There have been some legal battles over the years but all of the compacts are still in place.
1
.
$800

BONUS
150+

GAMES
50+

MOBILE
97.11%

PAYOUT
2
.
$2,500

BONUS
150+

GAMES
50+

MOBILE
97.11%

PAYOUT
3
.
$8,888

BONUS
120+

GAMES
25+

MOBILE
98.61%

PAYOUT
4
.
$1,000

BONUS
200+

GAMES
50+

MOBILE
97.84%

PAYOUT
Internet Regulation Is Still A Long Way off Though
Despite some interest from the tribes it doesn't look like online casinos will be regulated in-state any time soon. The state legislature likes the status quo. As there are no state regulated casinos the tax revenue available does not appear to be high on the list of priorities. There is no specific mention of the internet regarding gambling and the legislature have not made any noises against it. It may be a case of waiting to see how other states deal with it before any action is taken. The popularity of the tribal venues would point towards a welcome of regulated online casinos only time will tell.
Meanwhile Offshore Sites Welcome Wisconsin Residents With Open Arms
If you are willing to run the risk of falling foul of the law there are hundreds of offshore sites taking US customers. Just because the site is not regulated by the state of Wisconsin it doesn't mean it's not covered elsewhere. The industry has been overseen around the world by strong regulatory bodies. The best known and most respected hale from Europe. The MGA from Malta is one of the most well-known and has strict rules which are enforced. All new games introduced on any site its covers are audited for fairness and any infringements are dealt with. So too with the Gibraltar Gaming Commission and the Isle of Man. Be wary of any site sporting the island state of Curacao as their governing body they only issue simple business licenses and have no regulatory system in place. If a site has the UK Gambling Commission as a licensing body as well as another then they will have the strictest rules to follow. Most US only sites are covered by the Kahnnawake Territories the tribal state authority is fast gaining a solid reputation.
Research The Brand
In this day and age information is readily available on most businesses. The online casino industry has come a long way in twenty years and the pace has been hard on those less than quality. Forums in other areas online tend to be just a platform for users to communicate trivial things. As a player focused industry online casinos need to keep the player happy. Forums have been online in tandem with the casinos and as such there are some very well respected ones around. It is at the casinos peril to ignore them. Many a thread discussing misconduct on the part of an online casino has led to licenses being revoked and brands going under. If a casino has weathered the test of time it is liked by the punters. That can be as little as five years in this mega fast industry. Crooks don't survive long. Choosing a casino to play with once the obvious is taken care of is a very personal thing. Research deposit and withdrawal methods to find one suitable for you. Due to the Federal banking laws surrounding online gambling it can be a pain so take some time to look into it. Start off small feel out the brand use your common sense. Ask questions of the customer service team. If you don't like the answers go elsewhere there are plenty to choose from. Good luck!