West Virginia Is Quite Gambling Friendly And A Great Place To Visit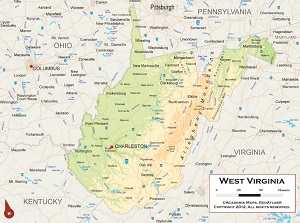 The 'Mountain State' is a truly beautiful place to visit. Cool mountain streams for trout fishing, caving, white water rafting, skiing, hunting and mountain biking are all activities that attract visitors in their thousand every year. 75% of the state is forested and in the fall it's truly magical. But many people may not realise that West Virginia is actually a great place to gamble. A taste of New Orleans can be had at the Mardi Gras Casino with all the casino action you may desire along with greyhound racing and many restaurants. If thoroughbred racing is your thing then Charles Town should be your destination with live and simulcast racing all year and a Hollywood Casino in art deco style for the table games and slots. There are a total of 5 casinos in the state. Unlike many states there are no tribal casinos in West Virginia they are all state regulated.
Casino Gambling Had A Slow Start But It's Picking Up Steam
West Virginia gambling was all about horse racing for many years. The Charles Town track started life in 1933 at the height of the depression. The Boyles built the site spending a huge sum of money at the time $160 000 all told. The track grew steadily and thrived even during WWII. Purses for races rose with more prestigious races being held. The first West Virginia Breeders' Classics had a $100 000 purse in 1987 it now stands at $1 000 000. Things took a downturn in the 1990's with less attendance and less quality horses. All of the states tracks were suffering and it looked like they would fold. This is where the states gambling attitude takes a turn. In order to save the industry video lottery machines where introduced after voter approval in 1996. The racino was born in West Virginia. However it took another 15 years before table games were allowed. Now punters can enjoy all of the thrills of a fully-fledged casino.
1
.
$800

BONUS
150+

GAMES
50+

MOBILE
97.11%

PAYOUT
2
.
$2,500

BONUS
150+

GAMES
50+

MOBILE
97.11%

PAYOUT
3
.
$8,888

BONUS
120+

GAMES
25+

MOBILE
98.61%

PAYOUT
4
.
$1,000

BONUS
200+

GAMES
50+

MOBILE
97.84%

PAYOUT
Now They Have Them They Want To Keep Them
West Virginia likes the revenue that casino gambling brings into state coffers. Unfortunately lately revenue is slipping a bit. Neighboring states are putting up fierce competition with many casino options available just over the border. The state legislature seems to be favorable to more casinos opening and that can only be a good thing for us. The internet is one area where they can expand the options. A joint venture with other states to share players has been talked about. All of the casinos are established players and could easily provide online options should the state regulate.
The Internet Is Not Mentioned In Law
As with many other states online casinos are not specifically outlawed in West Virginia. The laws are a little vague in their wording. Law enforcement has traditionally not gone after players but that's not to say they won't. The availability of online casinos for West Virginians is huge. They may not be regulated by the state authorities but the honest ones are covered by reputable bodies from around the world. There are many ways to investigate the legitimacy of an online casino brand, the first one is the license. Most US facing sites go to the Kahnnawake Territories for their certification. The tribal body is relatively new in the industry but is gaining a favorable reputation. A few will have players from around the world as well as US citizens. These will have licenses issued from either Malta, Gibraltar or the Isle of Man. All these bodies have a long standing in the industry.
Player Forums Carry Weight
Usually a forum is just a place for letting off steam or general conversation. Online gambling forums have been running alongside casinos since their launch online. The industry is so player focused and fast paced that these forums actually carry some clout. Rogue operators are quickly spotted and out-ed on forums and review sites. You can also see how respected brands resolve problems as a lot of top casinos have reps in touch with the long running forums. Threads are worth reading as every business has issues the resolving of which determines their worth.
Membership To Organizations
Membership to independent arbitration goes a long way to gauging legitimacy. All of the top longstanding online casinos belong to one. These services are set up to manage and resolve disputes and they work and are impartial. So to trade associations the industry has its own high standards and it's in its own interest to meet them. Independent auditors are another plus, if a casino has verifiable links to a reputable accountancy firm it's a good sign they play a straight game. Research is the key and once a choice is made start small and feel your way.