Washington State Healthy Rivalry Is How They Play It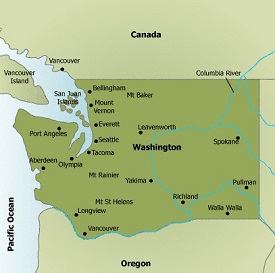 Washington and California have long had a very healthy obsession with beating each other. Both states have some unusual quirks and some leading stats. California has Apple, Washington has Microsoft. Then you have Mount St. Helens, the bubble gum wall, and rather a lot of famous serial killers from Washington. 70% of the country's hops come from Washington, that's the beer drinkers sorted. The second state to legalize recreational pot, that's the hippies sorted. The largest concentration of Bald Eagles on continental America, that's the conservationists happy. Then you have some music greats that hailed from Washington Jimi Hendrix, Kurt Cobain and Bing Crosby so that's the music buffs happy. What about the gamblers? Well Washington is famous for its liberal stance on life. The laws surrounding gambling are quite in depth. The gist of it all seems to be that the state has no problem with recreational gambling, it just hates the concept of professional gambling.
So What Is OK And What Is Not?
Well poker is a staple all over the state with licenses allowed for food and drink venues to play 'social card games'. Home games are OK as long as there is no rake. Horse racing has the usual pari-mutuel betting on live and simulcasting races. But not for greyhounds this is explicitly banned. There are over 30 tribal venues with class II and Class III games allowed. So all of your favorite casino games are readily available. Blackjack, roulette, baccarat, craps and slots. The famous Washington Turkey Shoot is unlicensed with just a few rules about how much money is involved. If you've never heard of it, no turkeys are involved it's just a target that gets shot. There are also casino cruise ships sailing out of Seattle. So residents of Washington have a pretty good choice for live action.
1
.
$800

BONUS
150+

GAMES
50+

MOBILE
97.11%

PAYOUT
2
.
$2,500

BONUS
150+

GAMES
50+

MOBILE
97.11%

PAYOUT
3
.
$8,888

BONUS
120+

GAMES
25+

MOBILE
98.61%

PAYOUT
4
.
$1,000

BONUS
200+

GAMES
50+

MOBILE
97.84%

PAYOUT
So The Internet Must Be OK In This Most Liberal State?
Well actually no, the way the law reads it is most definitely not. This is the relevant section of statute: RCW 9.46.240
Gambling information, transmitting or receiving.
Whoever knowingly transmits or receives gambling information by telephone, telegraph, radio, semaphore, the internet, a telecommunications transmission system, or similar means, or knowingly installs or maintains equipment for the transmission or receipt of gambling information shall be guilty of a class C felony subject to the penalty set forth in RCW 9A.20.021. Which is 5 years in the state correctional facility or a $10 000 fine or both! So if you want to have a game of roulette in the comfort of your own home you risk imprisonment. Yet you are allowed to go lose your shirt at a tribal venue no problem. Not very liberal really.
The Future Is Bleak For Internet Gamblers
A Poker Players Alliance challenged the internet gambling ban in 2010. They did this on the grounds that they considered it unconstitutional. The Supreme Court backed the State. 2013 saw a bill put forward to regulate intra-state poker online. This didn't get past the committee stage. There is no immediate change on the horizon. The thing is Washington does have some of the most liberal gambling laws in the country. The internet laws are harsh there is no doubt. The issue may be that the tribal casinos have such a vested interest in keeping customers coming to their venues. The political lobbying power of the tribes is huge. The extra tax dollars that would come in from internet gambling regulation would probably not have much of an impact to the state's coffers.
If you Want To Play Online Take Care
Washington has taken a stand when it comes to internet gambling. It has strong laws and enforcement powers. The problem is that many residents ignore this law. The same problem arose with Fantasy Sports games. Statements from one senator hits it on the head 'Thousands of Washington citizens play fantasy sports games for prize money. When so many people ignore a law, we ought to recognize there is a problem with it.' The same must apply to online casinos. There're are thousands risking a serious stretch in prison for doing something at home that is perfectly legal at a venue in virtually every city in the state. This has to be wrong. The state comes up with the usual arguments. You don't know who you are gambling with, the money could go to organized crime. You don't know if the games are fair, if you will be paid, no recourse if not blah, blah. This is just not the case if regulation is involved, it's a very backward way of thinking, and quite frankly insulting to the rest of the legitimate industry around the world.