Vermont The Hippiest State But No Gambling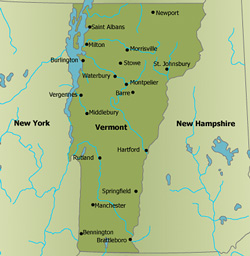 Vermont is home to one of the most liberal populations in the US. There are more Hippies there than California per capita. I mean it's the home of Ben and Jerry's what more need be said. Well it may have over 400 organic farms but it's got no casinos. No bingo halls, no card rooms just a state lottery. Oh yeh you are allowed pari-mutual betting on horse and dog racing, except there's no tracks to make those bets at! Charity games are allowed but only twice a week at the same venue. The games allowed on these nights are more varied than most states, casino nights and poker tourneys are regular occurrences. Home games however are treated the same as commercial games and if caught staging or playing in one you will be fined. The funny thing is though the highest penalty seems to be 60 days in the county lock up whether it's a commercial enterprise or social. So not really harsh in the grand scheme of things.
Not Even A Tribal Bingo Parlor
It's not really a surprise that there are no federally recognized tribes in Vermont. That's not to say there are no native peoples in Vermont it's just there's no recognition of them. Most tribes were forced to move as early as the 1600 and ended up in Canada. As there are no tribes recognized by federal government the Indian Gaming Act does not come into play in Vermont. So if you are looking for a venue for roulette, blackjack or any other casino game you need to venture across state lines. Upstate New York and Massachusetts have Native venues and are happy to accommodate out of state visitors.
1
.
$800

BONUS
150+

GAMES
50+

MOBILE
97.11%

PAYOUT
2
.
$2,500

BONUS
150+

GAMES
50+

MOBILE
97.11%

PAYOUT
3
.
$8,888

BONUS
120+

GAMES
25+

MOBILE
98.61%

PAYOUT
4
.
$1,000

BONUS
200+

GAMES
50+

MOBILE
97.84%

PAYOUT
Internet is Not Mentioned
Vermont is another state that does not mention online gambling specifically in its statute. The view is that internet gambling is already covered by existing law. There doesn't seem to be any movement likely in the near future either. Vermont is another state that is quiet happy to do without gambling revenue on a state wide level. So don't be expecting New Jersey style legislation for online casinos anytime soon. That said the authorities don't seem to believe gambling to be a serious offense. So it's unlikely that gambling from the comfort of your own home will be prosecuted with the full force of the law.
Vermont Doesn't Regulate Don't Worry The Rest Of The World Does
Online casinos have been with us since 1996. Since the start of the boom regulation has been necessary to protect the playing public. Over the years the regulatory bodies have grown strong and the industry is thriving. That does not mean that every casino is legit but those that have rigged games are soon found out. All of the respected bodies perform audits on any new game that is used on a site licensed by them. The best authorities are from Malta, the Isle of Man and Gibraltar. These three have strict regulations and they enforce any breaches. If a site is regulated by the UK Gambling Commission as well you can be sure they meet the toughest standards. The UK has the longest legal gambling industry in the world and they know how to regulate. The Kahnnawake Territories are a relative newcomer to the business but they are taking on the US facing sites and by all accounts doing a very good job of it.
People Power Keeps Them Honest
The online gambling industry is fast paced and player focused. In any service industry reputation is king. In the online world a reputation can be destroyed in a virtual heartbeat. Player forums have been online since the start. While most posts can be put down to players losing there are some that need to be looked at closer. Long standing forums have close contact with legitimate online casinos and if threads are followed you can see that genuine issues are resolved. On the flip side you will also see that rogue outfits are exposed. Crooks just don't stick around the internet keeps us connected and these guys just can't hack it. Any casino that has been trading online for 5 years has a track record. Don't get complacent however all brands have occasional hiccups and forums will pick up on them. There are so out there that have no other life than online casinos and these geeks will find out everything! There are so many online brands to choose from it can get a little daunting but common sense and some peer knowledge goes a long way. If you are looking to play online start small. Use a prepaid form of banking to deposit. Get to know the casino before you commit any larger sums. Good Luck.