Utah What Can Be Said?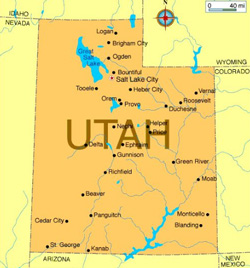 The Beehive State is unique for sure. The bastion of the Church of Jesus Christ and Latter Day Saints have made it that way. Gambling like liquor, caffeine and tobacco is seen as a sin, albeit a minor one. The predominantly Mormon population has outlawed all forms of gambling since before it was even a state. There are only two states in the USA with laws this restrictive Utah and Hawaii. Unlike Hawaii there seems to be nobody wanting to change it either. There is a petition for a state lottery that has less than half a dozen signatures on it.
There Are Some Who Like To Bend The Rules
Although the law is quite explicit the wording of it does allow some to work around it. There are a number of restaurants that have bingo nights with prizes ranging from $50 up to $500. They get around the law by not charging for the bingo card. They do however charge highly for basic plates of food. The opponents of such venues say this is flagrant gambling. The owners say they are merely offering entertainment while customers eat. OK. State authorities didn't quite see it that way and prosecuted but the letter of the law was not broken and with some subtle changes these businesses continue to flourish.
Trips To The Border For Casino Action
There is more than one way the less than pious residents act when it comes to gambling. West Wendover just inside Nevada has grown from little more than a water stop on the railway to a $64 million dollar casino hotspot. An estimated 700 000 gamblers in West Wendover each year are from Utah. That's 90% of their revenue comes from visitors from the Mormon state. Hmm. Wendover loves it the 5 hotel casino complexes employ 80% of the residents and is paying for local development and infrastructure. It doesn't look like the bubble will burst either as the state of Utah is getting more restrictive not less when it comes to gambling.
1
.
$800

BONUS
150+

GAMES
50+

MOBILE
97.11%

PAYOUT
2
.
$2,500

BONUS
150+

GAMES
50+

MOBILE
97.11%

PAYOUT
3
.
$8,888

BONUS
120+

GAMES
25+

MOBILE
98.61%

PAYOUT
4
.
$1,000

BONUS
200+

GAMES
50+

MOBILE
97.84%

PAYOUT
The Internet Has Serious Opponents In Utah
The legislature of Utah has gone one step further than most. Not only are there specific sections in statute prohibiting online gambling, Utah has a section allowing them to opt out of any future federal law authorizing online gambling. It all seems very two faced when there are blatant bingo games for cash prizes. There's a poker tour running around bars within the state with prizes but no entry fee, they are very popular and attract players and spectators alike, all of whom put money behind the bar that may not have been there otherwise. The whole scene is very odd. It's almost like they don't want to admit it officially but are not bothered by doing it publicly. The upshot is however that as a resident of Utah you can be prosecuted for gambling in your own home online. Precedent has been made as a number of small home games have been busted in the past. Misdemeanors they may be but the police do have the power. Whether they have the resources or the inclination is another matter.
If You Want To There's Lots To Choose From
The internet gambling industry just keeps growing and the US market is huge despite the dubious legality of it. Online casinos offshore are happy to take US residents and if you live in Utah it's no different. So if you are like the thousands that use the bingo restaurants and see a harmless flutter as just that then you can sign up to any number of online casino brands. In fact there are several that only take US customers and have systems in place to get around the banking laws. Most of these are regulated by the tribal authority from the Kahnawake Territories. The Canada based sovereign nation is doing a roaring trade and has quickly gained a reputation as a quality regulatory board.
There Are Those Who Prey On The Unwary
Due to the confusion arising out of the legal situation crooks are taking advantage of the naïve. Player forums have been going as long as the casinos themselves. The industry is player driven and quality legitimate casinos take heed of what forums are saying. Problems arise in any industry and the online gambling business is no different. Truly great brands fix their problems and do so transparently. It is very wise to keep up with current popular opinion as brands do slip. Bear in mind that crooks don't last in this business very long at all. Player power is that strong that if a brand lasts 5 years in this cutthroat game it has the thumbs up from the majority.