The Lone Star State Is A Lonely Place For Gamblers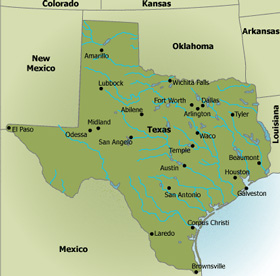 The Texan philosophy is one of fierce independence. If asked the vast majority would happily become a sovereign state. They really do have a way of doing things all on their own. Breakfast tacos, chili and barbeque all have a distinct Texas twist. So to their attitude to gambling. Unless it's horse racing or dog racing t's illegal to gamble in Texas. Yep that's right Texas Hold 'Em is not allowed in the state it's named for. The Texas twist is that due to a slack wording in the law allowing mechanical/electronic games to be played for a small prize it has given rise to what has been described as the 'poor man's speakeasy' for gamblers. Basically illegal venues crammed full of slot machines that pay out winnings via an attendant. These venues spring up all over the place occasionally shut down by the authorities only to start up somewhere else. It's estimated that $1.9 billion is made annually by these illicit gambling houses.
Strong Anti-Gambling Sentient
Texas has a very well established anti-gaming lobby. Mostly church based the groups' objections are the usual social and moral deprivation arguments. Over the last twenty years or so many bills have been introduced never to get any further than initial stages. Many studies and reports into the negative impacts of gambling have been cited and despite the loss of revenue gambling is firmly unwelcome. Strange really when you consider the fact that the so called speakeasies are common knowledge and the proceeds are illicit and untaxed. The future is not looking good it is very unlikely that any change will be forth coming. As it is written into the Texas constitution it would take a public vote and a 2/3 majority in both houses to amended the statute.
1
.
$800

BONUS
150+

GAMES
50+

MOBILE
97.11%

PAYOUT
2
.
$2,500

BONUS
150+

GAMES
50+

MOBILE
97.11%

PAYOUT
3
.
$8,888

BONUS
120+

GAMES
25+

MOBILE
98.61%

PAYOUT
4
.
$1,000

BONUS
200+

GAMES
50+

MOBILE
97.84%

PAYOUT
Native Americans Have Had A Long Battle
There has been a drawn out legal fight for the tribes of Texas. There is one legal class II 'casino' run by the Kickapoo Traditional Tribe of Texas, the Lucky Eagle situated at Eagle Pass near South Central Texas. They have been trying to upgrade their compact to class III for some time to no avail. Two other tribes the Coushatta and the Tigua gained Federal recognition under the restoration act with the proviso that they refrained from gambling on their land. They ignored this and built bingo halls. The ensuing legal battle resulted in them having to shut down in 2002. Fast forward 13 years and the US Department of Interior ruled that the two tribes have the same rights as any other tribe under the Federal Indian Gaming Act and as such the venues should never have been closed. By the summer of 2016 both venues were back up and running for class II gaming. Still a far cry from many other states but its something.
Another State That Doesn't Mention The Internet
There is nothing in the statute of Texas regarding gambling online. There is a section that is regarding playing in a private setting but this would not be in regard to playing at an online casino as they would be making money in the form of house odds. The state attorney's office believes the statute covers the internet and gambling online is illegal in the state of Texas. But that's not stopping Texans or online casinos the underground gambling scene is huge in Texas. If people are going to openly flout the law at illicit slots venues they are certainly going to sign up to a relatively anonymous online casino. There are some pitfalls that can be avoided if this is the route you wish to take.
The Rest Of The Free World Regulates
Just because Texas has decided not to regulate online casinos doesn't mean you have to sign up with an unlicensed outfit. There is a very active legitimate gambling industry for the rest of the civilized world. This has been in constant regulation from the outset and as such is now a very well oiled machine. Avoid casinos with licenses from Curacao. There's nothing wrong with the island state, it's just that the paperwork they issue is just a business license. They have no interest in regulating or enforcing rules in fact they don't have any. Stick to those with certification from MGA (Malta), GGA (Gibraltar) and the GSC (Isle of Man) or as is becoming the case for US facing operations the Kahnnawake Territories. All of these guys are top notch.
Listen To Players
Player forums have been around as long as online casinos. Some posts are just losers blowing off steam. But there are threads that tackle genuine issues. In such a player orientated industry bad press does affect brands and the legit ones fix problems. The dodgy ones just don't hang around. An online casino with more than 5 years under its belt has player confidence.