Tennessee Famous For Everything Accept Gambling Not Allowed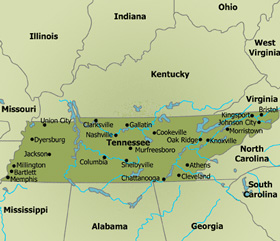 Everybody has heard of Jack Daniels possibly Tennessee's longest running export. Memphis has Graceland, some of the best BBQ, the world's first self-serve grocery store and Morgan Freeman. Nashville the Grand Ole Opry, Justin Timberlake and cotton candy. The first bottling rights for Coca-Cola was brought for the princely sum of $1.00 in Chattanooga. Tennessee is rightly known for many things but gambling is not one of them. State laws in the USA can be a little on the wacky side and the Volunteer State is right up there. It's illegal to bring a skunk into the state! Local laws can be just as strange in Nashville you have to be 18 to play pinball, it's considered a coin-operated gaming machine. So it should come as no surprise that the only form of gambling in Tennessee is the state lottery and the odd charity bingo night. The lottery was only introduced to provide extra funding for education.
Even Horse Racing Was Killed Off
Tennessee once had a flourishing horse racing industry. Most believe Kentucky to be the home of American horse racing but pre 1906 Tennessee had the title. Cumberland Park was the place to be if you wanted to watch, and gamble, on the best horses the country had to offer. The sport was what put Nashville on the map way before country music reared its head. What happened? The state legislature banned all betting not just on the races that's what. It was a slow death but by the 50's horse racing was gone. If you want to have a flutter on the horses or visit a casino, it's a trip out of state for you. Tourism is a big thing for Tennessee and yes there's a great deal to see, but if you are planning a casino tour of the United States best avoid Tennessee.
1
.
$800

BONUS
150+

GAMES
50+

MOBILE
97.11%

PAYOUT
2
.
$2,500

BONUS
150+

GAMES
50+

MOBILE
97.11%

PAYOUT
3
.
$8,888

BONUS
120+

GAMES
25+

MOBILE
98.61%

PAYOUT
4
.
$1,000

BONUS
200+

GAMES
50+

MOBILE
97.84%

PAYOUT
The Internet Then?
Well while there is no specific section in statute regarding internet gambling, the State Attorney's Office has stated that existing laws do cover online gambling. It is pretty clear when you read them that anybody that runs any form of gambling game is liable for prosecution. They even have a section relating to promoting gambling. Social games are also prohibited. So all those websites proclaiming legal online casinos in the state of Tennessee are lying. The fact that they are even giving you options are opening themselves up to prosecution under the promoting gambling section. It is a crying shame for all who wish to play a few hands of blackjack online as Tennessee has reportedly the fastest internet connections in the US. What a waste.
The Law Doesn't Bother Some
Off shore online casinos really don't care for state laws. Despite the high profile cases against certain poker sites there are thousands willing to flout US laws and accept customers. The really big brands don't need the custom or the risk and have a non US resident policy. All that has done has opened the door for rest. Now don't get me wrong it doesn't mean they are not safe and fair casinos when it comes to your money. There are checks and balances in place for the rest of the world in the form of regulatory bodies. The top ones with the best track record are the MGA from Malta, the Gibraltar Gaming Commission and the Isle of Man Gambling Supervision Commission. These three are recognized as the strongest bodies that regulate online casinos around the world. The one with the title is the UK Gambling Commission they have the toughest regulations and enforcement, but they only look after UK residents. If an online casino has more than one license and it includes the UK you can be assured they are kept an eye on.
US Laws Have Opened The Door For The Mohawks
Because of the quite frankly confusing laws in the US changing from state to state regulatory bodies are shying away from online casinos that accept US customers. Step up the Kahnnawake Territories the Mohawk Sovereign Nation based in Canada has no such qualms. They have been regulating sites for a number of years now. Their reputation in the industry is steadily growing and they are fast becoming a power house. Good for them any way a Native American Tribe can get on is a good way! US facing sites are turning toward them in droves, so it will come as no surprise to see most of them regulated by the Kahnnawake Territories. The bottom line for Tennessee residents is that if you want to play any form of casino game for money online you will be breaking the law. It doesn't look like that will be changing anytime soon either.