South Carolina Is Not The Place To Visit For Gamblers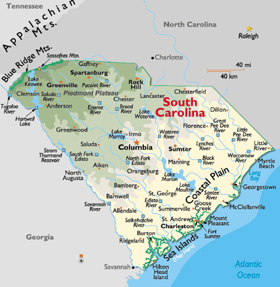 There is no denying South Carolina has some great reasons to visit and if you live there you love it. There are some unique aspects to the state that's for sure. Take the local dish of Frogmore stew, it's not a stew and there are no frogs in it! Myrtle Beach is considered the golf capital of the world with over 300 public and private courses. Yet the state has no professional sports teams, that's right not one, no NBA, NFL, MLB or MLS. They do have horse racing the Carolina Cup is world renowned. Sandlappers have a fierce rivalry with their cousins the Tar Boilers and see themselves as very different. It is definitely Sweet Tea, and South Carolina invented BBQ. They are the only state to have a free living colony of rhesus macaque monkeys. 3500 of them on Morgan Island. They don't drink Cherrywine and their gardens are far superior. One area where South Carolina wins hands down is on who can be more restrictive when it comes to gambling. There are not many states that have a more restrictive attitude. The state lottery, restricted betting at the Carolina Cup and Colonial Cup and two casino cruises are all that's allowed. Home games are even banned. In fact there is a segment in statute that bans playing any game on the Sabbath!
The State Lottery Killed Tribal Bingo Halls
1993 saw the only federally recognized tribe in South Carolina, the Catawba Indian Nation, sign an agreement to run two bingo halls. A welcome income for the cash strapped tribe they opened there venue in the Rock Hill Mall in 1997 and achieved some success up until the state introduced the lottery in 2002. Profits plummeted by a massive 60% claimed by the tribe and it struggled until closing in 2006. There are legal battles ongoing to allow the tribe to operate a casino. The Federal Indian Gaming Regulatory Act does state that federally recognized tribes can operate gaming venues on their land if the state does not specifically outlaw gambling. As South Carolina has allowed casino cruises to operate out of the state it would seem they have a case. Let's hope they are successful.
1
.
$800

BONUS
150+

GAMES
50+

MOBILE
97.11%

PAYOUT
2
.
$2,500

BONUS
150+

GAMES
50+

MOBILE
97.11%

PAYOUT
3
.
$8,888

BONUS
120+

GAMES
25+

MOBILE
98.61%

PAYOUT
4
.
$1,000

BONUS
200+

GAMES
50+

MOBILE
97.84%

PAYOUT
Once Again State Law Is Stacked Against The Internet Gambler
South Carolina is possibly the most conservative state in the US. While the statue does not mention the internet specifically, it was written a time before such magic, it does clearly state all gambling anywhere in the state is illegal this is a direct quote: If any person shall play at any tavern, inn, store for the retailing of spirituous liquors or in any house used as a place of gaming, barn, kitchen, stable or other outhouse, street, highway, open wood, race field or open place at (a) any game with cards or dice, (b) any gaming table, commonly called A, B, C, or E, O, or any gaming table known or distinguished by any other letters or by any figures, (c) any roley-poley table, (d) rouge et noir, (e) any faro bank (f) any other table or bank of the same or the like kind under any denomination whatsoever or (g) any machine or device licensed pursuant to Section 12-21-2720 and used for gambling purposes, except the games of billiards, bowls, backgammon, chess, draughts, or whist when there is no betting on any such game of billiards, bowls, backgammon, chess, draughts, or whist or shall bet on the sides or hands of such as do game, upon being convicted thereof, before any magistrate, shall be imprisoned for a period of not over thirty days or fined not over one hundred dollars, and every person so keeping such tavern, inn, retail store, public place, or house used as a place for gaming or such other house shall, upon being convicted thereof, upon indictment, be imprisoned for a period not exceeding twelve months and forfeit a sum not exceeding two thousand dollars, for each and every offense. So if you want to run the risk be warned South Carolina does not mess about.
That Said You Can Still Sign Up
There are many online casinos that will take South Carolina residents, if you do sign up make sure you join one with a pedigree. Licensing bodies from around the world regulate online casinos and the best are Malta, Gibraltor and the Isle of Man. The Kahnnawake Territories regulate most of the US only casinos are pretty good too. Take note of what other players are saying via the forums even the top casinos make mistakes but the best fix them. The longest running online casinos are still in business for a reason they treat their players well and are fair.