Rhode Island Not A Gambling Destination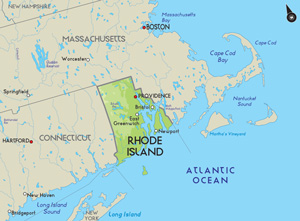 Well the State Of Rhode Island and Providence Plantations is a great place to visit and the locals know it's a great place to live. If you are looking for a gambling vacation you will not have a lot of choice in the Ocean State. You will have exactly one destination if you want the full casino experience the Twin River Casino. Twin River has an impressive number of live tables at 108, half of which are blackjack the rest are split Roulette (8 tables), Baccarat (7 tables), Three Card Poker (7 tables), Craps (4 tables), Spanish 21 (5 tables), Let It Ride (3 tables), Pai Gow Poker (3 tables), Big Six 'Money' Wheel (1 table) and a 16 table poker room. A nice touch is that 80 of the tables surround the cigar bar for the smokers and the rest including the poker room are located on a separate floor designated smoke free. So the best of both worlds for visitors. There is of course the ubiquitous slots floor, with 4200 machines with all the bells and whistles. Unfortunately for aficionados the roulette on offer is only the American version with far better odds for the house and the poker room only offers 7 card stud and Texas Hold'Em limit and no limit. So if you like blackjack you are well catered for, if you hanker for other games, not so.
Shouldn't Complain Not That Long Ago It Was A Lot Worse
Rhode Island gamblers had it bad. Horse racing died a death at the hands of strong competition from neighboring states, especially Massachusetts. Greyhound racing has struggled on and only really survived because simulcast betting was allowed along with the North-Eastern favorite of Jai-Alai. The biggest issue though were the huge Connecticut resorts of Mohegan Sun and Foxwoods and more recently Massachusetts getting in on the act, drawing away Road Islanders. Legislators hated the loss of revenue but were extremely slow to react. Full on casino games were only legalized in 2010 subject to local approval. It took until 2012 for Twin Rivers to get that approval and only started table games in 2013! Local authorities refused permission for Lincoln Park to grade to a full casino.
1
.
$800

BONUS
150+

GAMES
50+

MOBILE
97.11%

PAYOUT
2
.
$2,500

BONUS
150+

GAMES
50+

MOBILE
97.11%

PAYOUT
3
.
$8,888

BONUS
120+

GAMES
25+

MOBILE
98.61%

PAYOUT
4
.
$1,000

BONUS
200+

GAMES
50+

MOBILE
97.84%

PAYOUT
Slim Chance For The Internet
The only thing Rhode Islanders can do is believe in the state motto and HOPE. There is currently no discussions in the political arena regarding online casinos. The fact that there is only one land based casino coupled with the size of the state it seems unlikely that regulation will come anytime soon. The recent movement towards more gambling freedom may help an inter-state deal happen like the one in place between Delaware and New Jersey. Only time will tell. So for the time being if you want to gamble online in Rhode Island you will have to continue to break the law.
There Are Things To Look Out For When Deciding Which Online Casino
So if you want to enjoy the delights of online casino gambling there are some pitfalls to be avoided. Apart from the obvious one that it's illegal in your state, there are criminal elements looking to cash in on the confusing USA standpoint. Firstly just because there is no local regulatory body that doesn't mean you have to risk an unlicensed operator. The rest of the civilized world has had authorities overseeing online casinos since their inception. The oldest Antigua and Barbuda used to have a great record but recently their crown has slipped. A few of the casinos registered with them have been found to be fraudulent they were not noticed by the regulatory body so they seem to have dropped the ball. The best in the world at the moment are Malta, Gibraltar, the Isle of Man and Alderney these all have great records and audit all new games that any casino licensed by them introduces. The Kahnnawake Territories service the US only market and have rapidly gained respect. They regulate well and seem to know what they are doing.
Trust Other Players
The online casino world moves at relatively lightning pace. It is player focused and player driven bad casinos are quickly found out and either pull up their socks or they go under. Crooks are found out almost immediately so read the forums they are a useful tool for due diligence. An inconvenient truth is that US customers can have issues banking with online casinos. Due to the rather ludicrous law banning banks from transactions with online gambling houses, third party companies are used to move the money around. Some are better than others. It is wise to investigate the casinos methods to find one suitable. The safest bet when it comes to deciding is the longer a casino has been going the better it probably is.