Pennsylvania Slow Start But Man They Caught Up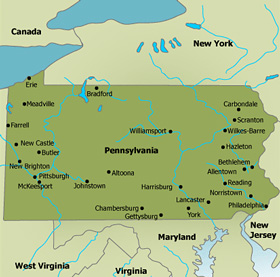 Pennsylvania not too many years ago was a virtual dry state when it came to gambling. Now it's one of the leading revenue producers per capita of any state that has legalized Class III gambling. Not too shabby considering it was only 2010 that legislation allowed full blown casinos to operate. Before that it was 2004 for Class II and well before that it was 1959 and horse racing. The revenue from casinos has now reached a staggering $3 billion casting aside all fears of a flop. This puts Pennsylvania second only to Nevada. The tax dollars came as a welcome relief to a cash strapped state. Pennsylvania went a different route than most states in that it has no Tribal-State compacts. There is one Tribal run venue the Mohegan Sun but the casinos are all state regulated. This has ensured the tax revenue goes straight to the states coffers.
Pennsylvania's Casinos Are A Classy Mix
If Vegas style chain casinos are your thing then you have the choice of Hurrah's, Hollywood and the Sands. If something a little more original then maybe Pittsburg Rivers casino is for you. The options are good for the avid gambler with entertainment on tap and a great state to look around in your downtime. The rich history of the keystone state is a good place to start if your luck at the tables is running bad. The Gettysburg Museum and Independence hall are a must see for all patriots. It is a strange thing for such a conservative, rural state to have such a thriving casino industry. But Pennsylvania has a few quirks for sure. Pennsylvanian Dutch are after all German in origin, a theme park dedicated to the Hershey bar and the enigma that is scrapple!
1
.
$800

BONUS
150+

GAMES
50+

MOBILE
97.11%

PAYOUT
2
.
$2,500

BONUS
150+

GAMES
50+

MOBILE
97.11%

PAYOUT
3
.
$8,888

BONUS
120+

GAMES
25+

MOBILE
98.61%

PAYOUT
4
.
$1,000

BONUS
200+

GAMES
50+

MOBILE
97.84%

PAYOUT
The Future Is Looking Good For The Online Gambler As Well
Pennsylvania is still struggling to balance its budget despite the huge revenue it receives from land based casinos. This is good news for those pushing for regulated online casinos. Pennsylvania has a strange process for introducing law. The state budget has to pass on its own accord so revenue can be earmarked from a bill yet to pass. This is the case with online gambling the budget has been passed with funds already allocated from future regulated online casinos. The Bill to introduce regulation has yet to be passed. Proposals have already been in the pipeline for over a year now and have been passed by the House of Representatives but the Senate has failed to enact. The whole process is dragging out but it looks inevitable that the Bill will be on the statute by the end of 2017. But who really knows?
So Does That Mean Online Gambling Is Legal In Pennsylvania?
No not yet. The problem is the only reason the Bill is even on the table is the budget deficit. If an alternative source of revenue is found then the Bill may well collapse. It would be a crying shame as Pennsylvania has everything in place to kick start the industry. Big name casinos already operate in the state and would have instant customer appeal if they chose to commit online. It would be very fool hardy of the legislature to ignore the potentially large revenue it would receive from online casinos. After all offshore casinos are still taking money from residents of Pennsylvania despite the legality of the situation. Pennsylvanians are nothing if not loyal and would much rather play with a state regulated casino than an offshore brand. They like their money to stay in state.
In The Mean Time
Like most US citizens Pennsylvanians still want to play casino games in the comfort of their own home. As said previously there are a multitude of online casinos based offshore willing to take US based customers. Just because there are no Pennsylvanian regulated casinos that doesn't mean you have to play with an unregulated site. Fortunately the rest of the world has had a far more liberal attitude to gambling for a long time now. Players around the world are looked after by some very responsible governing bodies. Look for casinos regulated by the MGA (Malta), Gibraltar and the Isle of Man these authorities are the most respected. Regular audits of new games for fairness are mandatory and any infraction of their rules is dealt with. The Kahnnawake Territories has taken on the mantle of regulating sites that primarily face the US and so far has gained a good reputation. They have not been in the industry as long as the others but are doing a good job. The choices are vast so due diligence is important look for casinos with a proven history and a good standing in player forums. Push your representatives and get online casinos regulated!