Oregon A North-West Jewel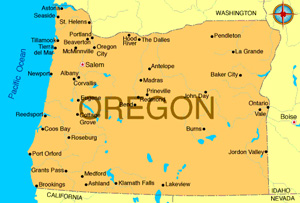 Residents of Oregon are rightly proud of their beautiful state, waves and sand, mountains and snow hiking trails, great food a thriving wine industry and a liberal attitude, mostly. Oh and rain quite a bit of it, in fact a lot. But Crater Lake has to be one of the most beautiful places on earth so a little of the wet stuff can be forgiven. Oh yeah and no sales tax! So a trip along the Oregon Trail may end up being permanent. If you are looking to have a gamble Oregon has a good number of Tribal casinos and bingo halls with a total of nine State-Tribal compacts in existence as it stands. The venues vary in size and standard if you are looking for the glitz of Vegas you won't find much of it here. Oregon has its own take on things and if there was such a thing as a family casino it would be here. The Wildhorse Resort and Casino has all the usual table games and slots with live music, a family orientated arcade and game room restaurants, comedy club, RV parking and tipi camping. And if you want a break from the tables, an 18-hole championship golf course as well.
Liberal Oregon Has Some Quirks
The gambling laws of Oregon are a bit of a paradox. Horse and dog racing has been legal for many years with pari-mutual style gambling allowed, although greyhound racing has stopped in state. Also off track betting on nationwide races is allowed at sanctioned betting hubs across the state. Tribal casinos came about reasonably early when Federal Law allowed it through the Indian Gaming Act. Social gambling is allowed with no limits and as long as organizers don't profit from the actual game they can be staged in public places. In fact there are many card rooms that charge entrance fee and make money on food and drinks. The big one is Oregon is one of the few states that has 'grandfather rights' granted by the Federal Government for sports betting. State lottery of course and charity bingo and raffle events are allowed. But here's the strange one for such a forward thinking and liberal place the 'Beaver State' is one of the few to actually ban internet gambling specifically in statute. This is hard to understand. The law is directed at organizers and does not mention players but the penalty is severe. If convicted of accepting payments as a reward for online casino games up to 10 years in jail is possible.
1
.
$800

BONUS
150+

GAMES
50+

MOBILE
97.11%

PAYOUT
2
.
$2,500

BONUS
150+

GAMES
50+

MOBILE
97.11%

PAYOUT
3
.
$8,888

BONUS
120+

GAMES
25+

MOBILE
98.61%

PAYOUT
4
.
$1,000

BONUS
200+

GAMES
50+

MOBILE
97.84%

PAYOUT
That Said It Hasn't Stopped Anyone
I guess online casino operators are not planning a visit to Oregon in the near future. Because they willingly take players from the state and have always done so. Some of the really big names in the industry have declined to run afoul of such draconian laws. It has not stopped the rest however the US market is just too big and tempting to resist. Just because the biggest are not available it doesn't mean those that are a second class. Far from it there are some excellent online casinos that take Oregon residents onboard. Oregonians may be liberal but they are in no way fools. There are some basic principles for due diligence when selecting an online casino to gamble with.
Make Sure Of Licensing And Regulation
The state of Oregon may not regulate online casinos but that doesn't means you have to take pot luck and risk it with unregulated brands. The world has had a thriving gambling industry online for over 20 years. In that time regulation has grown into a strong force with a few notable exceptions the authorities that issue licenses do a stand up job. Let's start with the exceptions. Curacao is a beautiful place to visit but as an online gambling regulator it is terrible. Any licenses issued by them are purely business operating permits. It's a tax fiddle pure and simple. There are no rules, no standards to meet and no way to even investigate a company who is certified by them. Avoid any casino that uses them. Antigua and Barbuda had a good rep but they have slipped by the way. The best are Malta, Gibraltar and the Isle of Man. The Kahnnawake Territories have rapidly taken on the mantle of regulating US facing casinos and so far have done an excellent job.
The Rest Is Common Sense
Look to the forums for chatter about rouge sites. This industry is so fast paced and player focused, crooks are found out almost immediately. If an online casino has managed to stay in business for say 10 years it must be doing something right. Banking regulations in the US are such that the use of third party companies to handle the money is now the norm. The fact that money has to be moved around and hidden from the Federal Government is not ideal. Make sure the processes are suitable for you. Start small is an obvious thing but not everybody takes heed of that one.