The 'Sooner' You Get There The Quicker You Can Play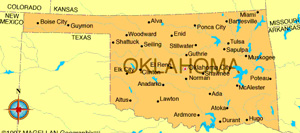 Whether you drive Route 66 to 'T Town' or fly to 'Will Rogers Airport' if you are coming to Oklahoma to gamble you will have plenty of venues to choose from. Surprisingly though most are not in the major cities with the exception of a couple of 'racinos' they are all native American run and so are on tribal lands. Small conciliation for the 'Trail of Tears' Oklahoma has the biggest concentration of Tribal casinos anywhere in the country. A total of 39 recognized tribes now call Oklahoma home with 30 of them running casinos. So if you are going to visit for the BBQ and Chicken Fried Steak you may as well visit one of the many casinos on offer. Every taste is catered for from small cozy venues, right up to the mega complexes of the Choctaw Nation.
Not Always The Case However
Oklahoma was not always so gambling friendly. Back in the frontier days rowdy casinos full of card sharps and nefarious characters were the norm. The state has always had a strong religious background and clamped down hard. To this day apart from horse tracks and Native casinos gambling in the state is not allowed. Even home games are illegal and according to the statute running a game is a felony with 1-10 years in the state pen as a penalty! Just playing in an illegal game is a misdemeanor with up to 30 days in the county lock up. The 30 Tribes that now have state compacts had a real fight to get where they are today. Many legal battles with gaming getting shut down, Supreme Court action and such eventually led to the state relenting. In the early part of the 21st century the state with a third of all Native Americans living in it finally allowed them the income they deserved.
1
.
$800

BONUS
150+

GAMES
50+

MOBILE
97.11%

PAYOUT
2
.
$2,500

BONUS
150+

GAMES
50+

MOBILE
97.11%

PAYOUT
3
.
$8,888

BONUS
120+

GAMES
25+

MOBILE
98.61%

PAYOUT
4
.
$1,000

BONUS
200+

GAMES
50+

MOBILE
97.84%

PAYOUT
There Is A Sign For Online Casinos
There is a section of statute that could be conceivably used against internet gambling. It is worded as Communication Facilities for Gamblers. This could theoretically mean the internet. Flouting this section of law is also a felony with up to 10 years in the pen. Although this would only be for those setting it up and not it seems anyone using said communication. As is the way with a lot of state law it's open to interpretation. There is talk however of the possibility of regulation for online gambling. But if history is anything to go by it may well be an uphill struggle. As there are only Tribal run casinos and a huge amount of them, around a hundred, the status quo is so good there may not be enough incentive to push for it.
Offshore Casinos Will Take Your Custom
If however you don't want to take a trip to one of the many land-based venues to gamble many brands will sign you up online. The global industry is so competitive that the US market is just too big to ignore. Residents from Oklahoma can find hundreds of legitimate casinos to gamble with online. While they may not be regulated in Oklahoma, so not strictly legal there, they will be licensed by one of the well-known authorities the world has to offer. As with all things some are better than others at the top end of the scale are Malta (MGA) and Gibraltar. These two institutions have strict rules and they enforce them. They audit all new games for fairness and follow up on infringements religiously. The Isle of Man and Alderney are both up there also. The Kahnnawake Territories are relatively new to the industry but are making great strides and are seen as a great regulatory body. At the other end of the scale are Curacao this governing body issues business licenses only and has no regulatory system in place at all. It is just a virtual piece of paper.
Due Diligence Is Key
Research is the only way to ensure you are gambling within a fair environment. Crooks are out there but they come to light fairly quickly. Forums are a great way to find out who is trying to con you. The industry is player focused and the power of players not to be underestimated. If a casino has been popular for ten years it's because it's good. Just the fact it has lasted means it's legit. Because of the strange banking laws in the USA casinos, use third party financial institutions. It is wise to investigate the individual systems in place for deposits and withdrawal to make sure they are suitable. The best thing is to start small and get a feel for the online casino before you commit to larger wagers. Good luck and enjoy.