Ohio A Frontier State – That's Catching Up – Eventually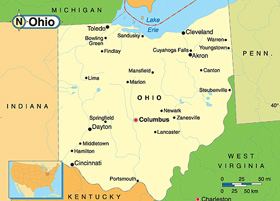 Despite the fact that many people see Ohio as being a rough and almost lawless state back in the day, there were some pretty tough penalties for gamblers. The romantic notion of professional gamblers plying their trade in saloons across the west, are just nonsense. Some states lynched professionals, and as far back as the 1790's Ohio had total gambling prohibition. All forms of gambling for money were illegal and had a $200 fine! Along with the fact that gambling debts were deemed unenforceable being a professional gambler was a hazardous occupation. The complete ban was in place until the depths of the great depression. This saw many states realizing the revenue that could be brought in and save many states from disappearing into ruin. After all gambling was prevalent anyway just underground and run by organized crime. Ohio licensed pari-mutual betting on horse racing in 1933. This was the only legal form of gambling for some time until the state lottery in 1973, closely followed by charitable bingo and raffles in 1975.
Another Long Wait Until Casinos Finally Got Approved
If you were a fan of roulette and blackjack you had a long wait for casinos to be legal. 2009 saw a referendum in Ohio that at last saw the approval of licensing for four casinos. One for each of the major cities in the state Cleveland, Cincinnati, Toledo and Columbus. So at last they had arrived and very quickly racetracks got approval for video games and became 'racinos'. The standard of casino in Ohio is up there with the usual resort style. Hard Rock and Hollywood lead the way so there's now no need to travel across country to get that Vegas Style fix. It doesn't mean however that Ohio is high on the gambling tourists list of places to must see. But it is a great revenue earner for the state so let's hope it continues to grow.
1
.
$800

BONUS
150+

GAMES
50+

MOBILE
97.11%

PAYOUT
2
.
$2,500

BONUS
150+

GAMES
50+

MOBILE
97.11%

PAYOUT
3
.
$8,888

BONUS
120+

GAMES
25+

MOBILE
98.61%

PAYOUT
4
.
$1,000

BONUS
200+

GAMES
50+

MOBILE
97.84%

PAYOUT
The Internet Is Next Right?
The statutes of Ohio have nothing written in them specifically to do with the internet. This perceived loophole saw a number of 'internet sweepstakes' popping up. Law enforcement soon cracked down and emergency legislation came into effect clarifying the position. There does seem to be a movement wanting to regulate online gambling but at the moment it is still illegal. The targets for enforcement are commercial premises not the general public however. The problem is as with many states a lot of people regard this as unfair. If you can gamble at a land based casino why not online? Surely it's up to the state to regulate if it wants a piece of the revenue? Offshore brands will continue to accept Ohio residents the industry is huge and is not going anywhere.
If You Want To Gamble Online Have A Care
While the general public are not targets for prosecution, it is illegal to gamble with an online casino for the residents of Ohio. If however you still want to there are a number of things to be wary off when signing up. Legitimate online casinos all have licenses from reputable governing bodies. The industry has long been regulated in the rest of the world but there are levels of regulation that have to be considered. For example a casino with a license from the island state of Curacao only has a business operating license. Anybody can register their company here and the authorities are willing to issue an operator's license to all who pay. There is absolutely no regulatory powers in place, there's not even a way for the public to contact them. So basically it's a sham. On the other end of the scale there are Malta (MGA), Gibraltar, the Isle of Man and Alderney these bodies have strict regulations they audit new games for fairness and have complaints procedures in place. As US residents the most familiar governing body will be the Kahnnawake Territories. The sovereign Mohawk nation based in Canada is relatively new to the industry but has quickly gained respect in the field. So if you are looking to gamble online it is essential that the online casino is regulated by one of the above.
Take Note Of Players Around The World
Player forums have been keeping tabs on casinos since the start of the online revolution. Most are independent of casinos but have close working relationships. All service industries have issues and complaints, customer service departments are there to deal with them. What makes a great company is how these complaints are dealt with. Forums keep the companies honest and if a thread doesn't end well then further investigation is warranted. Single issues are not necessarily that important but if a reoccurring problem get a lot of chatter it usually means there's underlying problem. Bottom line use your common sense and research before playing. Good Luck.