North Carolina Proud Of So Many Things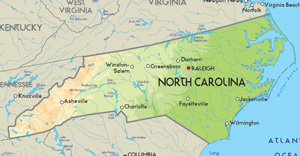 If you visit North Carolina you may be surprised by how vocal they are about some things. Whether its eating Bojangles Chicken, BBQ pork or Krispy Kreme or drinking tea, Cheerwine or Pepsi they are a uber proud to call them their own. The Tar Heel State is known countrywide for its Southern hospitality what could be better than sitting back and listening to some of the best Bluegrass while sipping some shine. Well if you are a gambler looking to visit all of these distractions may not be enough to make up for the lack of casino venues in the state of North Carolina. A distinctly gambling unfriendly state with only two tribal casinos in close proximity with one more in the pipeline. Both casinos within one hours distance from each other, are part of the Hurrah's chain and as such nothing new. They are both plush and offer all the usual entertainment you would expect. That's not to take anything away from them the Cherokee nation run a very tight ship and if Las Vegas style is what you are after then you will be happy. It's just that there's nothing very different about either venue.
A State With Retro Laws
Unfortunately for those that like a punt at the tables North Carolina has always taken a very anti-gambling stance in it statutes. It's not a new thing either as far back as the 1700's there has been laws that have tried to curb the gambling industry. Total prohibition was the eventual outcome and stayed that way for a very long time. With a brief stint of horse racing, now gone, it looked as if the state may relax its position but this is not the case. It seems year on year the state legislature wants to tighten its grip and go backwards not forwards. The only choice for gamblers in the state are a few charity bingo halls the state lottery and the casinos on tribal land. The most worrying thing is the state sees no difference between players and organizers when prosecuting. The first offense is a class 2 misdemeanor and carries a prison term of up to 30 days and a fine of $1000. This increases with each subsequent offense. So for having a game of craps in the back room you can look at real jail time.
1
.
$800

BONUS
150+

GAMES
50+

MOBILE
97.11%

PAYOUT
2
.
$2,500

BONUS
150+

GAMES
50+

MOBILE
97.11%

PAYOUT
3
.
$8,888

BONUS
120+

GAMES
25+

MOBILE
98.61%

PAYOUT
4
.
$1,000

BONUS
200+

GAMES
50+

MOBILE
97.84%

PAYOUT
The Internet Is A No No Then
It looks that way. As with most states North Carolina sees it that its existing statutes cover the internet as well. So you will be breaking the law if you log onto an online casino. The state is so anti-gambling in its out look it doesn't seem that there will be any change in the near future. In fact it would need a complete turnaround in the attitude of North Carolina's lawmakers to even consider it. The problem is the state doesn't feel it needs the money. The lottery income goes toward education as well as the cash it get from the tribal venues. North Carolina has branched out into lucrative industries and has never relied on tourist cash. In fact it has been voted in the top three states for business by Forbes and Chief Executive Officer Magazine. So to go through all the hassle of repealing laws and regulating internet casinos probably doesn't seem worth it to the legislature.
Some Will Still Do It Though
Like all things we are told not to do some of us will do them anyway. Take care you can go to prison. It's not that hard to track people's online activity even in the land of the free. Will law enforcement deem it important enough? Probably not. But the fact of the matter is there are reasonably stiff penalties for gambling illegally in North Carolina. Do not believe websites when they say it is. That said if you are looking to flout the law you don't want to get stung by a fraudulent site. You will have absolutely no comeback your local authorities will probably prosecute you instead of going after the real crook. That said the industry is well established in the real free world and has very good regulatory bodies. The Kahnnawake Territories is probably the one most likely to come up when looking at US facing online casinos. But Malta, Gibraltar, the Isle of Man and Alderney all have very good authorities. Because of the legal landscape in the US you will be playing with foreign brands, do some research. A company that has only been around for a couple of years is less of a safe bet than one that has been in the game for 10 years. It's simply because bad casinos don't last. Finally look to the forums they do hold casinos to account.