New Jersey And Gambling – Long Term Bedfellows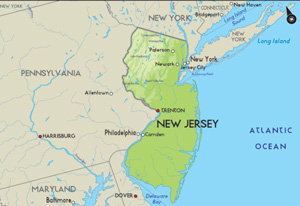 When it comes to all things gambling New Jersey has very few rivals in the US. Only briefly in its history has gambling been prohibited and then that was widely ignored. 1939 saw the reintroduction of legalized racetrack gambling. From then on bit by bit all forms of gambling have been deemed acceptable. With the opening of Resorts Atlantic City in 1978 finally an alternative to Nevada was available. Atlantic City became the Vegas of the east coast. Casinos are restricted to Atlantic City by state law so the concentration of them in one place is quite high, although nowhere near as dense as Vegas. Currently there are 8 casinos in the city giving jobs to approximately 33 000 people. Some of the top chains are represented including Hurrah's, Caesars, Golden Nugget and Bally's. So there are no real surprises when you visit one of New Jersey's prime venues. Glitz and glamour are abundant but class is a little thin on the ground. But hey if you want that Vegas experience but don't want to cross the country, Atlantic City has it for you.
New Jersey Can Now Play Casino Games On The Internet You Lucky Jerseyites
In 2011 an historic statement from the US Justice Department declared that the Federal Wire Act only prohibited sports betting and not casino games. Whoop Whoop. New Jersey was quick to act and after a few hiccups and amendments to legislation by 2013 a new law was on the statute. Legalizing online gambling for a ten year period but restricting operations to the then 11 Atlantic City casinos. Almost double the tax burden was imposed but nevertheless an immediate success was inevitable. New Jersey had finally caught up with the rest of the world. And for the first time offered something more than Las Vegas. Full blown casino games available online. At last you can play roulette in the comfort of your own home in the wonderful state of New Jersey.
1
.
$800

BONUS
150+

GAMES
50+

MOBILE
97.11%

PAYOUT
2
.
$2,500

BONUS
150+

GAMES
50+

MOBILE
97.11%

PAYOUT
3
.
$8,888

BONUS
120+

GAMES
25+

MOBILE
98.61%

PAYOUT
4
.
$1,000

BONUS
200+

GAMES
50+

MOBILE
97.84%

PAYOUT
What's On Offer Then?
It's a little confusing as there are only 5 license holders but 20 domain names. Some of which are poker sites and one is a bingo site. Here are the online casinos and who they are affiliated with. Let's start with Borgata Hotel and Casino & Spa their casino sites are Borgatacasino.com and palacasino.com. They also have Borgatapoker.com palabingousa.com and NJ.Partypoker.com under there banner. The next group is a bit of a mouthful it's Caesars Interactive Entertainment New Jersey-Affiliate of Boardwalk Regency Corporation, phew. They have in their stable some big hitters, Caesarscasino.com, Hurrahscasino.com and us.888casino.com for the casino offerings but also WSOP.com us.888.com and us.888poker.com. Next up is Golden Nugget Atlantic City they have three on board with Goldennuggetcasino.com nj-casino.goldennuggetcasino.com and betfarcasino.com. Resorts Casino Hotel has resortscasino.com mohegansuncasino.com and pokerstarsnj.com. The final group is the Tropicana Casino And Resort with tropicanacasino.com and virgincasino.com.
New Jersey Has A Big Advantage Over The Rest Of The US
Because New Jersey has fully embraced the legal declaration from the Justice Department as residents you are fully protected by your local governing body. There is absolutely no reason to risk your money with offshore casinos. This is a huge advantage over the rest of the country. You have a reasonable choice of online casinos to gamble with and unlike the rest of the world the regulatory body is local. You have a couple of world renowned online brands and big name local casinos offering you every casino game you could want. You even get local bonuses and promotions it really is a win for residents of New Jersey.
Classy Websites And A User Friendly Experience Keep It Up New Jersey
The websites dedicated to New Jersey Residents are very well put together and dare I say classier than the brick and mortar venues. Slick and easy to work around and unlike the multitude that the rest of the world has, you actually get a brand identity. But if you want the mainstream games and feel you can always play at 888 or Betfair. Linking promotions with the groups land based casinos is a unique approach and takes full advantage of the state set up. Let's hope that the scene doesn't stagnate with so few brands in the market after all the world industry has been driven by a huge amount of fierce competition. Competition that keeps brands honest and ensures a constant influx of new games and fresh promotional ideas. Who knows maybe legislation will open up a bit more as the fledgling industry takes hold. New Jersey is flying the flag for online casinos in the US. All eyes are upon you the rest of America is crossing its fingers.