New Hampshire Historically A Nice Place To Live – Not So Nice For Gamblers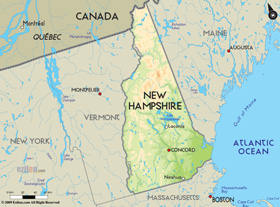 New Hampshire could be described as compact for sure. Fifth smallest state of the Union it may be but it has a big heart and a proud heritage. The first British North American colony to form an independent government, and first to have a state constitution. One of the thirteenth original founders of the United States of America. So all in all a pretty prestigious start to the great, if somewhat small, state of New Hampshire. This is where the paradoxes start however. With a motto like 'Live Free or Die' you would like to think anything goes right? No sorry not the case. This puritan state lives up to its nickname instead. The 'Granite State' so hard are the gambling laws here. So sad just another state slipping backwards to the bad old prohibition days. We all know what that brought about. Why can't legislators see that if something is perceived as harmless people will do it regardless of legality? Besides a short journey across stateliness and you can have as much casino fun as you like. Bye bye tax dollars!
So Where Did It All Go Wrong?
Ironically New Hampshire was the first state to introduce the modern form of the lottery. 1964 saw the start of a very lucrative venture that has contributed millions to education over the years. Opponents of all forms of gambling say that the money going to education is not actually any extra and all it does is free up budget resources for other areas. Pari-mutual betting on horse racing goes all the way back to 1933 in New Hampshire. Sadly live horse racing is no longer available at any venue in New Hampshire along with greyhound racing which was only legalized in 1971. Legislation has all but killed the industry, an already sick animal the huge tax increase on horse racing winnings in 2009 was the final nail in the coffin. Horse racing struggled on for a few more years and despite the tax increase being repealed the damage was already done and 2012 saw the last race.
1
.
$800

BONUS
150+

GAMES
50+

MOBILE
97.11%

PAYOUT
2
.
$2,500

BONUS
150+

GAMES
50+

MOBILE
97.11%

PAYOUT
3
.
$8,888

BONUS
120+

GAMES
25+

MOBILE
98.61%

PAYOUT
4
.
$1,000

BONUS
200+

GAMES
50+

MOBILE
97.84%

PAYOUT
Tribal Casinos Don't Even Get A Look In
When you think of New England you don't think of it as a hot bed of casino action. But most other states have at least class II tribal venues. Not so New Hampshire they are well and truly anti-gambling. Several times in recent years more forward thinking lawmakers have introduced bills to loosen up legislation. There is a movement that realizes the potential revenue earner that is the casino industry. So far every attempt has been defeated at the committee stage. New Hampshire does like to see itself as old world charm but there is such a thing as taking it too far.
So No Chance For The Internet Then?
Not much no. Most law pundits see the existing laws as clear indication that internet gambling is illegal. A bill was introduced in 2014 to try and regulate internet poker but as with every other gambling amendment it failed. It seems that while there is a little give there is still far too much take. The New Hampshire senate needs to wake up and smell the coffee. Even Massachusetts are building casinos. The internet is here to stay and people are going to gamble on it whether it's legal or not. Regulate and bring in revenue its simple really.
In The Mean Time
Since your state won't look out for you if you want to visit online casinos there are a few thing you need to look for. Regulation is carried out by a number of very reputable governmental bodies. After all the rest of the world has a thriving online casino industry and the punters need looking after. Look for licenses issued by the island states of Malta (MGA) and the Isle of Man. These two have great reputations all games are audited and checked for fairness and enforcement of their strict rules is heavy. Gibraltar is equally as good and many top name casinos are certificated by them. If a casino has one of these licenses and is covered by the UK Gambling Commission you know they are covered by the toughest rules in the business. Most US facing sites will be licensed by the Mohawk sovereign nation of the Kahnnawake Territories. These guys saw a gap in the market and have filled it spectacularly. Forums will give you an insight to have a particular casino operates. They are a useful tool the long established ones investigate claims and are not just a bunch of sore losers. The best piece of advice is to stick with the long standing online casinos. Building a good reputation in this business is hard work and any that have been around 10 years or so are trustworthy. Good luck and have fun.