By-Pass Nebraska If You Are On A Gambling Tour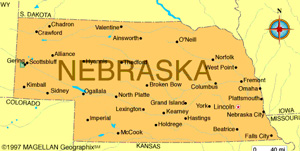 Well Nebraska may be a frontier state but its way down the line when it comes to gambling. In fact it is so far down the line you can't see it. The entire state has only five race tracks where pari-mutual bets are allowed and four tribal 'casinos'. And when I say casinos I mean halls with slots and they are only class II. The usual charity raffles and lotteries. Boom that's it. Terrible. The fact of the matter is the Cornhusker State just isn't that bothered by it. The state lottery brings in half the revenue per capita to the state above it in the list. The race tracks have only a few live races per year with most of the gambling done on simulcast racing. The tribal venues are possibly the worst in the country you can't even get a game of poker. This ultra conservative state just isn't into gambling. The bottom line is that the state has not really seen the benefit from gambling. The revenue generated has not had an impact on education funding or good causes. The half-hearted approach has just not provided any momentum.
So The Internet It Is Then
Well if you want to break the law then ok. As things stand the state statute does not specifically ban online gambling. But the legal standpoint seems to be that existing law already prohibits it. Not to mention the general anti-gambling tradition in the state. The law does state that any bet made with something of value on any event with the 'element of chance' is prohibited unless made legal under state law. So as all unregulated forms of gambling are illegal under state law then by default online gambling is illegal in the state of Nebraska. The other sting in the tail is the illegal gambling device clause. The definition of an illegal gambling device is if it is 'used or usable for engaging in gambling' so that covers just about every piece of I.T. you may own so in theory they can get you in many ways. The truth of the matter is there are no records of any prosecutions for gambling online. That's not to say they won't though. The writing on the wall looks like there may be legislation to explicitly ban online gambling. There is a proposal for a full on casino being heard in November 2016 but most think it will not pass.
1
.
$800

BONUS
150+

GAMES
50+

MOBILE
97.11%

PAYOUT
2
.
$2,500

BONUS
150+

GAMES
50+

MOBILE
97.11%

PAYOUT
3
.
$8,888

BONUS
120+

GAMES
25+

MOBILE
98.61%

PAYOUT
4
.
$1,000

BONUS
200+

GAMES
50+

MOBILE
97.84%

PAYOUT
So As With Most Prohibition A Lot Will Ignore The Law
The simple fact of the matter is those that like to gamble don't see it as a bad thing. Like the days of alcohol prohibition most will do it anyway. All that means is that the money will be funneled out of state and some into criminal enterprises. Just because there are no Nebraska regulated sites with which to gamble doesn't mean you have to risk everything to chance. There are many offshore online casinos that are fully licensed and trustworthy that are only too happy to flout Nebraskan law. If you are prepared to risk prosecution for your beloved roulette, then there are some basic steps you can take that will help safeguard against signing up with rogue operations.
The Rest Of The World Regulates
Since the outset online casinos have been regulated. Times have changed when it comes to who is the best authority. The very first country to issue certification was the Caribbean Islands of Antigua and Barbuda. They were the most respected for many years but sadly their reputation has lost ground lately. A few too many online casinos regulated by them have been proved to be fraudulent. The top spot for strict rules and strength of enforcement goes to the UK's Gambling Commission. Although they only regulate for UK customers if a site has certification by them and somewhere else as well, then they do get audited and are held to task. The next best authorities are the MGA (Malta) and Giraltar Gaming Commission, both have a great reputation and strict rules. The Isle of Man and Alderney both have respectable standing in the industry. The Kahnnawake Territories are the most likely body to regulate US facing online casinos although they have not been in the game as long they have quickly gained respect. They are known to have tough rules and there enforcement has teeth.
People Power And The Test Of Time
Gaming forums are a bit geeky yes but casino forums have a lot going for them. They really do have power and keep the industry honest. When it comes to money being wagered reputation is king. The best forums have links with casinos and issues that come up do get sorted by reps. Read the threads if something keeps coming up and doesn't get resolved then there is a good chance it is a valid issue. The on piece of advice that is strongest is go with a brand that has longevity. Crooks just can't stay the distance anything with 5 – 10 years under its belt will be legit.