Montana Lots Of Slots But Not A Lot Else For Gamblers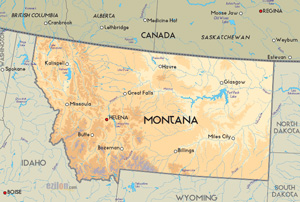 Montana has a lot going for it as a state, wide open spaces, rugged beautiful mountain ranges and a very low population density. Some of the best hunting and fishing to be found in whole country but the jewel in the crown has to be, Yellowstone National Park. However Montana is in the bottom half when it comes to options for gamblers. With a total of over 1400 licensed gambling operators you would think that there would be some choice. Well there is if you like slots or bingo or keno. Oh yes and a few poker tables. If you want a game of blackjack, baccarat or roulette you are bang out of luck. Basically the law does not allow games with a banker or house. Even bingo has a strict definition in law it must be played on a card with 5 columns the word bingo must be spelled out on the card and no more than 75 numbers used.
But The Internet Advertises Tribal Casinos
Well yes there are tribal state compacts with Class III games allowed. But the Class III games are purely slots with a pitiful stake and payout. There are some high stakes slots allowed in a couple of venues but the norm are $2 stakes with max payout of $800. So an advert for a casino is really just an amusement hall. They're not much more than halls either, it would take a very great stretch of the imagination to call them casinos. Tourism is a big part of Montana's economy but nobody comes there to gamble that's for sure.
1
.
$800

BONUS
150+

GAMES
50+

MOBILE
97.11%

PAYOUT
2
.
$2,500

BONUS
150+

GAMES
50+

MOBILE
97.11%

PAYOUT
3
.
$8,888

BONUS
120+

GAMES
25+

MOBILE
98.61%

PAYOUT
4
.
$1,000

BONUS
200+

GAMES
50+

MOBILE
97.84%

PAYOUT
So No Online Casinos Either Then?
Nope. The statutes clearly state that if a form of gambling is not specifically mentioned then it is illegal. On top of that there was legislation passed in 2005 explicitly banning internet gambling. So it is illegal to place any kind of wager with an offshore online casino. This is straight from the statute '(21) (a) "Internet gambling", by whatever name known, includes but is not limited to the conduct of any legal or illegal gambling enterprise through the use of communications technology that allows a person using money, paper checks, electronic checks, electronic transfers of money, credit cards, debit cards, or any other instrumentality to transmit to a computer information to assist in the placing of a bet or wager and corresponding information related to the display of the game, game outcomes, or other similar information' Penalties for committing illegal gambling offenses range from a $500 fine all the way up to $10 000 and a year in prison for misdemeanor offenses and if convicted of felony up to $50 000 fine and 10 years in prison for each offence! The question you have to ask yourself; is that game of roulette really worth it?
If You Want To Risk It – There Are Plenty Of Casinos Willing To Sign You Up
Despite the legality issues for US residents there are plenty of online casinos prepared to accept you. The good, the bad, and the ugly are all vying for your cash. The trick is being able to tell the difference. Let's make no mistake, while there have been no recorded prosecutions for gambling online that doesn't mean they won't. There are a number of ways to research online casinos to evaluate their legitimacy. The first stop are the forums. The rest of the world has a thriving online casino industry and forums started up along with them. The most established have links with online casino brands that look into complaints and actually resolve them. So if a brand has a lot of chatter about it for a particular reason read the thread and find out if anything was done about it. All companies make mistakes it's how they resolve them that counts.
Licensing And Regulation
Every single quality online casino has a license from one of the reputable regulatory bodies. These authorities are government backed and issue certification based on strict rules. The most respected being Gibraltar, Malta (MGA), the Isle of Man and Alderney. US customers will be most familiar with the Kahnnawake Territories. The native Canadian sovereign nation has fast become a reputable and respected licensing body. If a casino doesn't have a license from one of the above they are not worth touching.
Age matters
The internet is a fast paced hunting ground the online casino industry is ruthless. If a brand can sustain itself for more than 5 years in this arena it has what it takes. If it is a veteran of ten years plus it is a definite 100% legit operation. With so many variables and risks that US customers already have to deal with a fresh brand is one step too far.