Missouri Show Me The Money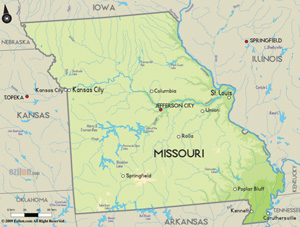 It stands to reason that the great state of Missouri would have historic roots in the river boat casino industry. Hugely popular during the 19th century the paddle steamers of the day would be seen chugging along both the great rivers of the state. Come the end of the century they ran out of steam so to speak and gambling as a whole took a backseat. Pushed underground legalized gambling was only revived in the 1980's. This all started with charitable bingo halls in 1980 state law allowing nonprofit organizations to hold raffles and games of bingo. Still popular today they bring in millions of dollars for good causes. Then along comes the state lottery in the mid-eighties again hugely popular and a large source of revenue for the state with most channeled to education. Things ticked along and the status quo was kept until legislation was filed in 1991 to bring back the river boats.
Fast Forward 20 Years
The original reasons given for the legislation change was to save tourism in the state. The idea was to bring back the heyday of the floating casino. Images of paddle boats cruising the great rivers full of passengers with gambling being a secondary attraction. It all started well with an old cruise liner retro fitted setting sail in 1994. There were even restrictions in the law banning pure games of luck and a limit of $500 loss per player. 90% of the tax revenue went to education it seemed everybody was a winner. Things started to change, firstly the cruises stopped do to safety issues it's claimed, then the restrictions on which games could be played was lifted and the limit on losses went. Next thing you know the nostalgic image of river boats cruising up and down is replaced with scenes from the Vegas Strip. So now it's Hurrah's and Hollywood Casino and all the other generic chains that have sprung up across the country. It's sad it would have made Missouri a great destination in the casino world. But hey ho millions of dollars are funneled into education every year so it has to be a good thing right?
1
.
$800

BONUS
150+

GAMES
50+

MOBILE
97.11%

PAYOUT
2
.
$2,500

BONUS
150+

GAMES
50+

MOBILE
97.11%

PAYOUT
3
.
$8,888

BONUS
120+

GAMES
25+

MOBILE
98.61%

PAYOUT
4
.
$1,000

BONUS
200+

GAMES
50+

MOBILE
97.84%

PAYOUT
State Law Is A Funny Thing
There are a few odd state laws across the US and Missouri has a couple relating to gambling. One is the prohibition of being a professional gambler. If you are bringing in just 20% of your income from gambling you are considered a professional and branded a criminal! Social gambling is allowed under strict terms and you must know the other players socially. There are penalties in statute for playing as well as organizing an illegal game. Yet there is nothing relating to internet gambling. The general wording of the laws are considered to cover it. So technically you could face charges if proved to be gambling online. There is nothing on the horizon to indicate that online gambling will be regulated in the state of Missouri. On the flip side there isn't a big noise against it either so maybe success in other states may push it forward.
If You Want To Risk It Take Heed
Despite the general mayhem surrounding online gambling in the US there are plenty of casino brands willing to take customers from Missouri. The few high profile indictments of poker sites has scared of the biggest player in the market, but this has just opened a gap in the market for the rest. If you are looking to sign up to an online casino being regulated by a recognized authority is a must. The tribal body of the Kahnnawake Territories takes care of most of the brands that are US facing. While they are relatively new in the industry they have a reputation and strong regulatory powers. The world's most renowned powers are the Malta Gaming Association, the government of Gibraltar, and the Isle of Man. If a brand has licenses from any of these they are subject to rigorous procedures. Trust in any field is earned over time it's no different with online casinos. The fast paced nature of the online world soon weeds out the rotten. If an online casino has been around for 5 to 10 years it's a good bet they are legit. The few that have been in business longer are definitely safe. Federal banking laws have added another issue for players from the US. Online casinos now have to use third party financial houses send money in a circuitous route to avoid the regulations. This has a direct bearing on deposit and withdrawal timeframes. It's wise to contact the customer service departments to find out how long it will take. The friend of the online gambler is the forum. Yes a lot of posts are just bad losers but issues that come up time and again usually have some merit to them take them on board when it comes to choosing where to sign up.