Michigan Home To Lions And Tigers And A Few Casinos Too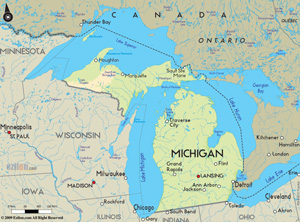 The Great Lakes State has embraced the national trend towards relaxing gaming laws. One of the first states to implement a state lottery, the rush of tribal casinos, they run 19 in the state, and the three privately owned casinos in Detroit all go toward putting Michigan right at the front. As early as 1996 saw the voters of Michigan approve casinos in Detroit. Gambling and the revenue it brings in has been whole heartedly accepted by Michiganders. The MGM Grand in Detroit is a showcase hotel and casino complex that could grace any city in the world. The sovereign nations that run the tribal casinos all have state compacts and are self-regulated but are overseen by the Michigan Gaming Control Board. The full range of casino games are available with varying stake sizes to suit all pockets. The state is famous for hosting 'Millionaires Parties'
Motors, Music And Fast Cash
Michigan is a beautiful state if you like lakes you're in heaven. Known the world over for its heavy industry, well let's face it making cars, and being the home to Motown. It's fast gaining a go to reputation for gamblers as well. The choice for casino goers is really very good and there are some serious high stakes players that frequent the tables. The state puts on a lot of poker tourneys and is a popular place for U.S. and Canadian citizens alike. You can find several tourneys being played every single day. Michigan as a destination for gamblers is right up there. No sweating in the desert you can actually leave your room and see some nature. So whether you're a full time gambler or just want to mix some casino action in with your adventure holiday the Wolverine State makes a great choice.
1
.
$800

BONUS
150+

GAMES
50+

MOBILE
97.11%

PAYOUT
2
.
$2,500

BONUS
150+

GAMES
50+

MOBILE
97.11%

PAYOUT
3
.
$8,888

BONUS
120+

GAMES
25+

MOBILE
98.61%

PAYOUT
4
.
$1,000

BONUS
200+

GAMES
50+

MOBILE
97.84%

PAYOUT
Internet Gambling Had A Hiccup In Michigan
Michigan legislators have a very pragmatic approach to gambling. The whole reason the referendum in 1996 was held was because tax dollars were crossing the Detroit River into Canada. So before you know it Detroit has three casinos and the Native Tribes want their slice. The state fought the tribes I guess because they wouldn't have ultimate control but lost in the Supreme Court. Basically if the state gets tax dollars from it then it's legal. 1999 saw a law introduced specifically banning computers and the internet from being used to gamble. The lawmakers must of looked into the future and had a change of heart because it was removed from the statute the very same year. So the door is open for regulation as soon as lawmakers see a plan that will put enough tax dollars into the state coffers. Cynical maybe but probably near the mark.
Meanwhile The Rest Of The World Continues
The world has a thriving online casino industry. There are hundreds of casino brands that have ignored the ambiguous laws and directives that the US has put out. These casinos welcome US players with open arms and fat bonuses. The fact that Michigan repealed the law banning internet gambling has to mean that they are looking to capitalize on the industry at some point. Until that point there are enough legitimate online casinos to satisfy the demand. And demand there is. Michigan has a huge population and judging by the success of its casinos a lot of them like to gamble. Looking for a safe casino to gamble with takes a bit of effort all are not equal. First concerns have to be who regulates the casino. Because there are no Michigan regulated online casinos you need to choose one that has an offshore license. Go for one that has certification from one of the following. The Kahnnawake Territories are as local as you are going to get. Malta has a very good gaming authority and so too Gibraltar. The fact of the matter is if a casino has no license it's a fraud. Avoid any that have Curacao on their site. This former Dutch Antilles state issues business licenses to any who pay. They have absolutely no regulatory powers perform no audits you can't even contact them.
Keep Your Finger On The Pulse
The gaming community has a thriving selection of forums. A lot of posts will be just a bunch of sore losers. Look between the lines however and the true is visible if a casino gets enough bad press you will notice. As they say no smoke without fire so there would be a good chance the stories are right. Time in business is always an indicator of trustworthiness. The online gambling industry is so fast paced that if you have stuck around for more than 5 years you can be considered long standing. 10 years and you are a veteran.